Buyer's Market vs Seller's Market

Location, price, and condition of the home play a vital role in determining the demand, price, and length of time it would take a property to sell. These key factors help to determine whether or not it is a "Buyer's Market" or a "Seller's Market". Very often general statements are made about the type of real estate market we're experiencing. Often we hear national media reports about the type of market it is.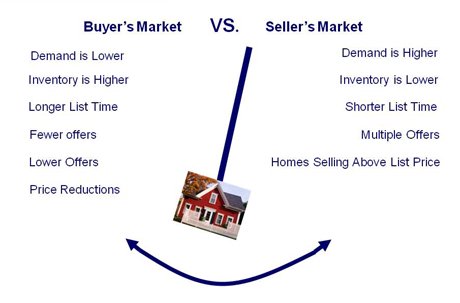 However, just like you wouldn't expect the weather to be the same in one state vs. another - the same is true about the real estate market. Furthermore, the type of market it is may be different from town to town or neighborhood by neighborhood.
Is our Local Market a Buyer's or Seller's Market?
After years of double digit appreciation levels and a moderate decline in the number of home sales in 2008, the market has stabilized and sales of homes in Chittenden County continue to outpace the surrounding counties. Available inventory reflects a balanced market, with roughly 6 months supply on hand. Market conditions vary according to list price, with inventory of homes up to $300,000 reflecting a sellers market and inventory over $500,000 reflecting a buyers market.

Whether you are buying a home in the Greater Burlington area or selling your Vermont home - it's important to understand the market conditions.