Vermont Real Estate Careers

Learn about local real estate trends for Vermont in the Vermont Market Report »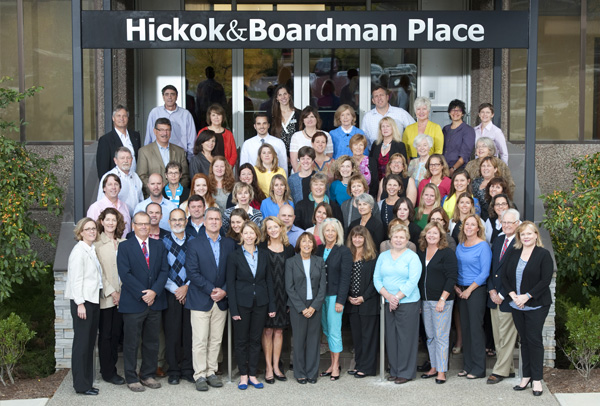 Our Associates are supported with a winning combination of tools to help build their business and succeed. Our affiliation with a national brand such as Coldwell Banker provides our Associates access to nationally recognize trainers and educational opportunities; while the name recognition and prominence of Hickok & Boardman is well known throughout our local community. 
What Makes Us Different
Coldwell Banker Hickok & Boardman Realty is Burlington's largest real estate company, with over 70 agents and support staff. We offer a comprehensive package of services and benefits to our staff and support our agents and associates with innovative marketing and extensive training to help them succeed as quickly as possible. Our formula to create an environment with the most highly productive Sales Associates in the marketplace includes a commitment to providing:
Two, full time licensed, non-selling Brokers to assist our Sales Associates in professional development, technical skills and risk management
Full time Relocation Director working with national relocation companies, local companies, and HR departments to assist individuals and families to and from Vermont. 
Full time IT support to assist with your technology needs and questions.
Full time Marketing support to help build your personal marketing plan and develop consistent exposure for your Clients. 
How Do I Get Started?
Selling real estate is a commission-based business. If you are considering a career in Vermont real estate, the Vermont Association of Realtors, the Northwestern Vermont Board of Realtors and the Vermont Secretary of State's Office have important information to help you get started. Real Estate Sales Associates, if you're considering moving to Vermont or making a career change please contact us if you'd like to become part of our company.
Current Opportunities
If you're independent and thinking about running your own business within a supportive framework and if you are looking for opportunities without earning limits, contact us for more information about a career in real estate.
If you are interested in starting a career with Coldwell Banker Hickok & Boardman Realty please send an introductory letter and resume to our Sales Manager Annemarie Daniels via mail or email.