Vermont ranked 4th for Pre-K -12 education and 8th in the nation for overall education (including higher-ed) and by U.S. News in 2019. Vermont was also ranked the 11th Smartest State in America in 2019, by SafeHome.org based on its percentage of high school graduates, Bachelor's Degrees, and SAT & ACT Scores.   

Colleges & Universities in Vermont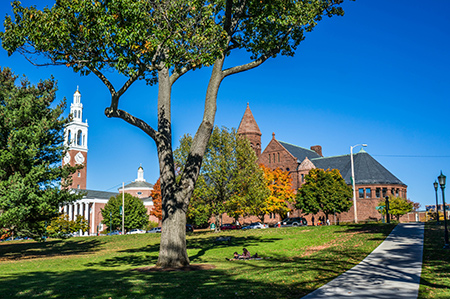 Students love to attend College here, often lured by the beautiful mountains and outdoors recreation opportunities. Often the vibrant business climate and entrepreneurial spirit you'll find in the Greater Burlington area is credited to the fact that we are surrounded by top rated Colleges and Universities. Many students choose to stay in the area after college to work, live, and ultimately raise their family. 
Chittenden County and Burlington, VT are known for several of the state's larger institutions, including:
For more information about Colleges and Universities throughout Vermont, visit the Vermont Higher Education Council.
Public Schools, K-12:
Click on the links below to learn more about the School District or Supervisory Union you're interested in:
| | |
| --- | --- |
| Addison County, Public Schools K-12         | Serving Communities of:  |
| Addison Central Supervisory Union | Bridport, Cornwall, Ripton, Salisbury, Shoreham & Middlebury    |
| Addison Northeast Supervisory Union | Bristol, Lincoln, Monkton, New Haven, Starksboro & Mt. Abraham      |
| Addison Northwest Supervisory Union | Addison, Ferrisburg, Panton, Vergennes & Waltham |
| Addison Rutland Supervisory Union | Benson, Castleton, Fair Haven & Orwell |
Private Schools, K-12:
Private Schools Located in Chittenden County

Grades Served
Brownell Mountain School

, Williston

PK-9
Christ the King School, Burlington
PK-8
Hull Crest School

, Burlington

7-12
International Children's School

, South Burlington

PK-1
Jean Garvin School

, Essex Junction

8-10
Lake Champlain Waldorf School

, Shelburne

PK-11
Mater Christi School

, Burlington

PK-8
North Avenue Christian School, Burlington
PK-8
Renaissance School

, Shelburne

K-6
Rice Memorial High School, South Burlington
9-12
Rock Point School

, Burlington

9-12
St. Francis Xavier School, Winooski
PK-8
The Acorn School, Charlotte
6-7
The Gailer School, Middlebury
7-12
The Schoolhouse Learning Center

, South Burlington

K-6
Trinity Baptist Schools

, Williston

PK-12
Vermont Commons School

, South Burlington

6-12
Vermont Day School, Shelburne
K-8
Daycare and Nursey Schools
Please visit the Vermont Child Care Resource, a non-profit association and great resource for parents and day care providers to learn Savemore about day care and nursery school options in our area.