Whether moving as an individual, with your family, or aging parents - the Greater Burlington area has extensive human services, agencies and resources available. Our Relocation Manager and Relocation Trained Agents have compiled a few helpful links to some of the health services available to take care of you and your family:
Medical Facilities in Northwestern Vermont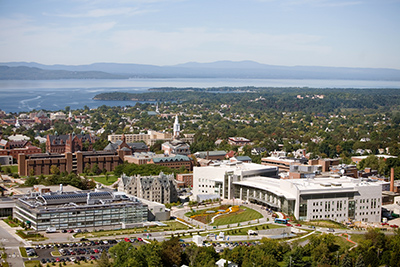 The University of Vermont Medical Center together with the College of Medicine and College of Nursing and Health Sciences form one of just 138 academic medical centers in the country. Serving Vermont and Northern New York, The University of Vermont Medical Center provides a full range of services covering every major area of medicine. The main campus of The University of Vermont Medical Center is located in Burlington, within a 15 minute drive of most locations in Chittenden County. The Medical Center operates more than 35 patient care sites and 100 outreach clinics, programs, and services throughout the region.
The Northwestern Medical Center (NMC), located north of Burlington in Saint Albans, provides healthcare and wellness services. NMC has been named one of the top 100 Rural and Community Hospitals in the nation.
Porter Medical Center in Middlebury is a member of the University of Vermont Health Network, leveraging the expertise and care of a six hospital network in Northern Vermont and New York. With emergency services, cardiology, children's health, a birthing center, orthopedic services and more - Porter brings the best of community and academic medicine together.
Senior Services in Northwestern Vermont
Burlington has been ranked "one of the seven best retirement locations." The following organizations and associations assist in providing outstanding services for those looking to retire here:
Renting in Vermont
Searching for a rental can be challenging and somewhat stressful, especially if you're not familiar with the area. We can help.
Coldwell Banker Hickok & Boardman is your go-to source for understanding the rental market in Chittenden County. Download our Chittenden County Rental Guide to learn more.
New construction projects have provided tenants with welcomed amenities such as: central air conditioning, covered parking, secure storage, in-unit washers/dryers, fitness rooms, tennis courts, outdoor pools, and clubhouses. These newer units have led competing landlords to consider strategies for attracting and retaining tenants. Some landlords opt to invest in renovations to modernize aging properties in response to changing expectations from tenants.
The below chart reflects rental rates in these newly constructed multi-story buildings which opened in the last three years.
TYPICAL Rental Rates FOR NEWLY BUILT APARTMENTS*
| | |
| --- | --- |
| Studio, 1 Bath | $1,200 - $1,500 |
| One Bedroom, 1 Bath  | $1,300 - $1,700 |
| One Bedroom + Den, 1 Bath | $1,600 - $1,675 |
| Two Bedroom, 1 Bath | $1,600 - $1,960 |
* Source: Allen, Brooks, & Minor Report - June 2019
Are You Between Living Arrangements?
Are you looking for a temporary option between when you arrive in the area and your move in date? An Extended Stay Hotel might be a good option. They offer the comfort of a hotel stay at a discounted rate, designed for longer-term stays. We recommend the two options below. Tell them we sent you!
Green Mountain Suites
401 Dorset Street, South Burlington VT
802-860-1212
Green Mountain Suites Website 
Townplace Suites by Marriott
66 Zephyr Road, Williston, VT 05495
Townplace Suites Website
Live ~ Vermont Accolades
| | | |
| --- | --- | --- |
| Source | Recognition | Year |
| Trip Advisor | Burlington Recognized as Having One of the Top 10 Most Charming Downtowns in the US  | 2019 |
| WalletHub | Ranked the Most Environmentally Friendly State | 2019 |
| U.S. News & World Report | Ranked the State with the Best Equality | 2019 |
| americashealthrankings.org | 2019 Healthiest State in the Nation | 2019 |
| U.S. News & World Report | Ranked the 5th Best State in Overall Categories | 2019 |
| WalletHub | South Burlington Ranked the 2nd Safest City in the US | 2018 |
| WalletHub | Burlington Ranked the 16th Safest City in the US | 2018 |
| CNBC | #1 Best State to Live in America | 2018 |
| U.S. News & World Report | 9th Best State Overall | 2018 |
| Gallup-Sharecare Well-Being Index | 2nd Happiest and Healthiest State in the US | 2017 |
| 24/7 Wall St | 2nd Best State to Grow Old In | 2017 |
| WalletHub | Best State for Working Mothers | 2017 |
| Union of Concerned Scientists | 2nd in Progress towards Renewable Energy | 2017 |
| U.S. News & World Report | 10th Best State Overall | 2017 |
| United Health Foundation | 2nd Healthiest State for Women, Children, and Infants | 2016 |
| Men's Journal | Burlington Named One of the 10 Best Places to Live Now | 2015 |
| The City of Burlington | The First City in the US to Source 100% of its Electricity from Renewable Generators | 2015 |
| BusinessInsider.com | Burlington & South Burlington: One of the Happiest and Healthiest Cities in America | 2014 |
| Washington Post | Vermont Recognized as the Best State in America for Healthy Kids | 2014 |
| Washington Post | Vermont Recognized as the Best State in America for Healthy Kids | 2014 |