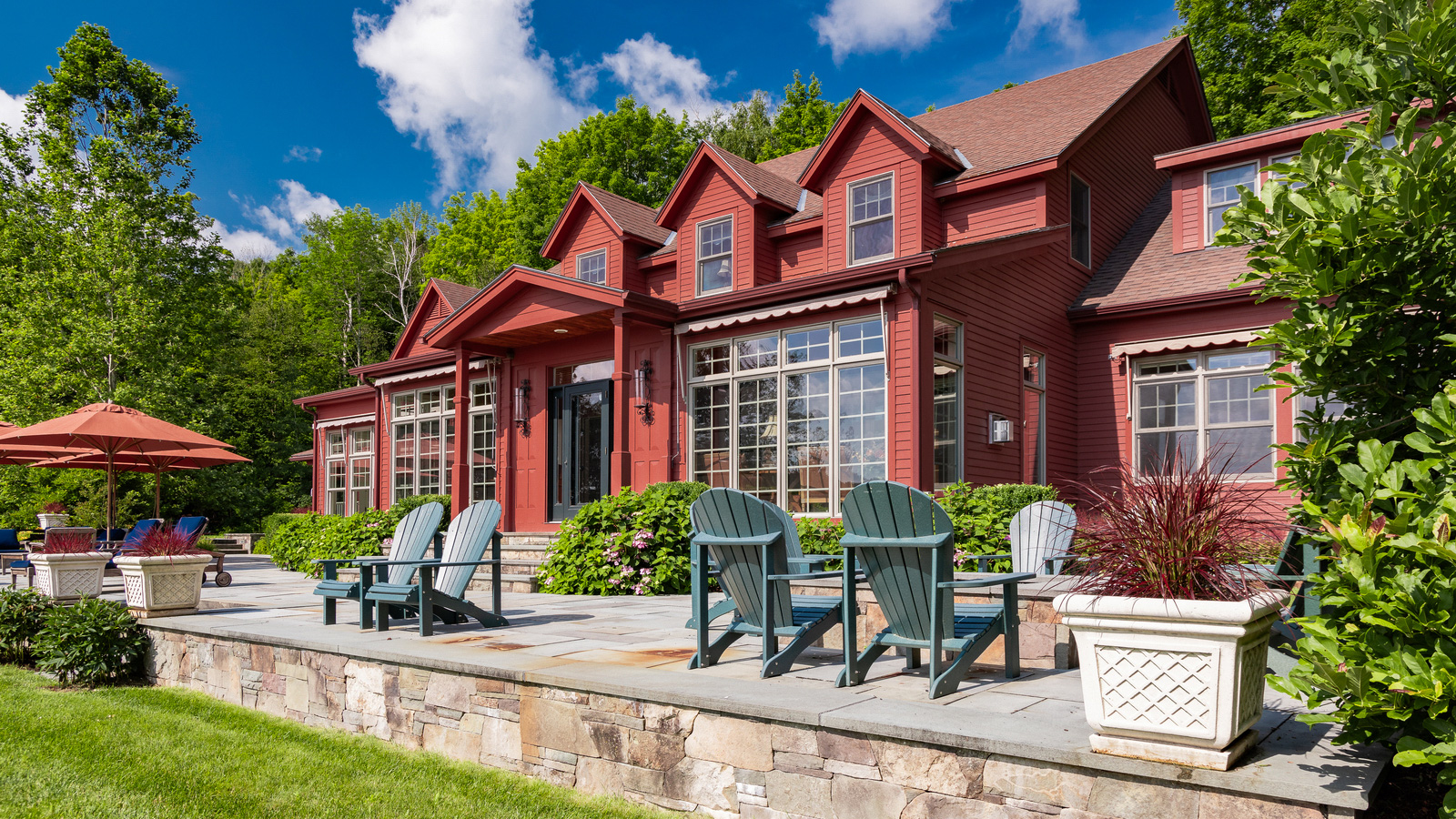 We have reached the mid-point of 2023 and are taking stock of how the market has fared thus far. It is an opportunity to reassess the economic climate, the real estate market, which trends will continue, and what we see changing. One thing remains constant – real estate is local. Our goal is to provide a perspective on real estate here in northwest and central Vermont.
Single-Family January-June 2023
Median Sale Price:
Average Sale Price:
Units Sold:
Newly Listed:
Days on Market:
$450,500 +7.0%
$514,279 +2.7%
743 -19.1%
1064 -16.0%
33 +17.9%
Condos January-June 2023
Median Sale Price:
Average Sale Price:
Units Sold:
Newly Listed:
Days on Market:
$355,000 +6.0%
$411,082 +8.3%
257 -25.5%
337 -18.0%
16 -33.3%
Multi-Family January-June 2023
Median Sale Price:
Average Sale Price:
Units Sold:
Newly Listed:
Days on Market:
$507,500 +2.6 %
$564,522 +4.5 %
50 -52.8 %
76 -46.5 %
48 -2.0%
Land January-June 2023
Median Sale Price:
Average Sale Price:
Units Sold:
Newly Listed:
Days on Market:
$144,500 -2.7 %
$204,327 -3.3 %
92 -28.1 %
162 -14.7 %
130 -18.2%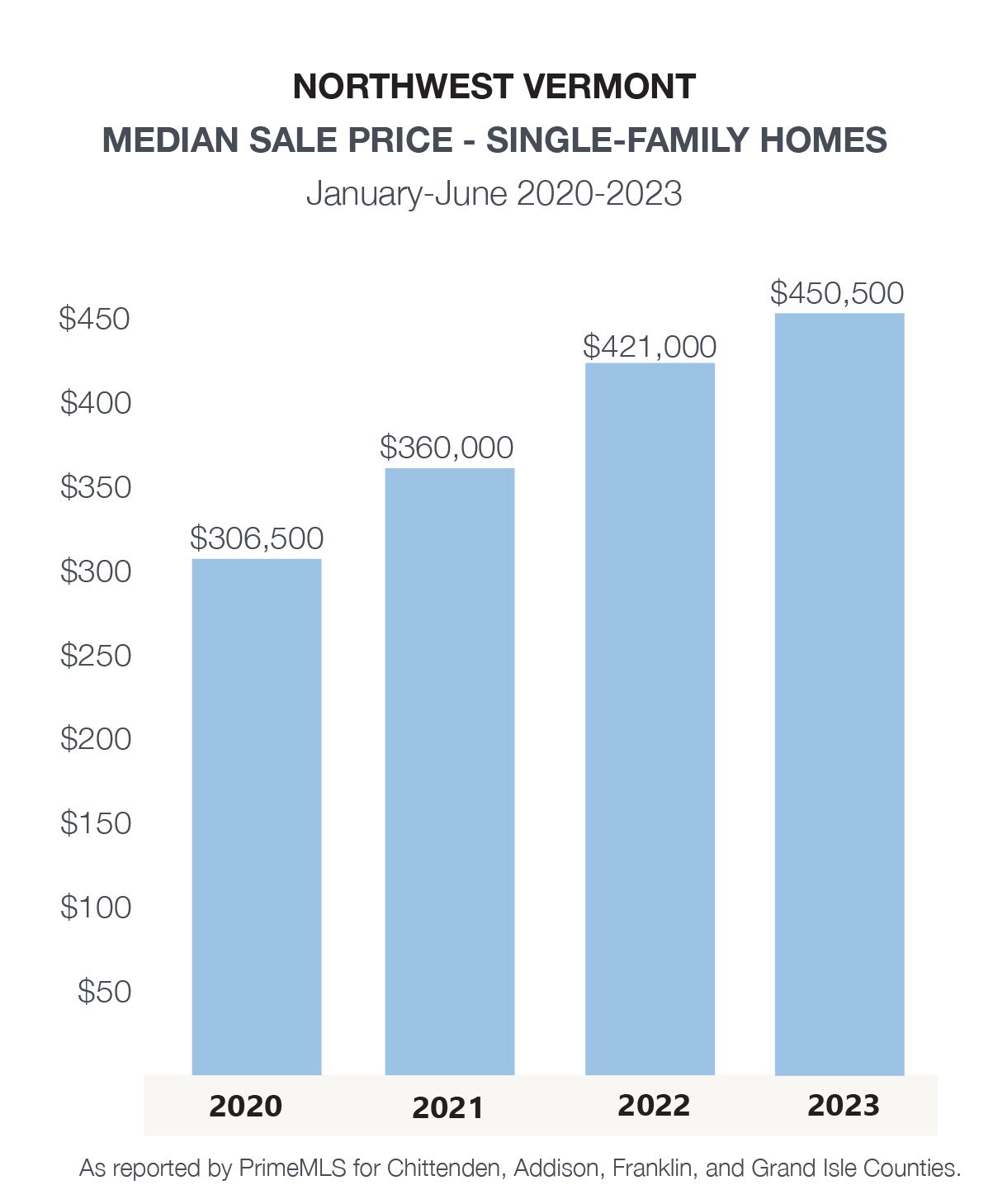 After 2 unprecedented years, we are experiencing the "new normal" and that includes a return of seasonality in the market. In 2023, demand continues to be strong. Despite inflation and the Federal Reserve's intention to fight it with a series of historically aggressive rate hikes since March 2022, consumers have been resilient.
On July 26, the current benchmark lending rate was raised again by a quarter point. With the Fed's goal of a 2% inflation rate, many anticipate another quarter point increase later this year. Inflation is now closer to 4%, a marked improvement from the peak of 9.1%. The impact on mortgage rates has been to more than double rates from a historic low of approximately 3%.
With 10 months of mortgage rates in a well confined 6-7% range, it appears that many buyers have adjusted. "How can I make the numbers work?" has replaced "Can I afford to buy?" They come to the market in a much stronger position – with higher credit scores, strong savings, and a strong ability to weather markets. Even if, for many, it meant moving "home" with parents for some time.
As many buyers have stayed active in the market, the limited inventory –not demand– is what is compressing sales. New listings year to date are down from last year 15-20%, with some product segments further outliers. The decline in new listings compounds the issue of limited inventory. It also drives up prices.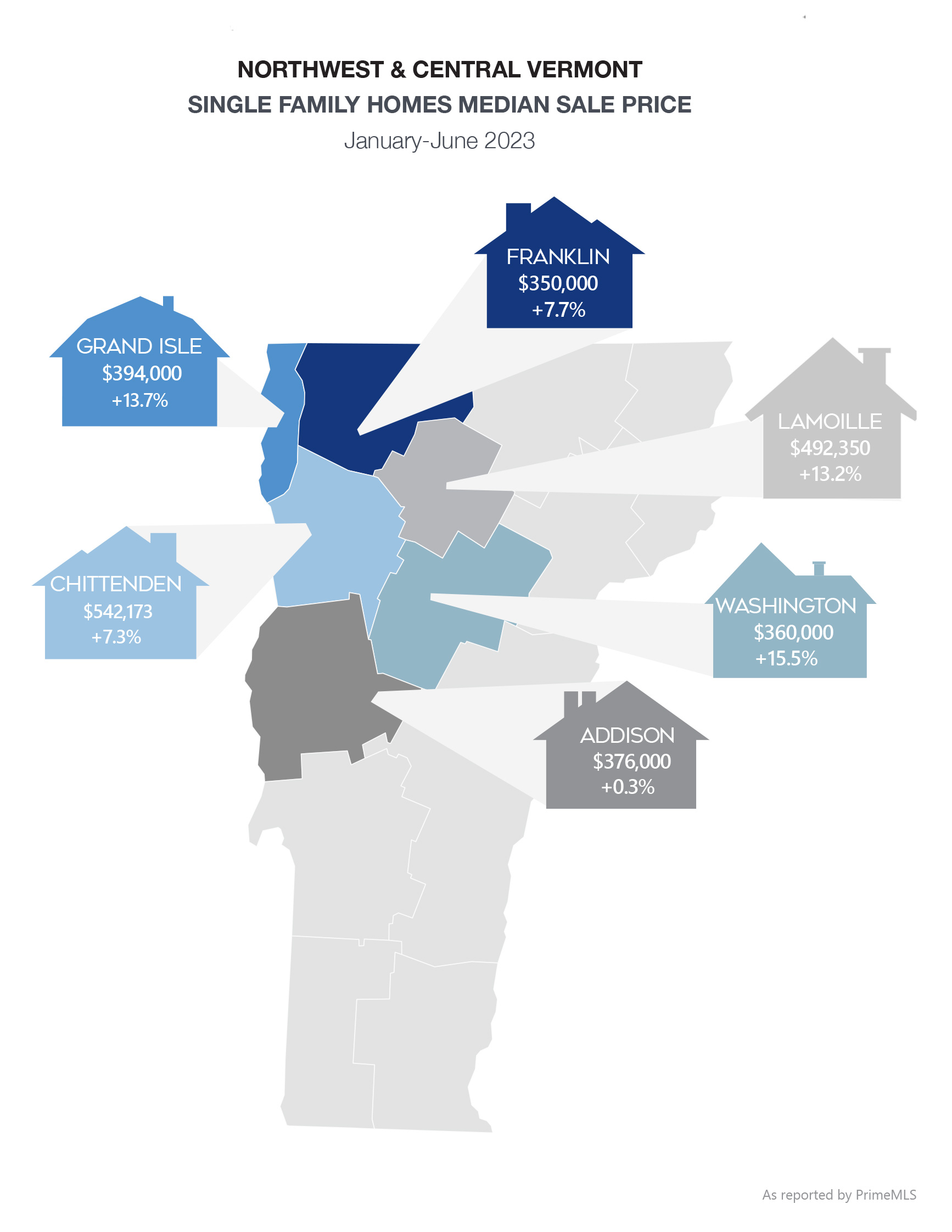 Fewer sales in 2023 have not negatively affected values. Prices are still on an upward trajectory although at a slower rate than last year. This substantiates that while the market is not as frenzied as before, there is still demand for properties, which is driving prices higher. When there are fewer new properties being listed for sale, it exacerbates the supply shortage and can further constrain the choices available to both buyers and homeowners looking to move. As prices continue to grow, affordability becomes a primary concern. There is little in our local market that suggests prices will decline anytime soon, of course, if not impacted by some large-scale event.
Many of our buyers are still finding success in today's market. We have also assisted many sellers who are benefiting from recent price growth and their substantially strengthened equity positions. Homeowners are now making lifestyle moves that may have been delayed by the pandemic. By getting real time updates on market values and understanding the dynamics of the real estate market, buyers and sellers can position themselves to make well-informed decisions that align with their needs and goals.
In a survey in May 2023 Freddie Mac found, 18% of buyers say they are likely to buy a home in the next 6 months; 16% of homeowners say they are likely to sell in the next 6 months. In the pre-pandemic market, those numbers were in the 8-10% range. This is a solid indicator of a desire to move on and the continuance of a solid market for the near future.
Recent national news reported that new construction is growing, offering more options for buyers and sellers. Builders recognize the inventory shortage and are ramping up productivity as much as possible. Locally this pattern is somewhat compressed. Challenges like permitting and labor shortages stifle necessary and desired growth. Development is strongest in the southern part of the US – where trends show that Americans are moving, and affordability is better.
Demonstrating the demand, one of our local lenders, New England Federal Credit Union reports a significant increase in construction loans. Building a new home provides a viable solution while resale listings are limited. However, the process in some cases may be lengthier and pricier than many buyers are prepared for. Neighborhood developments such as Hillside East in South Burlington provide the option to customize many features in your new home while working with a builder who offers turnkey solutions within a reasonable time frame.
In recent years cybercrimes and consumer fraud have been rising in frequency. Real estate transactions have increasingly been a target. Be cautious when responding to emails to wire funds to parties in a transaction. The latest scam across the nation, as well as right here in Vermont, are fraudsters impersonating owners of vacant land, attempting to sell it quickly, at below market prices. If something seems too good to be true, it likely is. You can read more about this later in the report in our section on Land sales.
Overall, the real estate market remains competitive due to the combination of limited inventory, price growth, declining new listings, and affordability concerns. To best navigate this market successfully, it is crucial for both buyers and sellers to be well-informed about the current conditions and trends and be prepared to adapt their strategies accordingly. Our well-skilled and experienced agents can provide the guidance you need.