Vermont Luxury Homes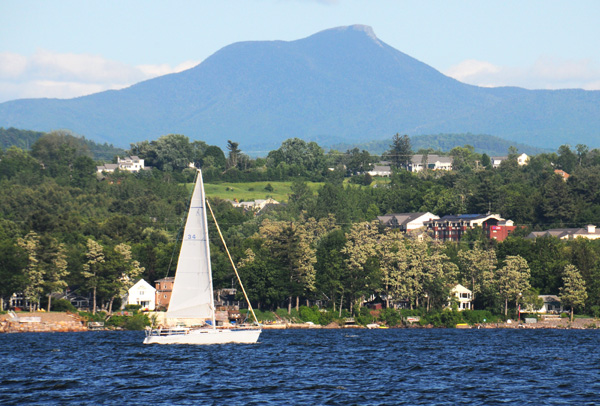 From Waterfront to Mountainside: Vermont Luxury Homes
With its picturesque views of Lake Champlain and mountain ranges, the Greater Burlington area has proved to be a popular setting for luxury homes for almost two centuries.
Starting in the early 1800s, successful local merchants and business owners built fine homes in Burlington's Hill Section, ranging from sprawling Victorian mansions to stately residences with classical and Gothic Revival elements. Bucolic towns throughout northwest Vermont, meanwhile, have appealed to both summer vacationers and all-season sports enthusiasts, with wealthy families such as the Vanderbilts and Webbs choosing Shelburne for their country residences.
"Vermont abounds in desirable sites for summer homes," pointed out the author of a 1915 guidebook called "The Green Mountain Tour." Indeed, the author continued, towns ranging from Burlington to Bennington have drawn "men and women of nationwide distinction."
In today's real estate market, that translates into an abundance of historic luxury homes, as well as a robust inventory of more modern high-end properties.
Burlington Luxury Living
"Most of the luxury market in Burlington is on the lakefront," notes Brian Boardman, owner, and REALTOR of Coldwell Banker Hickok & Boardman Realty. The Hill Section offers luxury homes with views of the lake, while people who want land and privacy often turn to Charlotte or Shelburne to find the perfect property, he notes.
In the exclusive South Cove neighborhood in the South End of Burlington, where properties frequently sell in the $1 million range, residents enjoy a private beach on Lake Champlain and easy access to the city's famed bike path.
South Cove's developments began in the mid-1900's and were once the site of the estate of Dr. William Seward Webb and his wife Lila Vanderbilt Webb, who later built Shelburne Farms. Because of this, the neighborhood offers a wider range of architectural styles than is found in many other Burlington neighborhoods, from Contemporary homes to Adirondack-style residences.
The Hill Section ranks high among Burlington luxury-home buyers. With its leafy, quiet streets boasting lake and mountain views, the neighborhood tends to offer an older housing stock than South Cove, including grand Victorian houses and brick Colonials.
Brian, who specializes in Hill Section homes as well as new construction, waterfront, and other high-end properties, notes that the challenges -– and charms -- in buying or selling luxury homes in the Burlington area often are due to their properties' historic natures. While many buyers are attracted to antique homes, they also need to be aware of issues such as the need for specialists to repair slate roofs, for example. With agents such as Brian steeped in the issues and know-how of luxury homes, Coldwell Banker Hickok & Boardman Realty has helped scores of high-end buyers and sellers through successful transactions.
Bucolic Shelburne and Charlotte
Newer and historic homes, country estates and waterfront properties are the hallmarks of Shelburne and Charlotte, towns located to the south of Burlington and which also boast lakefront homes. Generally, Shelburne and Charlotte register the highest average sale price in Chittenden County. Our quarterly Vermont Market Report will provide current information.
Shelburne Point is known for its high-end real estate properties. A spit of land that juts into Lake Champlain and creates Shelburne Bay, Shelburne Point offers waterfront property on both its eastern and western shores. Home to the Lake Champlain Yacht Club and Shelburne Shipyard, the Point draws many homeowners who enjoy boating as well as a quiet seclusion that is just minutes from Shelburne's bustling village life. The famed Shelburne Museum called a "tribute to collecting and its transformative powers" by the New York Times and the historic Shelburne Farms are just minutes away.
Charlotte, like Shelburne, also attracts high-end buyers with its miles of lake frontage, although the town tends toward a more rural character. With working farms, pick-your-own berry stands and Mt. Philo State Park within its boundaries, the town offers many of the pastoral pleasures Vermont is known for and maintains its character with the help of a requirement that houses have at least five acres of land.
Waterfront – Burlington and Beyond
Sometimes called the country's sixth Great Lake, Lake Champlain offers miles of waterfront property to the north and south of Burlington, including the bucolic Lake Champlain islands. While some properties are traditional Vermont "camps" – summer vacation cottages positioned by the water – newer developments also offer luxury choices.
The islands, which are 30 miles long and eight miles wide, consist of five towns including North Hero and South Hero, believed to be named after prominent early Vermonters Ethan and Ira Allen.
"It's a peaceful, quiet type of atmosphere," notes Carol Audette, a Realtor with Coldwell Banker Hickok & Boardman Realty who represents many buyers and sellers looking for island property.
Luxury properties on the island have recently sold to buyers as far away as California, although waterfront property also appeals to Vermonters and Canadians, who are attracted by the islands' proximity to the border.
Waterfront property located nearer to Burlington may appeal to luxury buyers who want to be minutes away from nightlife and amenities such as Church Street's boutiques and cafes.
Outer Bay at Marble Island in Colchester, a high-end new development set on a spit of land straddling Malletts Bay, provides three beaches, tennis courts, a marina and other luxury amenities. Represented exclusively by Coldwell Banker Hickok & Boardman Realtor Doug Boardman, the community offers a waterfront lifestyle with close proximity to Burlington and Canada.
One advantage of Lake Champlain is the diversity of the waterfront, from limestone ledges that plunge into its clear waters to shallow water bays with dark shale beaches, notes Chris von Trapp, a Realtor who specializes in waterfront property.
"There are deep-water bays where you can pull your boat right up to your beachfront, to shallow bays that draw just one-and-a-half feet of water, so I always ask what kind of boating do you do: Are you a kayaker or a fly fisherman, do you sit on lawn and like to look at the water," notes von Trapp.
Luxury in the Mountains
With all-season recreation attracting many high-end buyers to the state, towns closer to and in the Green Mountains also offer a range of luxury homes, from ski chalets to country estates. Warren, Waitsfield, and Stowe are among the mountain towns that attract luxury buyers, with estates ranging from multi-million dollar properties to high-end condominium developments.
Indeed, the attractions of Stowe prompted cable network HGTV to build its 2011 Dream Home in the town. Gristmill Builders, of Stowe, built the 3,400 sq. ft. home using locally sourced materials and craftsman and the best sustainable building techniques.
Farm to Table Communities
Gristmill, along with two other premier builders, Sheppard Custom Homes and Sterling Construction are among the preferred builders at South Village, a new development in South Burlington adjacent to a 4 acre working organic farm. South Village, represented by Coldwell Banker Hickok & Boardman Realty, offers single-family, townhomes, and opportunities to build a custom build home. The neighborhood, surrounded by 150 acres of common land, provide open space for walking, nearby paths for cycling and community gardens. "South Village provides housing opportunities for people at any stage in their life," says Kelly Fiske, a REALTOR with Coldwell Banker Hickok & Boardman Realty.
Whether it's a luxury home in Burlington's Hill Section or a waterfront estate in Shelburne, Coldwell Banker Hickok & Boardman Realty provides the expertise to ensure a smooth transaction.
Speak with an Agent Today