$35B
Gross Domestic Product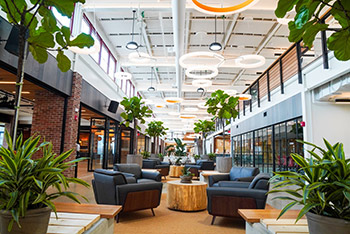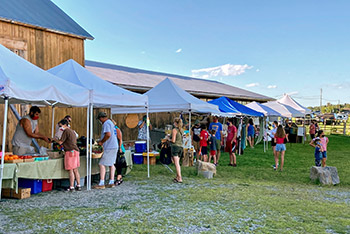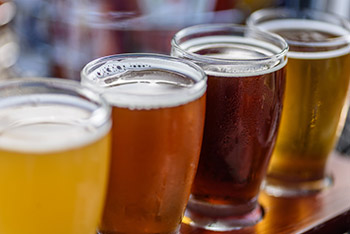 Vermont's economy is led by tourism, manufacturing, and agriculture, with tech and food manufacturing sectors becoming more prevalent. Northwest Vermont is home to the state's largest economic center, Burlington, with other cities and towns in the region such as Essex, St. Albans, and Middlebury being home to major employers including universities, hospitals, and tech companies. Vermont also boasts one of the lowest rates of unemployment in the US.
Agriculture
While Vermont is known for its agrarian roots, the agriculture sector has grown and developed beyond dairy farming and maple syrup to include food producers large and small. Companies like Cabot Creamery Cooperative, Ben & Jerry's, and King Arthur Flour anchor our food economy. Still, smaller operations like Jasper Hill Cheese, 14th Star Brewing, Caledonia Spirits, and Pete's Greens are also vital to our reputation for quality food products. Vermont's food and beverage manufacturing industry is built on our state's reputation for quality artisan products. 
Tech Sector
Vermont's tech sector is another vital and growing part of the state's economy. Tech jobs generate roughly $6.3 billion in annual wages in Vermont, and those jobs tend to be higher-wage jobs than average. While some of the state's largest employers are in the tech sector and employ thousands of people, Vermont has become a hotbed for tech start-ups, bolstered by our innovative and robust system of colleges and universities. Annual events such as Vermont Tech Jam, a job fair and tech expo, and Invention2Venture, a tech commercialization conference and business pitch competition, connect tech workers, companies, and investors, supporting the sector's continued growth. Other events like Launch VT and Peak Pitch/Road Pitch bring together entrepreneurs and inventors with sources of capital to help fuel burgeoning tech companies.   
Arts
The arts are also alive and well in Vermont. While the creative economy is a smaller portion of the overall Vermont economy, they are a vital part of life in our state and support one of our most important industries- tourism. According to the National Endowment for the Arts, in Vermont, the arts added $1B in value to the state economy—3.2% of state GDP—in 2017. If you are a lover of the arts, you can get your fix in nearly infinite ways. Bigger cities and towns boast great venues like the Flynn Center in Burlington, the Barre Opera House, and the Paramount Theater in Rutland. If music is your thing, you can take in everything from big pop and rock shows to the Vermont Symphony Orchestra and everything in between. If you prefer fine or folk art, the Shelburne Museum has an impressive collection. Many smaller galleries such as Burlington City Arts, Fleming Museum, and Edgewater Gallery can keep any art hound busy.