Rental scams are on the rise and unsuspecting consumers are taking the bait.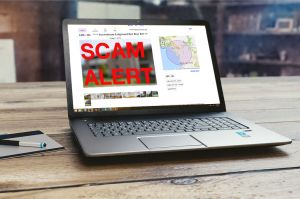 Fraudulent posts of homes for rent on sites like Craigslist, Zillow, and other national sites has been an issue for many years. The scam seems to peak seasonally when people are looking to move during warmer months and inventory of available homes to rent or buy is in short supply.
The fraudulent posts follow similar patterns where the scammer copies property photos and description from an actual property listed for sale and advertises it as a rental at a rate far below market value. The unsuspecting consumer inquires on the property and engages in, mostly email communication, with the scammer. Often the scammer says they have already moved from the area and will provide a key after the consumer sends a deposit. Most often the scammer is looking to rent the property quickly, putting pressure on the consumer to act fast with no time for due diligence.


When you are searching for a rental be sure to:
Use local market sources you recognize or can verify.
Never wire or exchange funds for a home or rental you have not seen.
If the asking price is inconsistent with other prices/rents charged in the marketplace, ask appropriate questions to find out why.
Google the property address to see if the property is currently or has recently been listed for sale. If so, contact the Listing Agent or the company it was listed with by phone.
Be wary of real estate offers from individuals in a foreign country
Do not forget the adage, "if it seems too good to be true, it is..."
In a competitive rental market, like Chittenden County, where vacancy rates are often less than 2% - finding a place can be a challenge and it is important to know what market rates are. According to the June 2019 report by Allen Brooks, & Minor typical rents can run:
Studio with 1 bath                               $1,200 - $1,500                     
One bedroom with 1 bath                   $1,300 - $1,700
One bedroom + Den with 1 bath        $1,600 - $1,675
Two bedroom with 1 bath                   $1,600 - $1,960
For more information about the rental market, Coldwell Banker Hickok & Boardman has provided a downloadable Guide to Renting in Vermont.
According to the Vermont Attorney General's office, the best form of protection from such scams is public awareness. While it may seem easy to see certain triggers that may have indicated a hoax; often when you're dealing with something as personal as finding a place to live in a market that has a low vacancy rate, tenants are under pressure to find something and are holding on to hope.
If you or someone you know comes across a property online that just seems "too good to be true" - give us a call. We are happy to try and verify any information that may seem somewhat out of the ordinary.