Vermont, one of the six New England states, is best known for our Green Mountains, recreational opportunities, entrepreneurial spirit – and arguably the best-tasting cheese and ice cream in the world. Our open landscape and pastoral views are one of the many things that make our state beautiful. The protection of our land has been managed through Vermont's thoughtful environmental law, Act 250, credited with protecting the environment, limiting sprawl, and encouraging smart growth. That is why you will find no billboards in Vermont to clutter your view of nature's beauty. Vermont ranks 49th in the country in terms of population, at 626,431.
Lake Champlain, the nation's sixth largest freshwater lake, stretches 120 miles from the Canadian border to the heart of Vermont. With 54 beaches there are plenty of spots to canoe, sail, jet ski or just enjoy the views of the Adirondacks.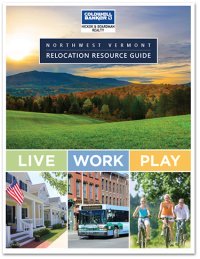 Whether you are contemplating a move or have already made the decision to relocate to Vermont, our goal is to provide you with the most extensive knowledge of our communities to assist you in taking this important step. Our services include area tours of communities & attractions; home finding or sales assistance; rental assistance & temporary housing; as well as access to local service providers to help you before, during, and after your move through our Relocation & Home Service program.
Request and/or download a Vermont Relocation Guide. If you choose to have a Comprehensive Relocation Guides sent to you it, will also include local maps and area information, along with information about schools, the arts and local attractions.