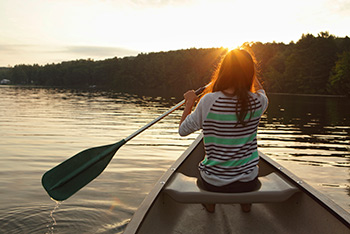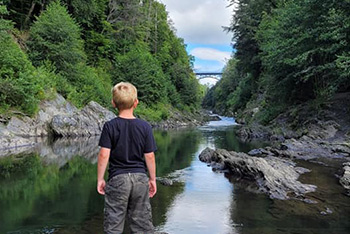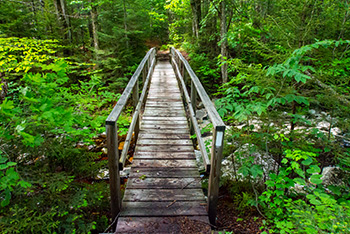 Vermont is known for its winter weather, but we really shine in summer, too.  Summer is a time of sparkling lakes, rolling fields of wildflowers, festivals of every description, and so much more. Getting outside to enjoy summer's beauty is a must- whether you hit the golf course, bike along the lake, take a boat ride, or enjoy a bite. There is a way for everyone to enjoy Vermont summer.
If you tend to like things a bit more rustic, Vermont's camping spots range from "glamping" to backpacking and everything in between. Our state park system offers camping and day use areas, and many provide access to lakes or ponds for fishing, swimming, and kayaking.
No matter what activities you enjoy in the summer, don't forget to pause and watch the sunset over Lake Champlain– it never disappoints.
Summer Festivals & Events
And if you're a fan of summer events and festivals, Vermont has plenty to offer. The Stowe Balloon Festival is a sight to behold as hot air balloons fill the sky with their vibrant colors. Or if you're looking for something a bit more performance driven, over 100 street performers descend on Church Street Marketplace in Burlington for the Festival of Fools.
 Enjoy Fresh Local Vermont Food
One of the best things about living in Vermont during the summer is the abundance of fresh-grown food. From farmer's markets to pick-your-own farms, you can taste the freshness in every bite. When it comes to dining, Vermont has something for everyone. From world-class restaurants to roadside diners to a slew of local wineries and breweries, you're sure to find something that tickles your taste buds. And with so many farms in the area, you can always count on fresh, locally grown ingredients.
Explore Vermont Towns, Back Roads and Scenic Beauty
But it's not just about the food – Vermont summers are also a time for exploring. Take a leisurely hike through the woods and discover hidden waterfalls or bike along the scenic back roads and discover quaint New England towns. And if you're feeling adventurous, why not try zip lining or rock climbing?
No Shortage of Swimming Holes
With over 800 Lakes and Dozens of Waterfalls, Vermont has no shortage of swimming holes. Vermont is home to some of the most picturesque swimming spots in the country, like the breathtaking Bingham Falls in Stowe or take a refreshing dip in Lake Iroquois. These spots are the perfect place to cool off on a hot summer day.
So if you're looking for a place to spend your summer, look no further than Vermont. With its stunning natural beauty, endless outdoor activities, and delicious food, there's no better place to call home during the summer months. Come for a visit, stay for a lifetime!