MARKET INSIGHTS
Median Sale Price:
$312,500
Units Sold:
20 (-16.7%)
Newly Listed:
56 (-6.7%)
Days on Market
109
While demand for multi-family properties remains strong, the first quarter saw some challenges, including tight inventory and an extremely cold weather in February, which may have kept some buyers on the sidelines.
Nevertheless, our agents are witnessing multiple offers on properties that are well priced and in attractive locations. Within Chittenden County's multi-family market, Coldwell Banker Hickok & Boardman Realty was involved in more than one-half of all sales by units, outpacing all other real estate offices in the county and placing our Agency almost 30 percentage points ahead of our closest competitor. Because of our strength, our agents have an unparalleled understanding of the trends within the multi-family market.
Northwest Vermont's low vacancy rates, as well as a diverse and growing professional base, continue to create an attractive market for investors and owner occupants of duplexes and three- and four-apartment buildings. The apartment vacancy rate for Chittenden County stood at 1.7% in December, the most recent data available, according to real estate consulting firm Allen & Brooks. By comparison, the U.S. vacancy rate for apartments was 4.1% in the first quarter.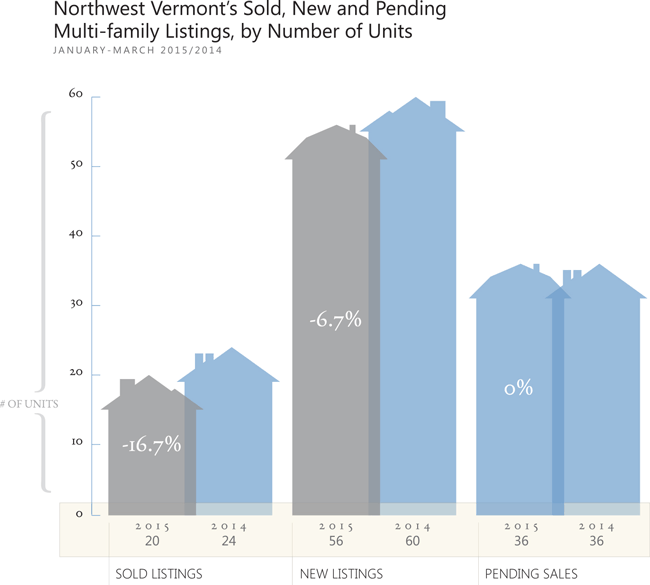 The recession and successive years of weak economic growth dampened the ability of some residents to acquire their own homes, which has driven up demand for rental apartments within the region. Monthly rents are also relatively high, with rent for the average two bedroom apartment standing at almost $1200 in 2013, which is also attractive to investors.
A lack of multi-family inventory may continue to be an issue in the market, especially as newly listed properties declined 6.7% during the first quarter. Our agents are noting that more multi-family properties are being listed as the weather improves, however. Demand for rental properties is also getting a lift from hiring by local employers, such as Dealer.com and Trader Joe's, the grocery store that last year opened a South Burlington location.
Many young professionals are continuing to rent because of the advantages of apartment living, such as having services such as lawn care arranged by the property manager, Allen & Brooks notes.  Some young professionals are also burdened with high student debt, which has been dampening their ability to save for a down payment.
With economists at the Vermont Economic Outlook Conference predicting that 1,500 new jobs may be created in the state this year, as well as a continued improvement in the unemployment rate, our region may see an increase in demand for rental properties.