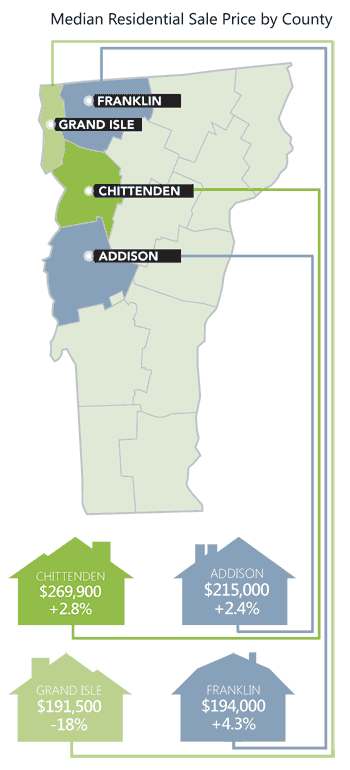 The type of healthy sales and pricing trends that were typical before the recession are returning to our region in 2015, thanks to a rebounding local economy, historically low interest rates, and a new influx of first-time home buyers.
With growing local businesses such as renewable-energy systems company NRG Systems and MyWebGrocer, the region's employment outlook remains healthy. Professionals continue to relocate to Northwest Vermont in search of new opportunities. The unemployment rate in Vermont stood at 3.6% in May, or almost two percentage points below the national average for the same month.
In addition to new hiring, our region's housing market benefited from the positive outcome for IBM's former Essex Junction semiconductor plant, with GlobalFoundries completing its purchase of the chip business in July. The uncertainty about the plant's future, which employs about 4,000 workers, was lifted, bringing buyers and sellers back into the market.
One measure of the market's health is the resurgence of first-time homebuyers. A recent survey of our clients found that 37% had just made their first home purchase. Last year, the percentage of first-time homebuyers on a national basis fell to 33%, from a typical level of 40%. Our market may have room to grow as more renters opt to make their first home purchase in the coming years.
Interest rates remain near historic lows, although the Federal Reserve is expected to begin raising rates incrementally later this year. This will likely push up mortgage rates slightly by the end of 2015, which could bring more buyers into the market as they seek to lock in rates before they rise even higher.
Northwest Vermont is facing some headwinds, however. These include affordability issues, given the region's relatively expensive housing market and lagging wage growth. Rising property taxes have added to affordability concerns for both mid-range and high-end buyers.
Despite those pressures, housing demand and pricing were strong in the first six months of 2015. Median sale prices rose 5.7% across our region's four counties, while the number of transactions jumped 13.7%. All four counties recorded higher transaction levels than a year earlier. By comparison, unit sales and home pricing was little changed in 2014.
The National Association of Realtors predicted in its July outlook that national sales of existing homes will rise 6.5% this year, with prices almost gaining 7%. Our view at Coldwell Banker Hickok & Boardman Realty calls for more tempered growth, with a 5% rise in sales volume and moderate price gains.
As always, it remains that both sellers and buyers need to reflect on their personal situation. Utilizing the local knowledge within this report and the advice of your Agent – you can make an informed decision about your next move.
---
After an abnormally cold winter that caused some consumers to delay their real estate plans, summer has brought a resurgence in home-buying activity. Sales jumped 13.7% during the first six months of the year, with more residential properties selling in each of the four counties than a year earlier. Across the four counties tracked in this report, the median sales price rose 5.7%.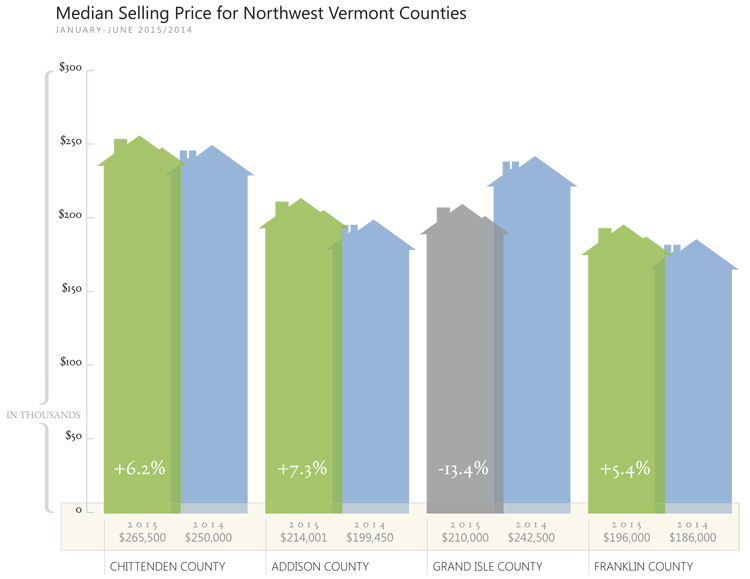 ---
The real estate market in Vermont's most populous county picked up speed following an already strong 2014. The number of unit sales jumped 18.1%, with Burlington, Winooski and Essex among the towns recording significantly higher activity. Median sales pricing rose 6.2% compared with a year earlier.
After a slow end to 2014, sales and pricing rebounded in Franklin County, which is attractive to some buyers because it offers a lower price point than neighboring Chittenden County. Lower gas prices have made living in the county a more economical option for commuters. Sales volume rose 1.4 percent, while median pricing jumped 5.4%.
While sales volume picked up in the first half of the year, median pricing slipped 13.4%. Buyers may have been searching for lower-priced housing, while the county recorded fewer luxury sales than is typical. It's important to note that as Grand Isle is Northwest Vermont's least active county for real estate transactions, a small number of sales can have a relatively large impact on pricing trends.
An improving economy and lower gas prices helped boost sales in Addison County. Property sales rose 10.8% during the first six months of the year, while the median sale price rose 7.3%. Middlebury, the most active town for sales, saw pricing gains of 3%, while Cornwall and Hancock recorded four luxury sales of properties above the $800,000 mark