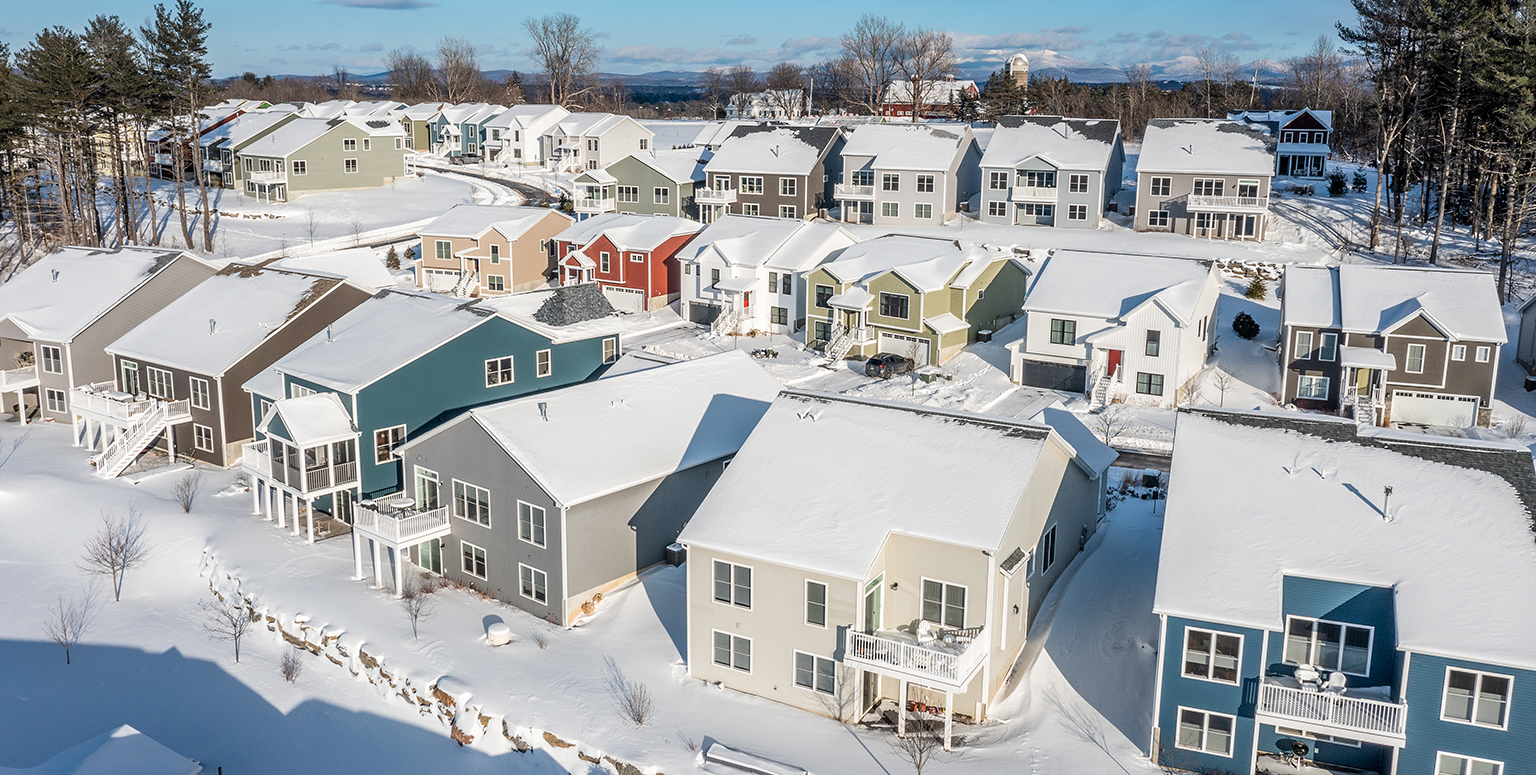 Twenty-two months into a global pandemic, the housing market nationally and locally remains very strong. According to the National Association of REALTORS, existing-home sales reached a seasonally adjusted annual rate of 6.12 million – the highest rate in 15 years. The median existing-home sale price grew by $50,200 to $346,900, a 16.9 % appreciation over the prior year. Locally, the median sale price for existing single-family homes increased by 16.3% to $382,750.
Single-Family January-December 2021
Median Sale Price:
Average Sale Price:
Units Sold:
Newly Listed:
Days on Market:
$382,750 +16.3%
$439,658 +15.1%

2,660 +4.4%
2,848 -0.38%
39 -43.5%
Condo January-December 2021
Median Sale Price:
Average Sale Price:
Units Sold:
Newly Listed:
Days on Market:
$275,000 +5.8%
$317,374 +11.1%
749 -8%
803 -1.7%
30 -40%
Multi-Family January-December 2021
Median Sale Price:
Average Sale Price:
Units Sold:
Newly Listed:
Days on Market:
$430,000 +22.9%
$539,588 +21.1%
244 +48.8%
303 +41.6%
60 -31%


Land January-December 2021
Median Sale Price:
Average Sale Price:
Units Sold:
Newly Listed:
Days on Market:
$104,298 -5.1%
$164,864 +3.7%
316 +29%
372 -25%
241 -24.7%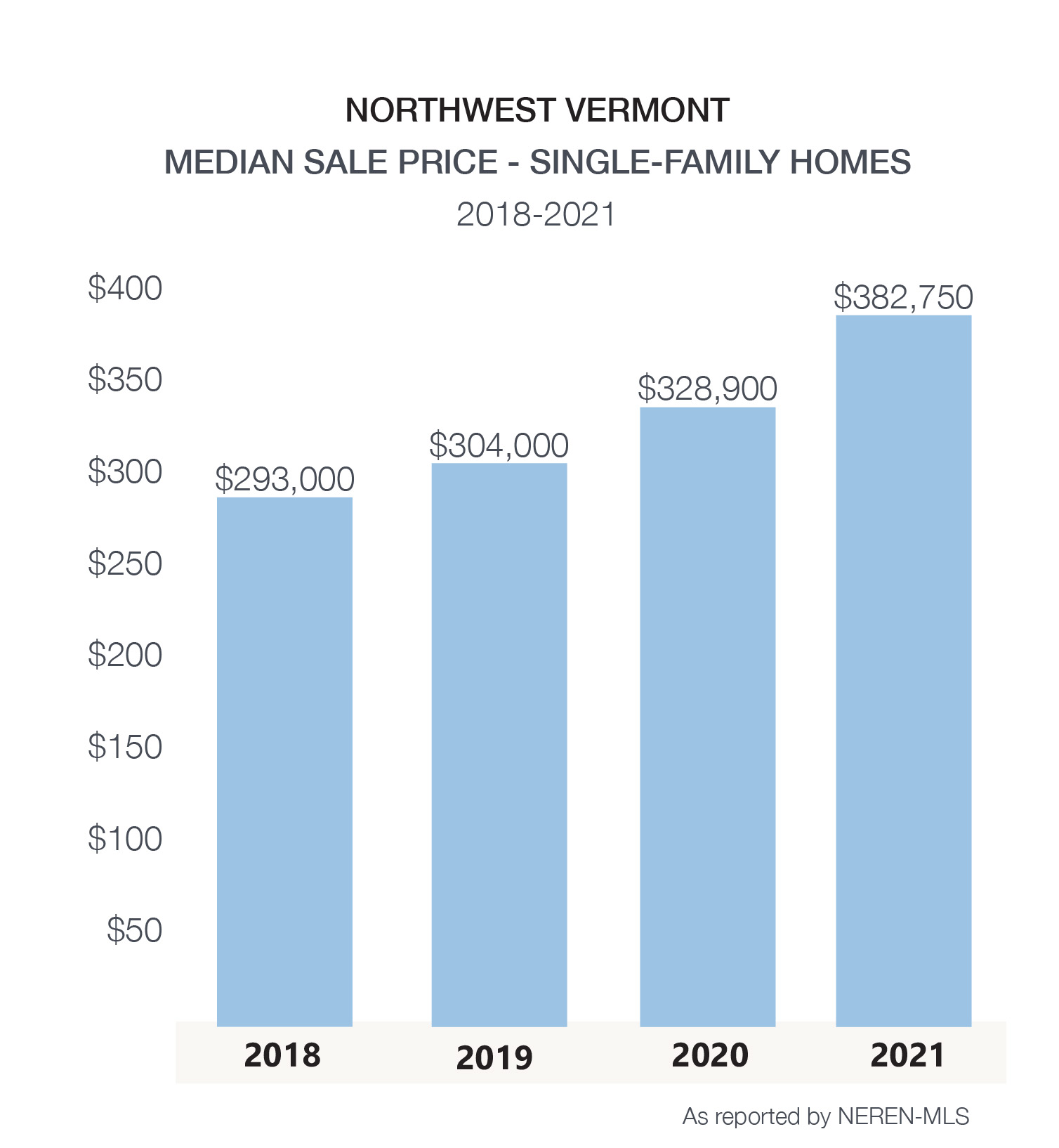 Is now the time to sell? The end of 2021 showed an all-time low inventory of properties for sale, nationally declining 18%. In northwest Vermont, there were only 411 properties of all types (residential, multi-family and land) for sale compared to 4066 sales for the year. Overall, the number of properties coming to market in 2021 remained flat with the prior year, yet the number of closed sales increased modestly. There is pent-up demand for sellers and listings. George Ratiu, of Realtor.com noted, "The pandemic has delayed plans for many Americans, and homeowners looking to move on to the next stage of life are no exception." That is changing with work-from-home options, lifestyle and space needs, and desire to live closer to family and friends.
As home prices increase, home equity has surged. It is estimated that homeowners with mortgages in the U.S. have seen an equity gain of $57K in the past year. With interest rates still low, these homeowners can consider using that equity to purchase a new home with little change in their payments. Further, many homeowners can refinance their mortgage, taking out the equity to use toward the purchase of an investment or vacation property. With your home being, in most cases, your largest asset, knowing the value in this evolving market is critical. Your agent can provide you with that current information. If your next move is outside Vermont, our agents will connect you with a professional to guide you through your next purchase.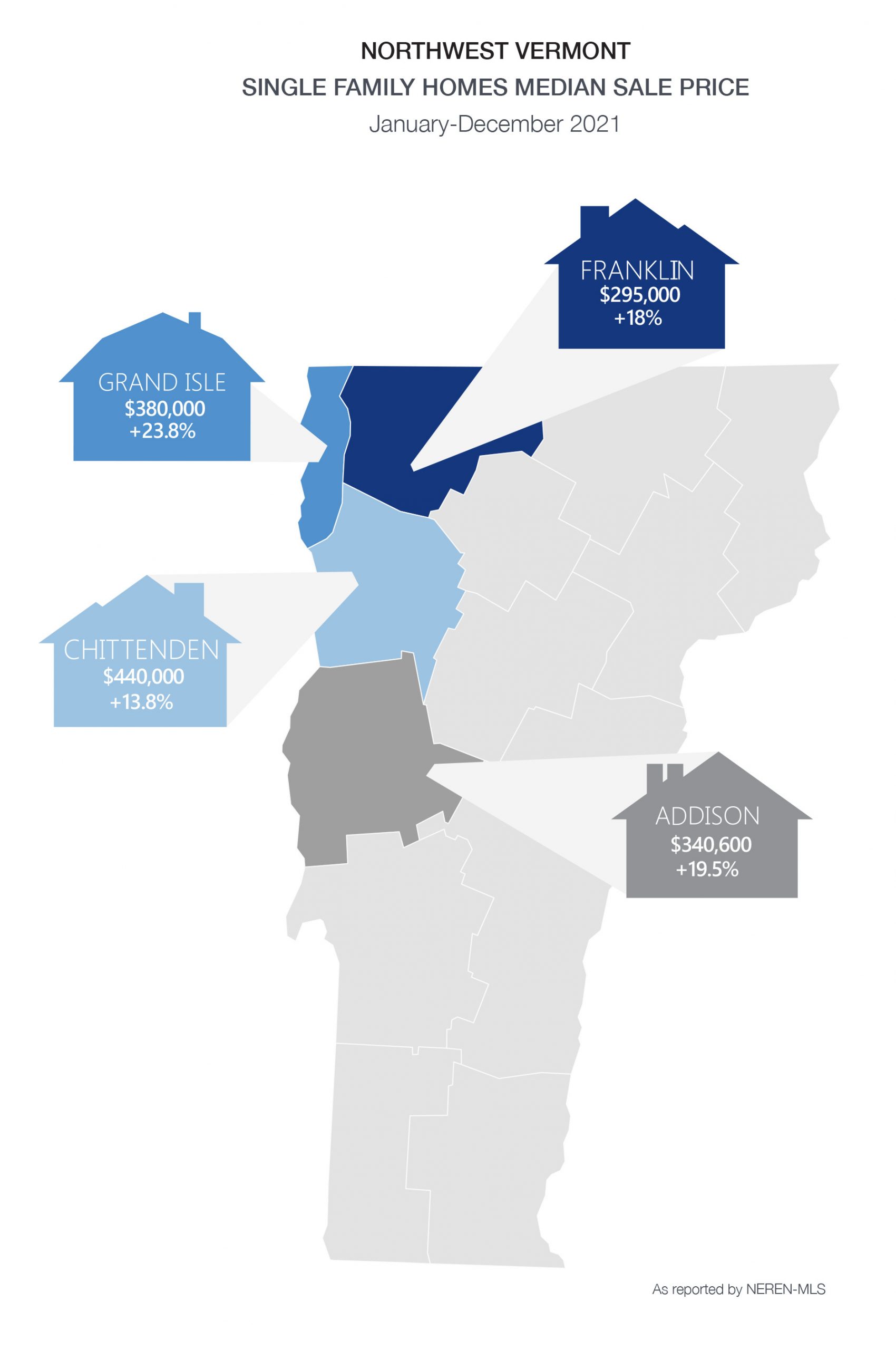 Savvy sellers, following the guidance of their REALTOR, are listing their homes early in 2022 versus waiting for the traditional spring market. Numerous showings and multiple offers persist, with many buyers willing to accommodate a seller's specific terms, such as agreeing to closing dates a few months out.
Should Buyers stay in the market? Is real estate still a good investment despite rising prices? According to Lawrence Yun, NAR Chief Economist, home prices are in no danger of declining due to tight inventory and strong demand, but he does expect prices to appreciate at a slower pace in 2022. While inflation has risen to 6%, affecting consumer goods like food and fuel, historically, housing has provided stability and even growth during these periods. In 2021, the appreciation of the median price of a home more than doubled (16%) the pace of inflation (6%). Mortgage interest rates will remain at a historically low rate, despite slight increases signaled recently by the Fed.
Yes, buyers should remain in the market rather than stay in their rental. "A fixed-rate mortgage allows you to maintain the biggest portion of housing expenses at the same payment. Sure, property taxes will rise, and other expenses may creep up, but your monthly housing payment remains the same. That's certainly not the case if you are renting," says James Royal, of Bankrate. According to the Chief Economist for Moody's Analytics, "One place where we're going to see continued strong acceleration in inflation over the next year or two is on rents." Locally, in December the Allen, Brooks & Minor Report reported the apartment vacancy rate at .8% and the rent inflation from 2020-2021 at 2.7%. Many landlords maintained rental rates during the pandemic, but increases are likely in 2022 and beyond, anticipated to be 3% or higher.
Still, the question of affordability will continue to be a hot topic in 2022. Home prices will not decline in 2022, but they are predicted to rise at a moderate pace. The average projection from leading economists is a 5.1% increase, equating to a median price of $402,270 in northwest VT. With per capita income up and mortgage rates predicted at near 3.6% by year-end, statistically, there is still capacity for households to absorb higher payments. Whether homeowners want to absorb higher payments is a different story all together. Not all purchasers will be impacted by rising interest rates. As we have been reporting in previous Market Reports, many buyers are paying cash for their homes. This may result from transferred wealth from their boomer parents, stock market and crypto wealth, or equity realized from the sale of a home in another state.
As 2022 begins, the number of well-qualified buyers searching for a home remains very strong. Our agents can assist with introductions to qualified lenders, market information, and strategies to navigate this fast-paced market.