| Single Family | | | | |
| --- | --- | --- | --- | --- |
| Median Sale Price: | Average Sale Price: | Units Sold: | Newly Listed: | Days on Market: |
| $270,000 (+2.66%) | $302,852 (+2.24%) | 954 (-6.29%) | 1827 (-5.87%) | 104 (0%) |
| Condo | | | | |
| --- | --- | --- | --- | --- |
| Median Sale Price: | Average Sale Price: | Units Sold: | Newly Listed: | Days on Market: |
| $230,000 (+3.84%) | $259,399 (+7.78%) | 313 (-5.72%) | 416 (-7.96%) | 100 (+20.48%) |
The Mid-Year point is an important milestone for real estate trends.  We are in the midst of the traditional "height of the market" – when sellers opt to list their homes and buyers search in what historically would have been peak inventory levels of the Spring.  Closings on real estate sales surge in June, July and August in between the school year, vacations, new household formation and other life events that typically drive the market.  Our Mid- Year report will recap the inventory and sales of property during the 1st six months – and provide a snapshot of trends we may see in the Fall of 2017.

2017 has seen consistent buyer interest, however, the decline in available homes for sale has limited sales.
Units sold decreased during the first half of 2017 over the same period in 2016 while the sales are flat compared to the same period in 2015.
Over the past 3 years the number of single family homes available for sale during the 2nd quarter of the year (typically the height of the real estate season in Northwest VT) has declined from 2906 to 2206 – a 24% decline or 700 units less– while homes going "under contract" during the same period have increased by 151 units or 29% during the same period. This has shifted the market into the sellers' favor especially in the sweet spot – the mid-priced range of $200,000- $400,000. One reason for this trend may be that sellers are living in their homes longer. According to the National Association of Realtors, the median tenure for sellers has increased to 10 years from a historical median of 5 to 7 years.
Newly listed, well-priced properties in good condition are selling quickly as savvy buyers search online and receive regular updates from their agents – ready to jump when the right property comes on the market. In some towns, the shortage of new listings coupled with buyer demand resulted in the absorption of listed properties that have been on the market for quite some time.
While both the median and average sold prices in single family and condos are showing increases, single family home prices appear to be more stable than the increases demonstrated in condos. In general, the increase in the average sold price of condos is a result of new construction projects at prices above the average and product mix versus appreciation of existing inventory.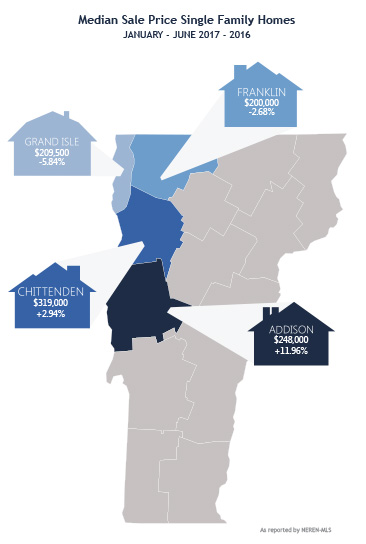 In a recent Burlington Free Press article by Art Woolf, he noted that while Vermont's population has declined slightly since the 2010 census – "Addison, Chittenden, and Franklin Counties have experienced growth over that period." He further goes on to note that the fastest growing towns (by population) "are, in general, north of Burlington with easy access to I-89." Our Market Reports over the past 2 years have reflected that trend as buyers searched outside of the Burlington area for more inventory and affordable home prices.
Land sales have stabilized after increased sales in 2016 as homeowners searched for alternatives while inventory was low. Many buyers have decided to "right size" their living accommodations with energy efficient, low maintenance newly built homes rather than purchase existing, older inventory that may need extensive renovations or are no longer meeting current needs or desires.
Mortgage rates are still historically low after a climb in late 2016 and some volatility during the first few months of 2017. Most predictions are that rates will remain steady for the remainder of the year. Any change to mortgage rates will affect buying power when affordability remains an issue. For example, an increase of .5% (one-half percent) in interest rate may reduce purchasing power approximately 5%. So, even though prices are rising slightly and inventory is limited, buyers who are serious about realizing their goal of homeownership this year should be ready to make an offer quickly – with the advice of their agent.
As always, it remains that both sellers and buyers need to reflect on their personal situation. We look forward to working with you to identify your next move.