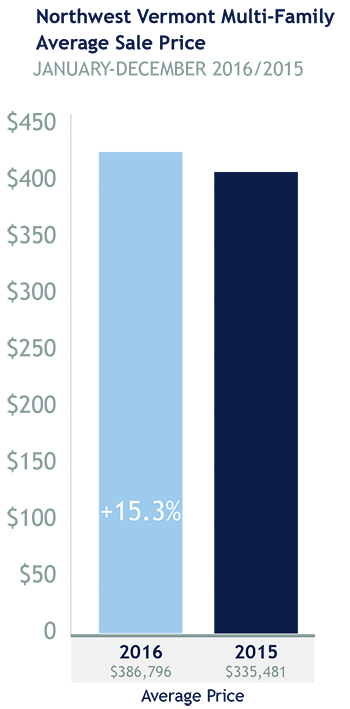 The landscape of Northwest Vermont's property market continues to show healthy growth, with prices and sales rising at sustainable rates. Our market is likely to continue to see similar trends within the next year, given growing local and national economies and historically low mortgage rates.

Northwest Vermont's real estate market ended 2016 on a high note, yet some headwinds bear careful watching in 2017. Home sales rose 3.7% last year, while the average sale price increased 3.8%, representing our region's recent history of moderate and sustainable growth.
Our market is likely to experience similar trends in 2017, although there is one issue that could constrain Northwest Vermont's property markets in the coming year: tight inventory levels. Because fewer homeowners are placing their properties on the market and construction of new homes continues to be limited, buyers are faced with fewer choices, especially in the sweet spot of housing in the mid-priced range of $200,000 to $400,000.
According to The National Association of Realtors, in 2016 the median tenure for sellers living in their home was 10 years versus the historical median of 5 to 7 years.
Inventory is particularly tight in many high-demand towns, including Burlington and Winooski, which is pushing some buyers farther afield as they search for affordable homes. The on-hand inventory supply in Chittenden County has dwindled to about 3 months, compared with 10 months in 2015.
Sales for homes priced above $600,000 are starting to pick up, yet inventory in the higher-end segment generally remains plentiful, providing these buyers with more choices.
As a result, the average sale price jumped in each of the four counties tracked by this report. Franklin County, which represents the lowest price point in the region, witnessed the largest increase, with the average sale price rising almost 8%.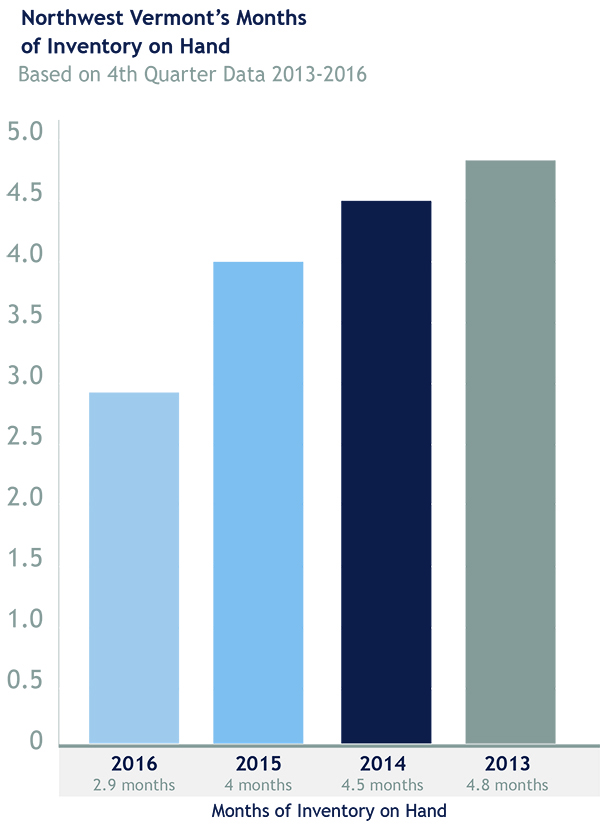 Relocating buyers moving to the area continue to buoy our market, thanks to growth in the health care and emerging technology sections. The unemployment rate stood at 3.2 percent in November, giving the state one of the country's lowest jobless rates.
Several other economic issues may play into our region's real estate market in the coming year. Foremost among those are interest rates, with the Federal Reserve boosting its key interest rate by 0.25% in December. The Fed has signaled that it plans an additional three rate hikes in 2017. Because those increases will cause mortgage rates to inch up from their historic lows, we believe mortgage rates will be in the 4.75% range by year-end.
Affordability remains an issue that is attracting the attention of lawmakers and advocates, given the difficulty of finding housing for low and middle-income workers. Home prices and rents have increased at an annual rate that has surpassed wage growth, creating a budget crunch for many Vermonters.
The National Low Income Housing Coalition found that a modest two-bedroom apartment in Vermont requires income of almost $44,000, which is out of reach for many in the state. Builders are constructing more rental units, although housing advocates say even more are needed.
As part of a buyer's due diligence, we recommend that they discuss the potential impact of Act 46, the education governance reform law passed last year that calls for larger school districts. We advise our clients to contact their local lawmakers and school board members to provide more information on how the law could impact local communities, as some are now evaluating school mergers.
Despite inventory concerns, buyers have high expectations for properties. Homes that require significant work or updating may linger on the market. Before listing, we recommend taking care of deferred maintenance and considering "smart home" upgrades such as Nest's thermostat or lighting features. These touches are especially appealing to millennial buyers, who represent the largest share of first-time homebuyers.
As always, it remains that both sellers and buyers need to reflect on their personal situation. Utilizing the local knowledge within this report and the advice of your agent – you can make an informed decision about your next move.
Chittenden County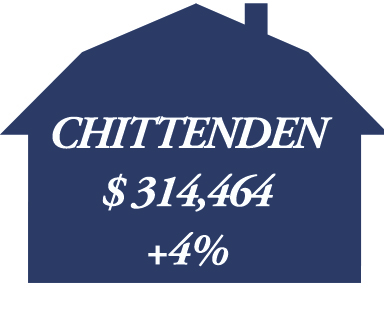 Franklin County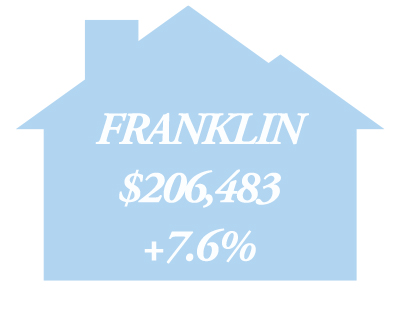 Grand Isle County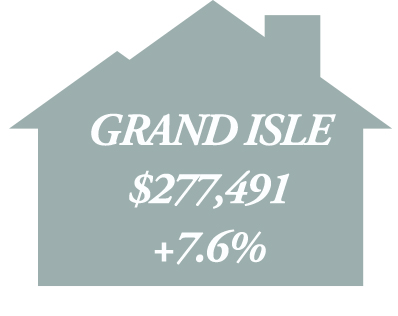 Addison County