At the start of 2015, Vermont's housing market is benefiting from some positive local and national trends, including historically low mortgage rates and an improving employment market. While there are reasons for optimism, some issues remain as an overhang from 2014, which resulted in an uneven year for Northwest Vermont's real estate market, with a slowdown during the winter and summer months followed by a pickup in fourth quarter sales.
As the spring of 2015 arrives, Vermont's housing market is warming up after a first quarter that saw both strong positive trends and some headwinds.
The positive local and national trends include historically low mortgage rates and a stronger employment market. In Vermont, the unemployment rate stood at 3.9% in February, well below the national average of 5.5% for the same month. Employers are also hiring, thanks to expanding businesses such as Dealer.com and Keurig Green Mountain, which are bringing new homebuyers into the Northwest Vermont real estate market.
Our region started 2015 with strong momentum, following a burst in home-buying activity at the end of 2014. Thanks to the resolution of the future of IBM's former Essex Junction semiconductor plant last fall, home sales once again picked up in Essex and neighboring towns. The plant's buyer, GlobalFoundries, said it would keep the plant open and had no layoff plans, which eased fears for property buyers and sellers. That helped lift sales in late 2014.
Still, the region faced some pressures in early 2015. Most notably, the unusually cold temperatures in February caused some buyers and sellers to delay their property plans. Our Agents note that they are seeing an uptick in listings and buyer inquiries now that the weather is warming up, which is encouraging owners to put their properties on the market and for buyers to make appointments to see listed homes.
While employers are hiring and the unemployment rate continues to drop, there are some residual effects of the Great Recession that are also creating challenges for homebuyers. Wage growth has continued to lag, putting pressure on consumer spending. During the past two years, home price appreciation has outpaced wage growth in 76% of U.S. housing markets, adding to affordability issues for many buyers, according to housing data company RealtyTrac.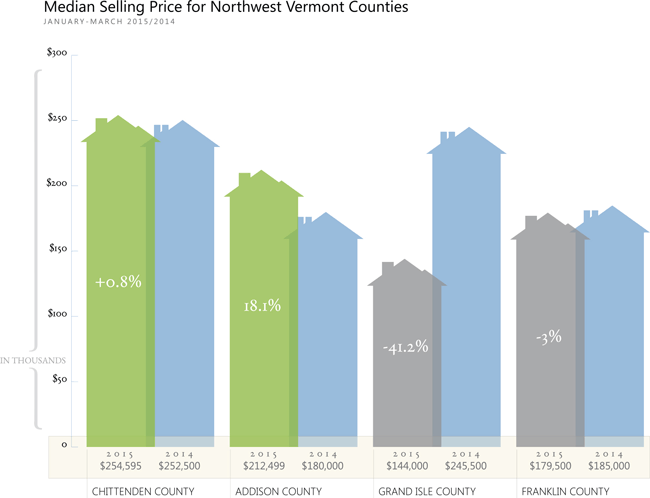 While Vermont has sat out much of the boom-and-bust cycle of the recession, it also hasn't seen the same type of housing price appreciation as states such as California. At the same time, home affordability in Northwest Vermont continues to be a serious issue for buyers, especially given stagnant wage trends.
The average Burlington household spends about 44% of its income on housing, much higher than the one-third of income that residents of cities such as Portland, Oregon pay, according to a 2014 report from the City of Burlington. Rising property taxes across the state of Vermont are also creating affordability challenges for some buyers.
Those wage and affordability issues may be putting pressure on local home prices. The median sales price across Northwest Vermont's four counties declined 1.8% in the first quarter. Nevertheless, sales volume jumped 13.6% during the first three months of 2015, indicating pent-up demand for home buying. That's a shift from overall sales last year, which declined 0.7% by unit sales, although the median sale price rose 0.9%.
Despite these concerning economic issues, we do expect to see an improvement in our real estate market in 2015. In its April outlook report, the National Association of Realtors predicts that sales and median pricing for existing homes will rise 6% this year. In Vermont, we at Coldwell Banker Hickok & Boardman Realty expect a positive, although more tempered year, with a 4 – 5% rise in sales volume and moderate price appreciation. Many renters are considering purchasing and we expect the percentage of first time buyers to shift upward this year.
Mortgage rates, still near historic lows, may rise later this year when the Federal Reserve is expected to boost interest rates. Still, any increase will likely be incremental, with Freddie Mac recently predicting the average 30-year fixed-rate loan rate will stand at 3.9% for the year.
As always, it remains that both sellers and buyers need to reflect on their personal situation. Utilizing the local knowledge within this report and the advice of your agent – you can make an informed decision about your next move.