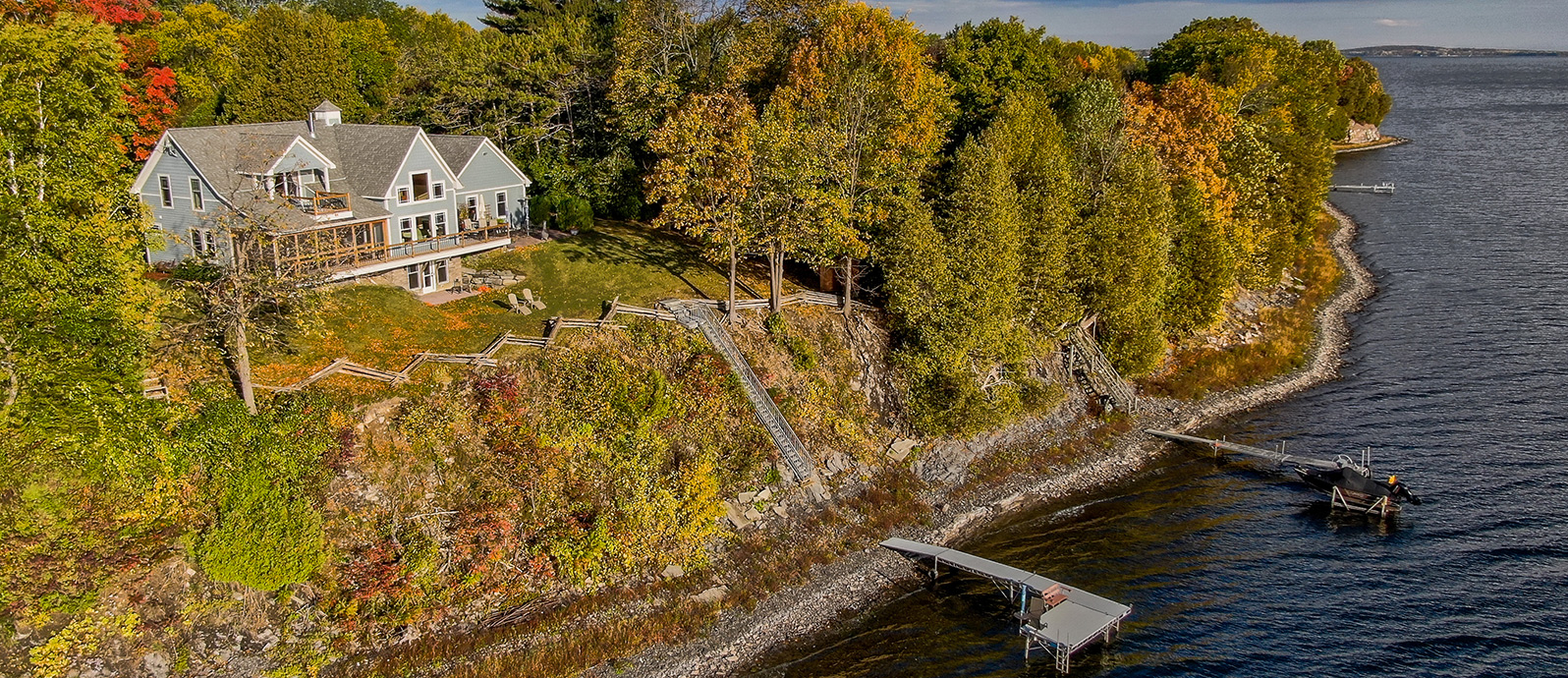 Just 3 months ago, in our Mid-Year 2020 market report, we provided data on the effect that the coronavirus had on real estate in northwest Vermont. The market had heated up after a pause due to the statewide shutdown. Low inventory, low interest rates and pent up demand pushed median prices higher year over year. The height of the real estate market – typically spring – had been pushed into summer. What we could not predict was the sustained demand for Vermont real estate that surged through the 3rd quarter of 2020, showing little sign of letting up.
| Single-Family January-September 2020 | | | | |
| --- | --- | --- | --- | --- |
| Median Sale Price: | Average Sale Price: | Units Sold: | Newly Listed: | Days on Market: |
| $322,500 +5.7% | $368,630 +6% | 1,815 -2.8% | 2,335 -15% | 75 +2.7% |
| Condo January-September 2020 | | | | |
| --- | --- | --- | --- | --- |
| Median Sale Price: | Average Sale Price: | Units Sold: | Newly Listed: | Days on Market: |
| $259,950 +6.2% | $282,962 +2.6% | 590 +4.8% | 670 +2.1% | 55 -19.1% |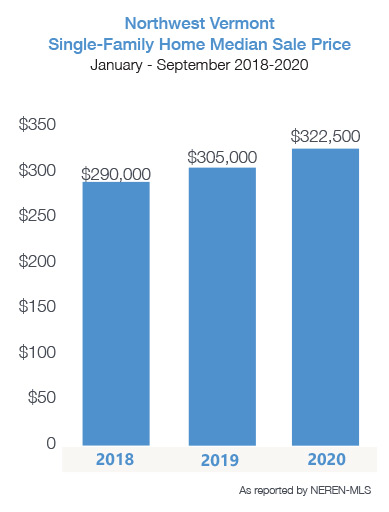 In a recent article in Forbes, George Ratiu, Senior Economist at Realtor.com is quoted "Real estate markets have undergone noticeable shifts since the start of the coronavirus pandemic, in the wake of the lockdowns in March, Americans discovered that existing homes were not adequate for the new work, teach, exercise, cook and live at home reality. Based on realtor.com surveys of consumers, we learned that home shoppers are looking for more space, quieter neighborhoods, home offices, newer kitchens and access to the outdoors, traits which have revived a strong interest in the suburbs and smaller metro areas." This, coupled with accolades for Vermont's handling of the virus – quickly flattening the initial wave and slowly opening the economy in a safe way, has contributed to the continued demand in our region.
Our website, HickokandBoardman.com, has seen a 27% increase in users and pageviews year over year. In-state visits to the site increased by 23% while out-of-state visits were up 33%. New York, New Jersey New England states, and California topped the list for out of state visitors searching for Vermont property.
The luxury market (defined for this report as residential property above $850,000) has benefited substantially. In search of a "second primary home," buyers from out of state – most with ties to Vermont – are snapping up larger homes with amenities that meet their desire for space and a sense of safety. Newly listed homes in this category increased 36%, offering a variety of options for those looking for a lifestyle change.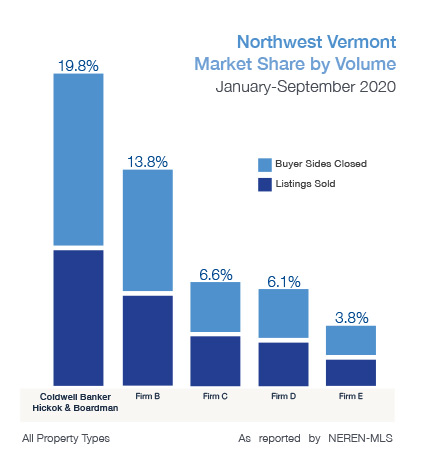 Nationally, the median price of existing homes pushed to a record high of $310,600 – up 11.4% annually. Locally, the median price has increased nearly 6% to $322,500 for a single-family home. These prices vary by county and town, so it is important to consult with our Realtors for data in your specific area.
In August, mortgage rates set several record lows, which added to the fierce competition for housing. Low rates give buyers additional purchasing power while sellers benefit from increased equity positions in their homes. A "seller's market" continues, as buyers are often challenged by the reality of multiple offers. Being well prepared, pre-approved and working with a Realtor experienced in navigating the intricacies of crafting purchase offers in this unprecedented market is critical for buyers wanting to achieve their dream of home ownership this year.
Despite the calendar pointing us in the direction of winter, and what used to be a slower period for real estate transactions, Sellers should view this as an extended spring/summer market. Get your home on the market and keep it on the market through the winter and "holiday season." Virtual showings and video enable buyers to view your home at their convenience. And, COVID guidelines reduce the number of people actually entering your home. Yet, the number of serious buyers in the market remains strong. With guidance from your Realtor, you should be able to negotiate a contract with price and terms that meet your needs still allowing you time to enjoy the holidays with family and plan a move for early 2021.