| Single Family | | | | |
| --- | --- | --- | --- | --- |
| Median Sale Price: | Average Sale Price: | Units Sold: | Newly Listed: | Days on Market: |
| $277,000 (+4.5%) | $315,428 (+4.5%)) | 2,290 (+0.1%) | 3,150 (-3.4%) | 99 (-1.0%) |
| Condo | | | | |
| --- | --- | --- | --- | --- |
| Median Sale Price: | Average Sale Price: | Units Sold: | Newly Listed: | Days on Market: |
| $227,500 (+3.4%) | $256,259 (+4.0%) | 705 (-3.0%) | 798 (-3.0%) | 82 (+7.9%) |
If there is comfort in consistency, then rest easy about the real estate market. While other sectors of the U.S. economy have been erratic for the last few years, the real estate market has remained steady since 2015, and that is still the picture in northwestern Vermont.

The year 2017 ended as it started. Inventory remained tight, which caused steadfast price growth. The median price increased for each property type (single family, condos, multi-family, and land) in our four-county region, and the median price of a single-family home jumped by 4.5% to $277,000 compared to the end of 2016. The median condo price was up by 3.4%. These increases were due to declining inventory, which caused multiple-offer situations in some towns and drove prices upward.
Compared to the end of 2016, the median price of a single-family home jumped by: 4.2% (to $322,000) in Chittenden County; 5.3% (to $214,950) in Franklin County; 7.2% (to $260,000) in Addison County; and 9.9% (to $250,000) in Grand Isle County.
Closed sales, by units, were flat to down except in one area: Land sales showed a whopping 5.6% increase over 2016. Since 2015, new listings of single-family homes have dropped by 13%, while newly listed condos have dipped by 12% — evidence to the trend of people moving less; during this same time period, only new listings for land have increased in northwestern Vermont.
Developers know housing inventory is tight, and that new listings have declined, so they are looking at land for new construction. They also know that new construction enhances the economy — from the employment of workers to build it, through the lifespan of the home — and generates new property tax revenue. Developers are building multi-unit neighborhoods such as South Village and Hillside at O'Brien Farm, both in South Burlington, which offer homes for buyers in various price ranges, living various lifestyles. Market trends are showing that buyers — especially Millennials — want smaller, energy-efficient properties with low taxes and small footprints, near communities with amenities. The in-demand price range is currently $250,000-$350,000.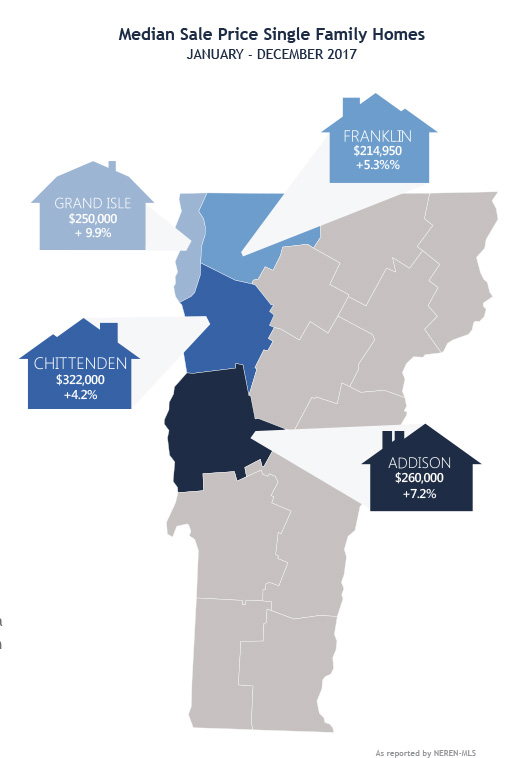 As we mentioned in our last report, if sellers are committed to selling in this market, our agents recommend sellers keep their property on the market year-round. Sellers typically take their homes off the market during winter, but a market with tight inventory also produces more motivated buyers.
Furthermore, the Federal Reserve is expected to raise the prime lending rate three times this year. Currently, it is just at 4% and is expected to be at 4.5% or 4.7% by the end of 2018, which will have a significant impact on the real estate market. A 1% increase in interest rate can reduce a buyer's purchase power by approximately 10%. Coupled with another year of increasing median sales prices in the region, means buyers may want to consider purchasing early in 2018.
Whether you are a buyer or seller, be prepared. Buyers should consider a price point but be ready to be flexible in a competitive bidding process, if possible; and buyers should enter the shopping process with some level of pre-approval for financing with a local lender. Sellers should prepare their homes in advance for showings and inspections.
Buyers and sellers must first consider their personal situations. If buyers want to find a property in northwestern Vermont and plan to stay for a few years or longer, they will find something; and sellers should know those buyers are out there. Our thoughtful and creative Realtors are here to help make those connections for a successful closing, for everyone at the table.