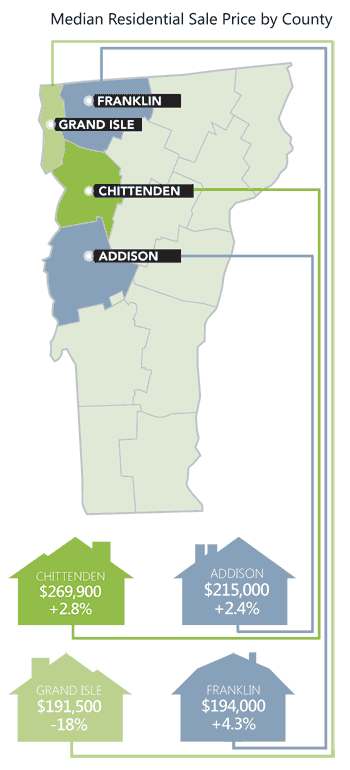 As the fall months arrive, Northwest Vermont's property market is continuing to witness healthy real estate demand.
With the local economy continuing to grow and interest rates remaining at historically low levels, buyers are returning to the market, including an influx of first-time homebuyers. That has lifted residential home prices between 2% to 3% so far in 2015, which is representative of the type of healthy sales gains that were typical before the recession.
The region's employment outlook remains healthy, thanks to hiring by local businesses such as Dealer.com and the University of Vermont. In August, the unemployment rate in Vermont stood at 3.6%, one of the lowest in the country. Economists at the Vermont Economic Outlook conference have forecast that 1,500 new jobs will be created in the state this year.
Those trends are bringing first-time homebuyers back into our market, especially as younger professionals seek to gain a foothold in the property market. The millennial generation, which now stands as the largest generational group in America, is expected to become the country's biggest home buying demographic within the next five years, according to real-estate data service Zillow.
In the Northwest Vermont market, our agents are already seeing younger first-time homebuyers enter the market. A survey earlier this year of Coldwell Banker Hickok & Boardman Realty clients found that 37% had just purchased their first home, which is approaching typical levels of 40% of the market. On a national basis, the percentage of first-time homebuyers stood at 33% last year.
Economists now consider it less likely that the Federal Reserve will start raising interest rates this year, following a disappointing national jobs report in October. If the Fed opts out of boosting rates, it's likely that mortgage rates will remain near historic lows for several more months.
Despite the solid outlook for our region, the property market is facing a few problematic issues, including affordability and rising property taxes. Residential property in the region remains expensive compared with wages, and increases in taxes have added to buyers' concerns.
Despite those headwinds, Coldwell Banker Hickok & Boardman Realty is forecasting continued incremental growth in housing prices and steady demand for the remainder of 2015 and into 2016. For the first nine months of this year, the median sale price for residential property increased 2.9%, while the number of unit sales jumped 13.7%. That marks an improvement over 2014, when unit sales and pricing was little changed.
As always, it remains that both sellers and buyers need to reflect on their personal situation. It is increasingly important that you utilize the local knowledge within this report and the advice of your agent – to make an informed decision about your next move.
---
Coldwell Banker Hickok & Boardman Realty is forecasting continued incremental growth in housing prices and steady demand for the remainder of 2015 and into 2016.
The resurgent Northwest Vermont real estate market continued to demonstrate healthy pricing and demand during the third quarter, after a strong spring and early summer. Sales jumped 13.7% during the first nine months of 2015, with each of the region's four counties recording more residential transactions than a year earlier. Across the four counties tracked in this report, the median sale price rose 2.9%.