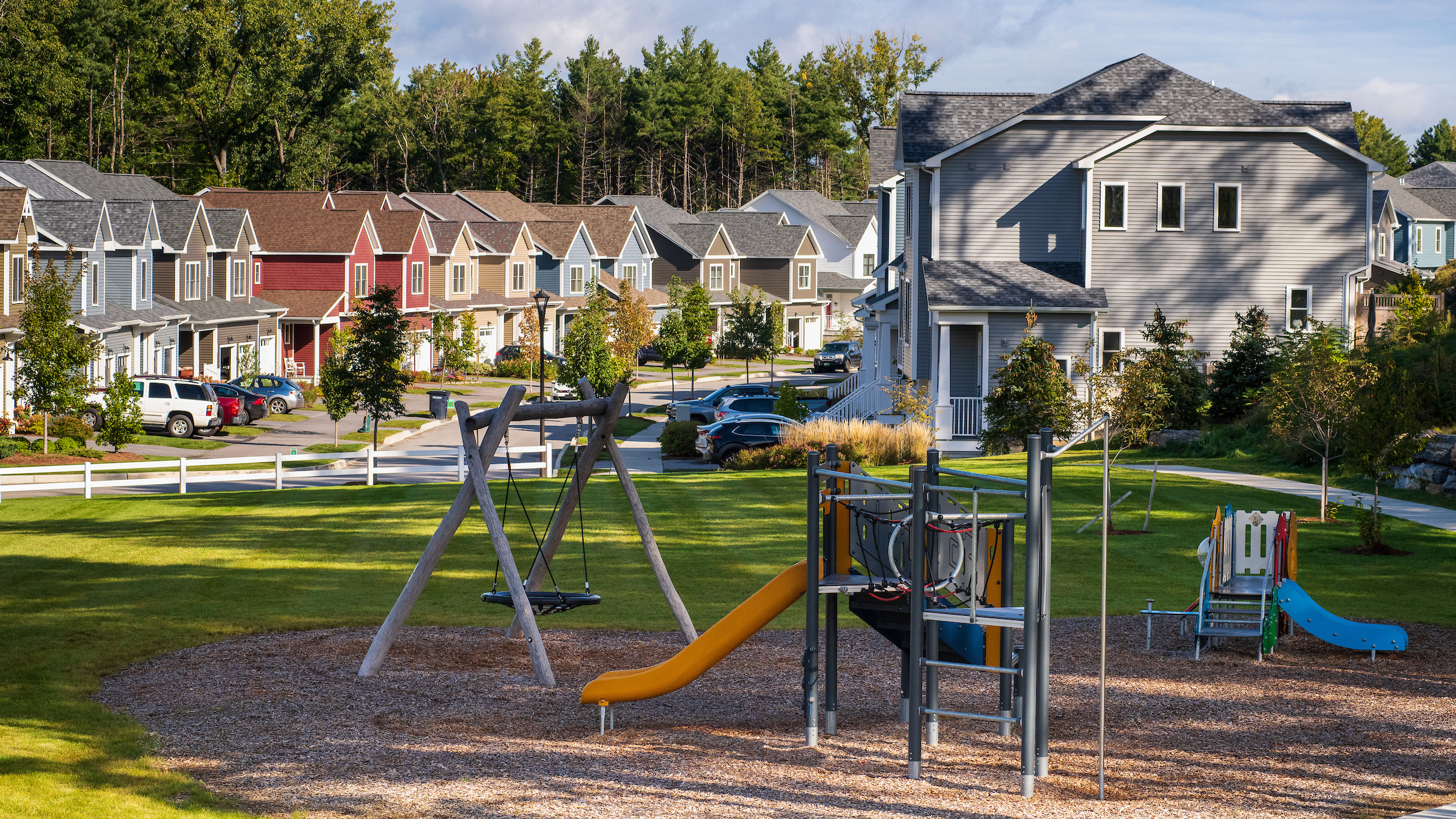 Single-Family January-June 2023
Median Sale Price:
Average Sale Price:
Units Sold:
Newly Listed:
Days on Market:
$542,173 +7.3 %
$598,638 -1.7 %
402 -17.1 %
552 -16.4 %
28 +47.4%
Condos January-June 2023
Median Sale Price:
Average Sale Price:
Units Sold:
Newly Listed:
Days on Market:
$360,000 +5.9%
$418,575 +8.5%
234 -25.2%
297 -21.0%
17 -22.7%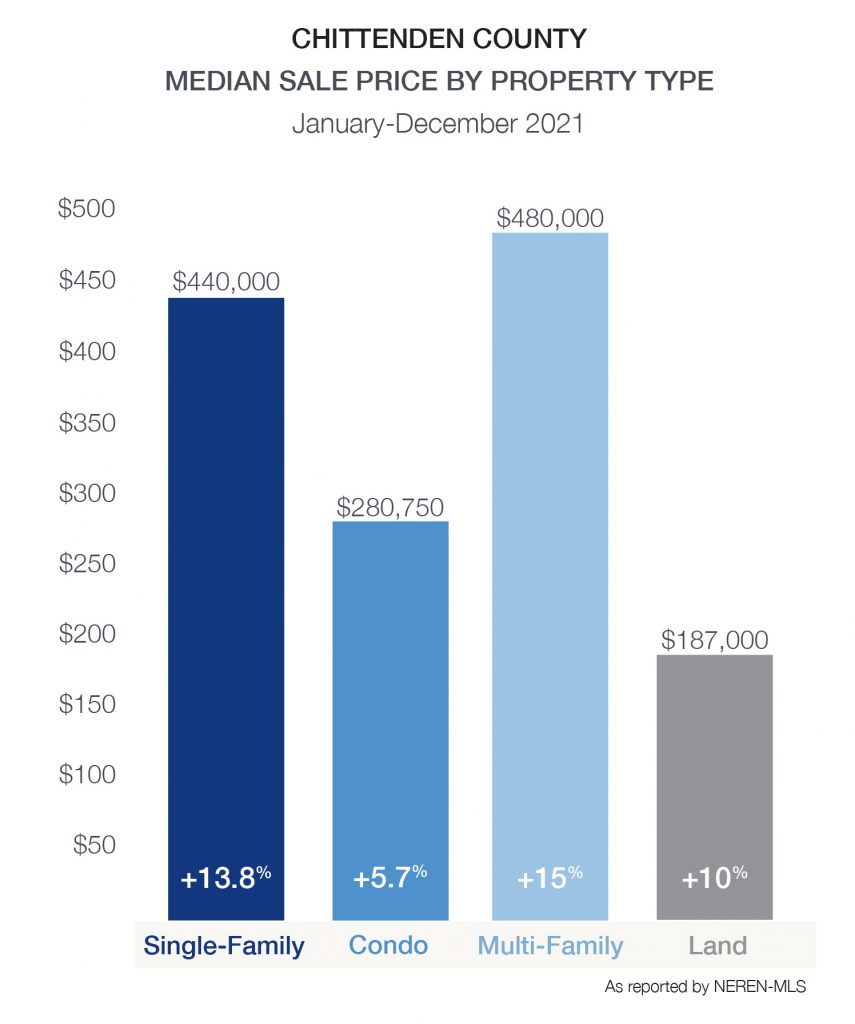 While prices for single family homes have increased across the county by nearly 51% since mid-year 2020, growth has moderated in 2023 at a 7% increase. Homeowners have seen increased equity over the past few years, while benefiting as the largest portion of their living expenses – their mortgage – remained stable. Year to date, although buyer demand remained strong, a drop of 16% in new listings resulted in a decline in closed sales. Some buyers, many who paused searches in the second half of 2022 due to rising interest rates, have reentered the market this spring to face competitive offers. This is more frequent in the more affordable price ranges. The decline in new listings is also beginning to moderate as lifestyle factors encourage many sellers to maximize gains and make moves long delayed since the pandemic.
Hillside East in South Burlington introduced one of the nation's first 100% fossil fuel and carbon-free, climate resilient neighborhoods in the spring. With construction underway, a variety of single family and town home styles are available for reservation in the already established community. South Village, also in South Burlington, is wrapping up development with the last lots under construction.
In Chittenden County, Coldwell Banker Hickok & Boardman agents represented clients in more than 1 in 4 sales. Buying or selling your home is a big deal – the experience and results your Agent and real estate brokerage offer should be, too.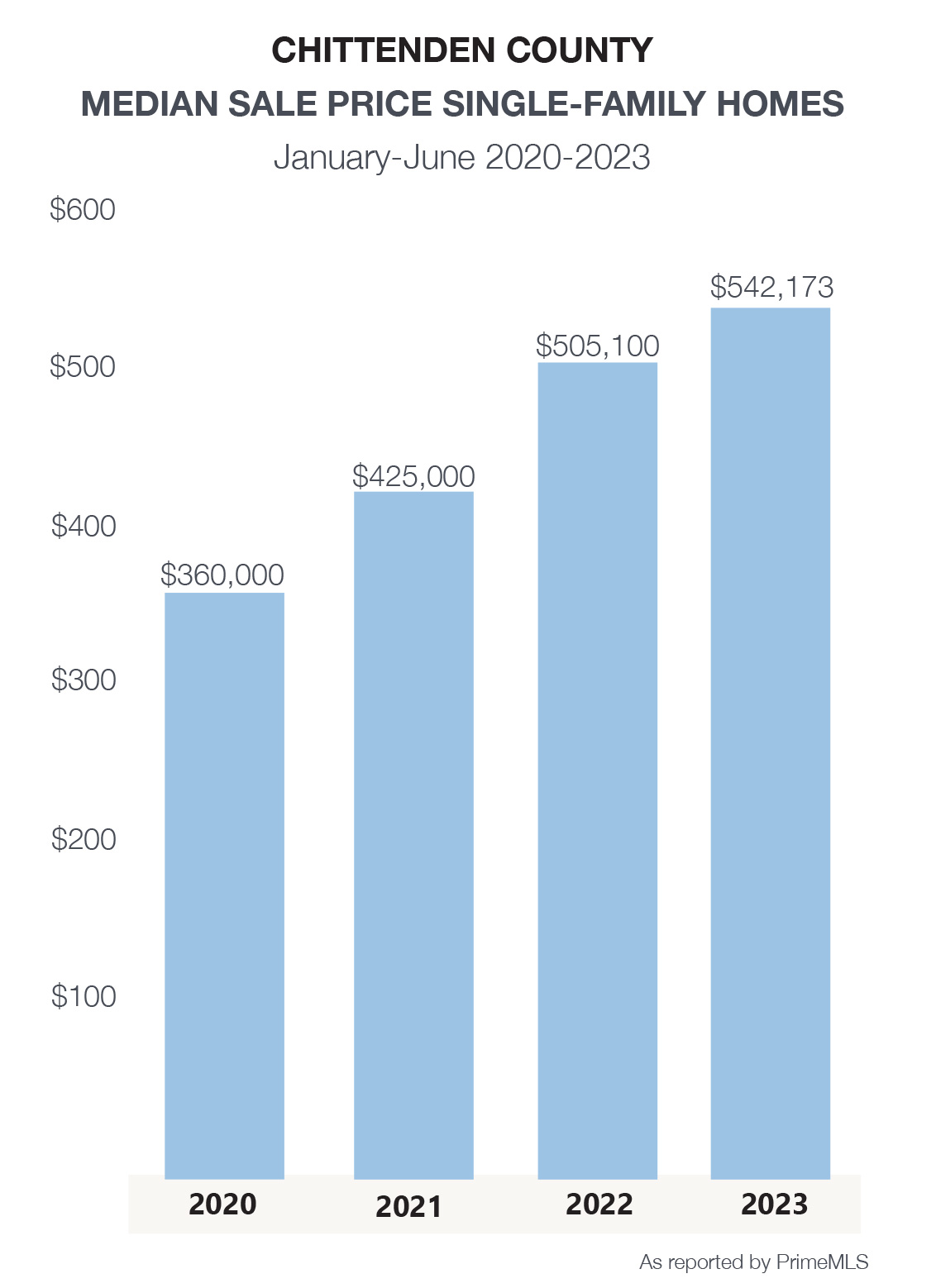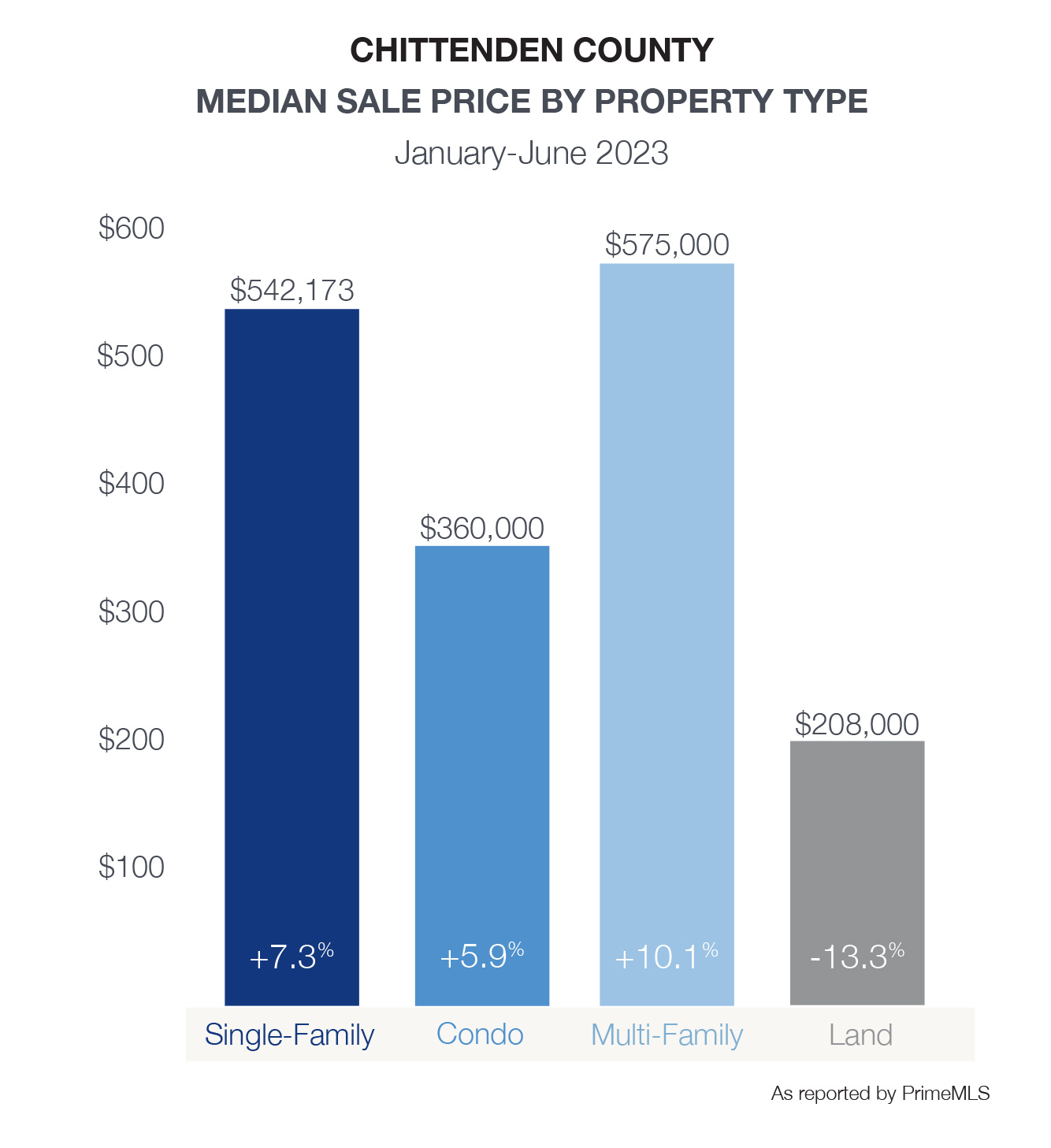 | | MEDIAN SALE PRICE | VS 2022 | UNITS SOLD | VS 2022 | NEWLY LISTED | VS 2022 | DAYS ON MARKET |
| --- | --- | --- | --- | --- | --- | --- | --- |
| Chittenden County Single-Family | $542,173 | 7.3% | 402 | -17.1% | 552 | -16.4% | 28 |
| Bolton | $542,000 | -23.0% | 3 | 200.0% | 4 | 33.3% | 38 |
| Burlington | $610,000 | 11.0% | 69 | -16.9% | 76 | -37.7% | 34 |
| Charlotte | $550,000 | -28.0% | 7 | -56.3% | 13 | -40.9% | 44 |
| Colchester | $512,750 | 3.0% | 42 | -8.7% | 76 | 38.2% | 24 |
| Essex | $483,750 | 8.0% | 62 | -25.3% | 74 | -16.9% | 28 |
| Hinesburg | $542,000 | -14.0% | 3 | -82.4% | 15 | -55.9% | 9 |
| Huntington | $250,035 | -29.0% | 2 | -81.8% | 3 | -80.0% | 22 |
| Jericho | $590,000 | -6.0% | 11 | -15.4% | 24 | 14.3% | 11 |
| Milton | $425,000 | 4.0% | 41 | 32.3% | 48 | 17.1% | 39 |
| Richmond | $477,250 | 5.0% | 8 | -11.1% | 13 | 44.4% | 25 |
| Shelburne | $865,500 | 8.0% | 20 | -42.9% | 34 | -38.2% | 21 |
| South Burlington | $626,225 | 18.0% | 72 | 22.0% | 95 | 9.2% | 19 |
| St. George | $675,250 | 48.0% | 4 | 300.0% | 5 | -16.7% | 34 |
| Underhill | $540,000 | -10.0% | 9 | 12.5% | 15 | 36.4% | 25 |
| Westford | $565,500 | 34.0% | 7 | -12.5% | 7 | -36.4% | 12 |
| Williston | $611,000 | 1.0% | 31 | -29.6% | 34 | -45.2% | 51 |
| Winooski | $360,000 | -8.0% | 11 | -45.0% | 16 | -5.9% | 7 |
| | MEDIAN SALE PRICE | VS 2022 | UNITS SOLD | VS 2022 | NEWLY LISTED | VS 2022 | DAYS ON MARKET |
| --- | --- | --- | --- | --- | --- | --- | --- |
| Chittenden County Condo | $360,000 | 5.9% | 234 | -25.2% | 297 | -21.0% | 17 |
| Bolton | $283,000 | -3.6% | 3 | -25.0% | 3 | -25.0% | 4 |
| Burlington | $376,500 | -4.7% | 44 | -18.5% | 51 | -37.0% | 15 |
| Charlotte | n/a | 0.0% | n/a | 0.0% | n/a | 0.0% | n/a |
| Colchester | $394,950 | 16.2% | 20 | -46.0% | 31 | -22.5% | 32 |
| Essex | $362,450 | 13.3% | 36 | -35.7% | 53 | -22.1% | 10 |
| Hinesburg | $288,000 | -31.8% | 1 | -83.3% | 2 | -75.0% | 4 |
| Jericho | $381,250 | 50.7% | 4 | 300.0% | 5 | 400.0% | 6 |
| Milton | $240,000 | -11.1% | 5 | -44.4% | 14 | -26.3% | 4 |
| Richmond | n/a | 0.0% | n/a | 0.0% | n/a | 0.0% | n/a |
| Shelburne | $597,211 | 53.1% | 15 | 114.3% | 16 | 128.6% | 68 |
| South Burlington | $335,000 | 1.5% | 67 | -28.0% | 77 | -22.2% | 12 |
| Williston | $422,500 | 5.6% | 28 | -20.0% | 31 | -16.2% | 10 |
| Winooski | $352,000 | 5.9% | 11 | 10.0% | 14 | 27.3% | 13 |
| | | | | | | | |
| | | | | | | | |
| | | | | | | | |
| | | | | | | | |