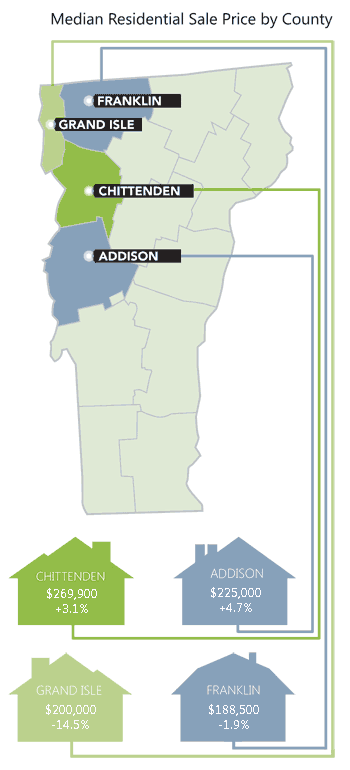 The local economy continues to be healthy, lifted by hiring at employers including Dealer.com and University of Vermont, while industries such as healthcare, technology, and education remain vibrant. Dozens of technology start-ups are hiring and attracting mid-career professionals from out of state, as well as hiring graduates from local colleges such as Champlain College and UVM.
The unemployment rate in Vermont stood at 3.7 percent in November, one of the lowest in the country. Our region's jobless rate was even lower, with Chittenden County's unemployment rate reaching a 15-year low of 2.5 percent during the same month.
Millennials are entering the property market, with that generation on track to become the country's largest home-buying demographic within the next few years, according to real-estate data service Zillow. In Vermont, younger consumers are emerging as first-time buyers, thanks to record low interest rates and relatively high rents, which makes home-buying a more attractive alternative. A Coldwell Banker Hickok & Boardman Realty survey last year found 37% of our clients had just purchased their first home, close to historic rates of 40% for first time buyers.
While the Federal Reserve increased short-term interest rates in December, the central bank has signaled that future rate hikes will be incremental. Mortgage rates may reach between 4.7% to 5% by year-end, compared with below 4% currently, according to the National Association of Realtors. Mortgage rates remain historically low, and our Realtors haven't noted any impact on housing demand from the Fed's move.
Housing in the $250,000 to $350,000 range remains the sweet spot in our market, especially given the emergence of first-time millennial homebuyers. Property in the over-$500,000 range, however, can take longer to sell, and inventory in the upper ranges has been growing because of affordability issues. The luxury segment, or properties priced above $800,000, now has a three-year supply of inventory.
While the overall property market remains stable, there are a few issues that bear noting, including rising concern over affordability and property taxes. Vermont's housing ranks among the most expensive in the country, but incomes in the state remain relatively low, creating a financial crunch for some buyers and property owners. Vermont also has one of the highest property tax burdens in the country, according to the Tax Foundation. Legislators are taking action intended to support quality outcomes for students and make costs more sustainable.
Homebuyers and property owners are advised to keep an eye on Act 46, the education governance reform law passed last year that calls for larger school districts. That could impact some towns in our region, such as Essex, Essex Junction and Westford, which late last year voted to consolidate into one school district. It is important for homebuyers to reach out to school administrators in the town they are considering with any questions. We find public and private schools have always welcomed conversations with perspective families considering a move to the area.
The National Association of Realtors forecasts a median price increase of 4% to 5% and existing home sales rising 1% to 2% in 2016.
Locally, Coldwell Banker Hickok & Boardman Realty is forecasting continued steady growth in pricing and sales for 2016, after last year's 12% gain in residential transactions and 3.4% boost to the region's median sale price.
As for sellers preparing their home for sale, Coldwell Banker Hickok & Boardman Realty recommends taking care of deferred maintenance issues prior to listing. Also, consider installing new "smart home" technology. These devices are relatively affordable, and consumers are increasingly embracing the technology, according to a joint survey from Coldwell Banker and technology site CNET. On top of that, smart devices such as Nest's thermostat can help save money by conserving power and water, which will make your home even more appealing to buyers.
As always, it remains that both sellers and buyers need to reflect on their personal situation. Utilizing the local knowledge within this report and the advice of your agent – you can make an informed decision about your next move.