The luxury residential market in Northwest Vermont offers a range of spectacular properties, drawing buyers interested in waterfront estates, country properties, as well as stately city residences.
While our Agents are seeing signs of renewed activity in the luxury market, this segment has been slower to recover than the region's mid-range housing. One reason may be Vermont's relatively high property taxes, which may potentially dissuade vacation-home buyers from purchasing in the state. Below are a few trends that are impacting the market for homes above $800,000.
---
A Slower Pace
Sellers have readjusted their expectations for sales prices amid slower demand for high-end property. That means buyers may find excellent values among the region's luxury properties, with some homes selling below assessed value.
City Living
Our Agents note that buyers are increasingly looking for high-end homes in or close to Burlington because of a desire to be near restaurants, the arts, and the University of Vermont Medical Center.
Waterfront Property
Buyers seeking waterfront properties are interested in homes with higher elevations and seawalls in good condition, given concerns about flooding.
Traditionally, the region's waterfront properties have maintained a strong draw on luxury buyers. However, the first half of 2015 has seen a shift toward properties closer to town or with large acreage. Only four of this year's sales included waterfront access.
---
Chittenden County represented the bulk of high-end sales, with nine transactions above $800,000. Four sales were located in Addison County, while Grand Isle recorded one transaction.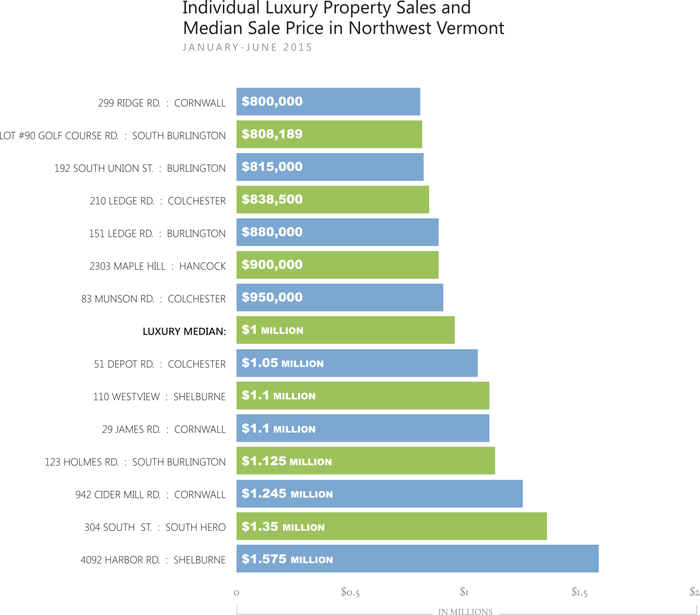 MARKET INSIGHTS
Four of this year's fourteen $800,00-plus home sales are waterfront properties.
Nine of this year's luxury sales are located in Chittenden County.