| County Averages | | | |
| --- | --- | --- | --- |
| Median Sale Price: | Units Sold: | Newly Listed: | Days on Market: |
| $269,900 (+2.8%) | 1495 (+17%) | 2321 (+2.1%) | 80 |
The real estate market in Chittenden County has demonstrated healthy conditions during the first nine months of 2015. Steady price increases in the 2% to 3% range represent sustainable gains, while pent-up demand from first-time homebuyers has resulted in a boost in activity this year.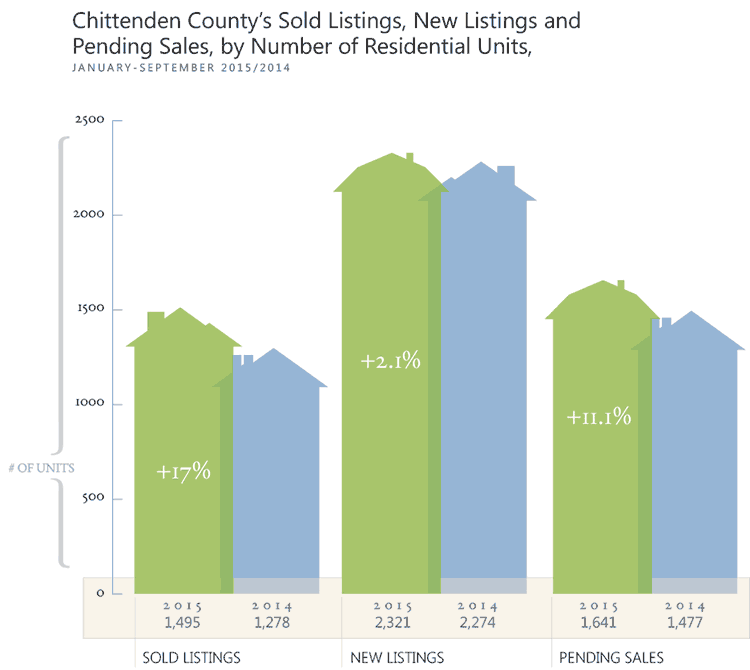 During the summer and early autumn months, the real estate market has sustained the momentum that began after a slow winter, when our agents noted that below normal temperatures caused some sellers and buyers to defer their real estate plans until warmer weather and new inventory arrived.
---
Job Creation
Chittenden County has added 4,000 new jobs since 2007, before the recession started, according to University of Vermont economist Art Woolf. Local companies such as Dealer.com and WebGrocer are hiring, bringing new homebuyers into the market.
A Steady Economic Outlook
The state's unemployment rate stood at 3.6% in August, one of the lowest in the country. Corporations in Vermont could add 1,500 private-sector jobs this year, according to a forecast from economists at the Vermont Economic Outlook Conference.
Wanted: Mid-Priced Properties
Affordable properties in the $250,000 to $350,000 price range are especially in demand, with first-time homebuyers returning to the market and driving competition for these properties.
Burlington Remains Desirable
Unit sales surged by 31%. Still, median pricing slipped 4.5% during the fi rst half of 2015, which indicates that buyers are seeking lower-priced housing. Affordability remains an issue in the Queen City and the surrounding areas.
Proximity and Cost
Because of the cost of housing in Burlington, some buyers are turning to nearby towns that offer either lower prices or more space. Winooski, Essex, and Colchester all witnessed an uptick in sales this year through September.
MARKET INSIGHTS
Median pricing rose 6.2% during the first six months of 2015.
Housing in Burlington remains in demand, with residential properties selling in an average of only 88 days on the market.
More affordable towns close to Burlington also saw an uptick in sales.
---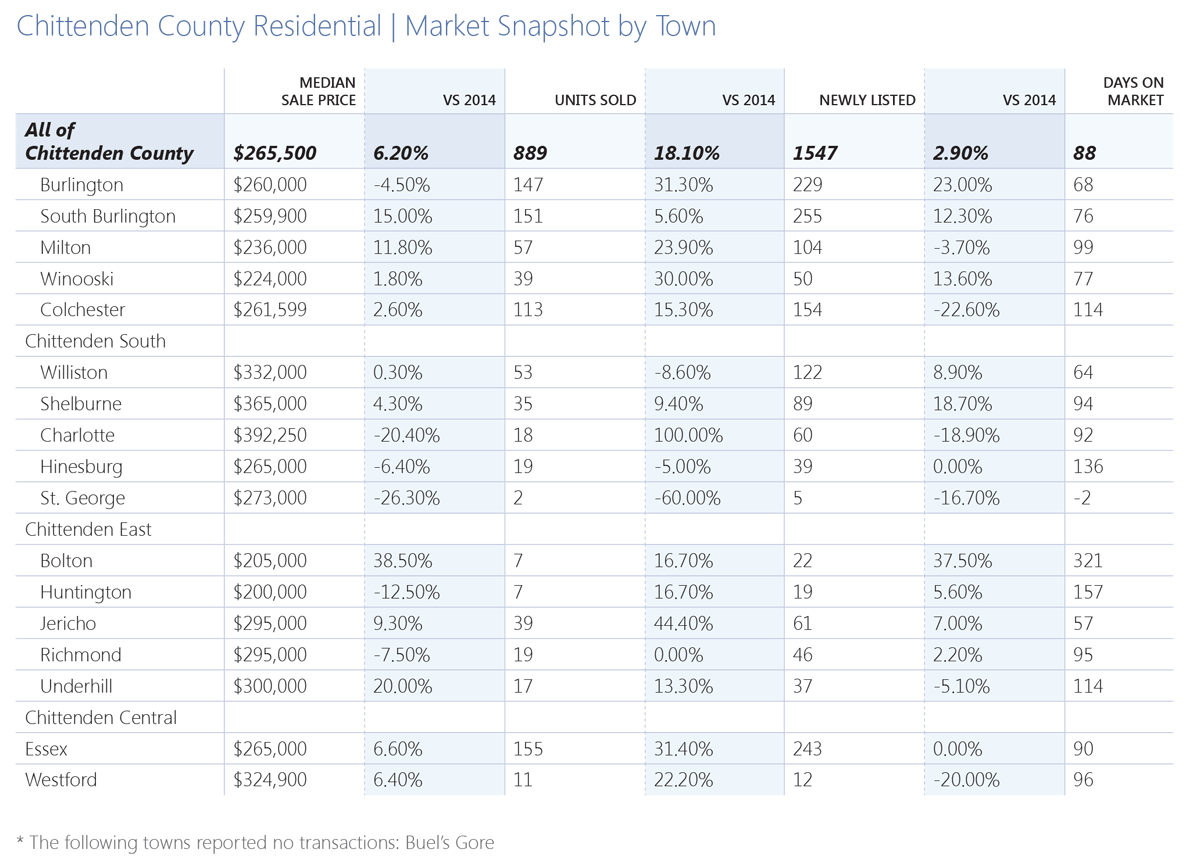 The multi-family market recorded 72 sales in the first nine months of 2015, compared to 61 sales in the same period a year earlier. For a longer discussion of trends in this market, please see our multi-family section in this Fall 2015 Market Report.
Land sales increased by 8.8%, for a total of 37 transactions through September 2015. The number of new land listings declined 28% over the same period last year, to 124. With a modest increase in sales and a decline in new land listings, the market is beginning to absorb the inventory. Median price was $132,000, just over a 3% decline from a year prior.