| County Averages | | | |
| --- | --- | --- | --- |
| Median Sale Price: | Units Sold: | Newly Listed: | Days on Market: |
| $221,250 (5.4%) | 46 (-2.1%) | 189 (+3.8%) | 224 |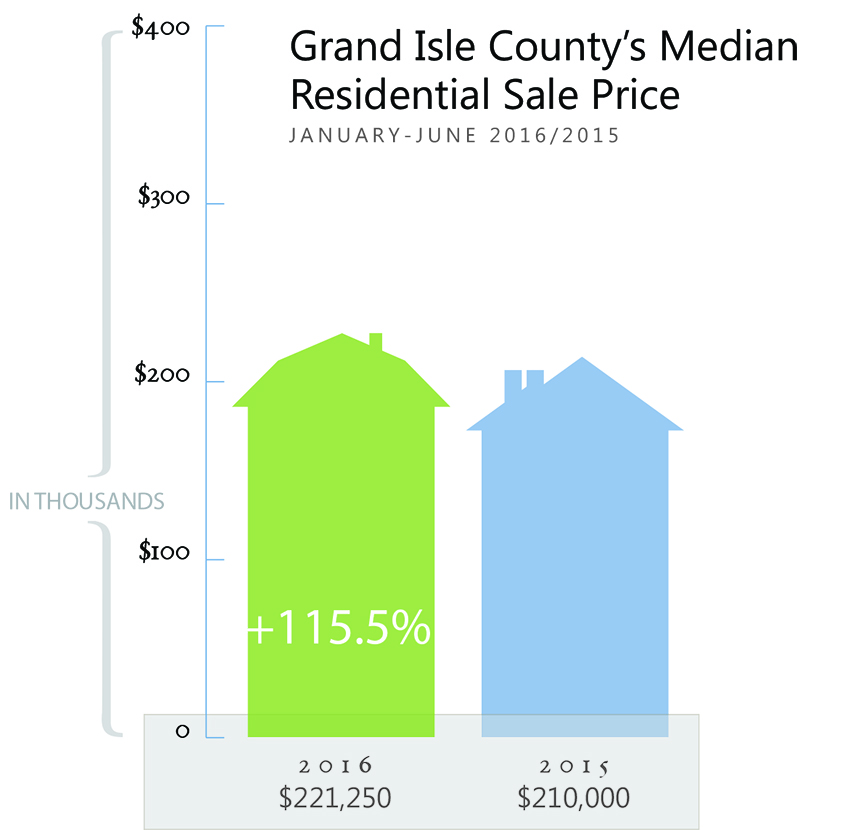 Grand Isle's property market tends to focus on two segments: the high-end luxury market and the mid-priced tier. For the first six months of 2016, sales were focused on the latter segment, with the median sale price rising 5.4% to $221,250.  
That places Grand Isle's property market in the middle of the price range for Northwest Vermont, offering more value than in neighboring Chittenden County but slightly more expensive than homes in either Franklin or Addison counties.
The number of transactions fell slightly, slipping 2.1% to 46 sales. Because Grand Isle is the smallest real estate market in Northwest Vermont, just one or two transactions may have a large impact on the county's pricing and demand trends. There are currently 17 months of available inventory in Grand Isle, more than in neighboring counties – yet down from more than 38 months of unsold inventory in April.
---
Southern Zone
The most in-demand towns are located in the southern part of the county, since their proximity to 1-89 are attractive to buyers who work in neighboring counties. For the first six months of 2016, the most active market has been the town of Grand Isle, with 18 sales.
One Luxury Sale
Grand Isle's luxury market tends to pick up during the summer months. So far this year, the county has recorded one luxury sale, an $815,000 waterfront property with views of the islands and Green Mountains.
A Small Market
A few sales can have a big impact on median sale prices or volume because the property market is relatively small.
Twelve land sales were recorded in the first half of the year, or four times the three land sales completed a year earlier. The median sale price rose 22% to $73,333. Some buyers are opting to purchase lots and construct custom-built homes, rather than searching for pre-existing inventory.