| County Averages | | | |
| --- | --- | --- | --- |
| Average Sale Price: | Units Sold: | Newly Listed: | Days on Market: |
| $258,343 (+4.7%) | 346 (0%) | 607 (-5.5%) | 140 (-8.5%) |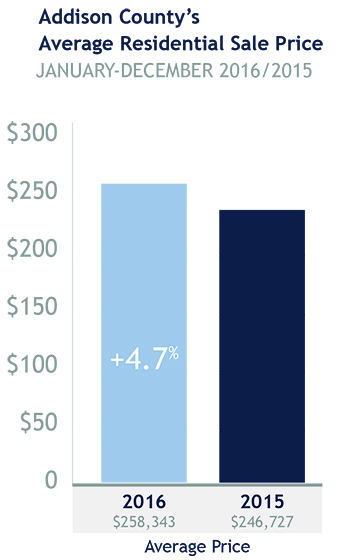 Addison County's residential market witnessed mixed trends in 2016. While the average sale price rose 4.7% last year, the number of sold units was little changed.
With fewer homeowners listing their properties in 2016, tight inventory resulted in fewer choices for buyers, which also pushed home prices higher. Demand for property remains stable in the county, partly as some buyers are extending their searches to Addison County because of Chittenden County's shrinking inventory and higher prices.
The luxury market in Addison recorded three sales, with high-end buyers drawn to the county's lakefront homes and country estates. Professionals who can telecommute to their jobs are also relocating for the county's lifestyle and outdoor appeal. Middlebury College Alumni are often drawn back to the region.
Homes in the sub-$250,000 range are in demand, where inventory can be especially tight. Buyers on the hunt for properties in the $500,000 range and higher will find more options and inventory.
The growing popularity of Ferrisburgh
As it borders Chittenden County, Ferrisburgh offers an easy commute into Burlington, as well as Addison County's towns and villages. Sales in Ferrisburgh jumped 40% last year. The average sale price rose almost 20% to $337,980.
Three luxury sales
The county has recorded three sales of more than $850,000 this year.
Lower inventory
Across the county, new listings declined by 5.5%. Some towns saw tighter conditions than others, such as Vergennes, where new listings declined by almost 19%.
Land purchases increase
More buyers turned to land purchases in Addison County last year, boosting sales by more than 44%. The county remains popular with people seeking to build custom homes for primary or vacation residences. The average sale price gained almost 16% to $109,786.