| County Averages | | |
| --- | --- | --- |
| Average Sale Price: | Units Sold: | Days on Market: |
| $386,796 (+15.3%) | 134 (+11.7%) | 88 |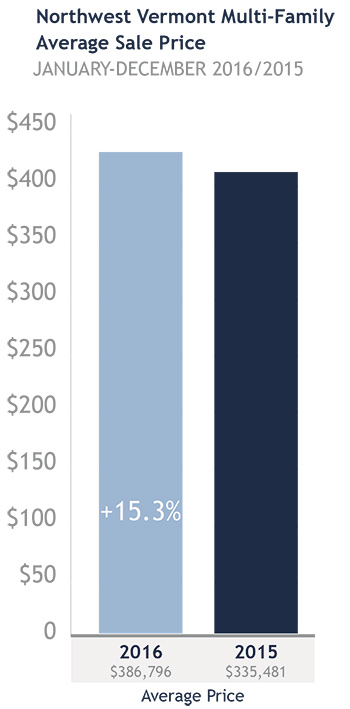 Chittenden County's multi-family market is experiencing similar trends as the residential market: steadily increasing buyer demand, tempered by lower inventory levels in the biggest markets for investment properties, such as Burlington and Winooski.

Investors have historically been attracted to Chittenden County's multi-family properties because of the favorable investment trends, such as a strong return-on-investment given the area's steadily rising rents and low vacancy rates.
During 2016, vacancy rate eased to 4.4%, compared with the last decade's more typical 1-2%, in response to almost 700 new apartments coming on line during the past year. Nevertheless, our Agents report that investors continue to show strong demand for multi-family properties, given favorable trends such as a growing and diverse professional base and expanded hiring by local institutions and businesses such as University of Vermont and growing technology industry.
The higher vacancy rate has prompted some landlords to offer incentives such as flexible leases or to negotiate rents. Because of the changing rental landscape, our Realtors expect inventory levels to ease in 2017, as some property owners may decide to list their multi-family properties.
In 2016, 134 multi-family properties changed hands from a year earlier, with properties selling for 15.3% higher on average. As always, our Realtors are noting that well-priced properties in desirable locations quickly attract buyers.
With demand from buyers remaining far ahead of supply, our Agents note that owners of multi-family properties may want to consider listing to take advantage of the market dynamics.
The following are details about trends impacting the multi-family market:
Tighter inventory for Burlington, Winooski
New listings in Burlington, which is the most active town for multi-family homes, declined by 9% last year, while new listings in Winooski slumped by 42%. Both cities are popular with renters, which is sparking investor interest in these towns.
Rents may be little changed in 2017
With almost 700 newly built apartments coming online last year in Chittenden County, landlords may be entering a period of "minimal to no overall rent increases," according to real estate consulting firm Allen & Brooks.
Rental demand is likely to continue
Empty nesters may spur rental demand from people between 55 to 64 years old, while Baby Boomers may look for senior housing targeted to the 55+ demographic, according to Allen & Brooks. The 25-34 age group is also projected to grow by 8.5% between 2015 to 2020, which may add to demand for rental properties.