| Single Family | | | | |
| --- | --- | --- | --- | --- |
| Median Sale Price: | Average Sale Price: | Units Sold: | Newly Listed: | Days on Market: |
| $289,000 (+1%) | $332,990 (-1.3%) | 178 (-10.1) | 333 (-14.6%) | 80 (-46.7%) |
| Condo | | | | |
| --- | --- | --- | --- | --- |
| Median Sale Price: | Average Sale Price: | Units Sold: | Newly Listed: | Days on Market: |
| $252,200 (+19.2%) | $287,334 (+22%) | 102 (-14.3%) | 143 (-5.3%) | 105 (-18.6%) |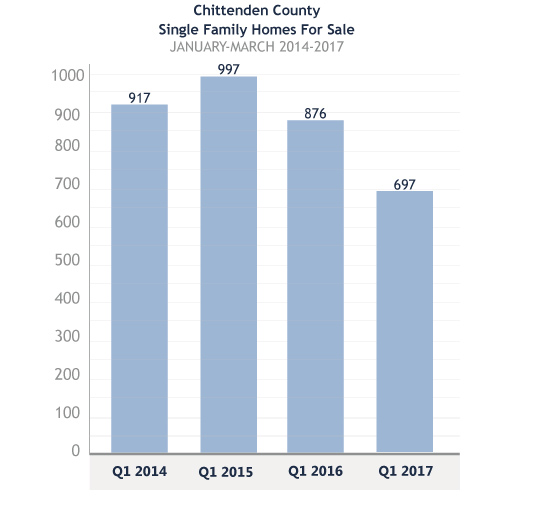 The residential property market in Chittenden County continues to see strong demand from buyers while inventory remains extremely tight, especially for single-family homes. 
The pace of the market is reflected in the "Days on the Market until Sale" which has dropped from 150 days to 80 days for single-family homes during the first quarter of 2017. Sellers and Buyers alike need to be prepared to act when they decide to enter the real estate market.
The median and average sale prices for condominiums showed healthy gains due to new construction and higher-priced units selling rather than increases in the prices of existing units.
With residential sales flat in 2016 and the continuing decline in inventory in early 2017, the median sale price for single-family homes may rise more than the 1% we've seen in the first quarter.