| Single Family | | | | |
| --- | --- | --- | --- | --- |
| Median Sale Price: | Average Sale Price: | Units Sold: | Newly Listed: | Days on Market: |
| $194,500 (+2.4%) | $207,945 (+8.1%) | 100 (-17.9%) | 144 (-29.8%) | 110 (-32.9%) |
| Condo | | | | |
| --- | --- | --- | --- | --- |
| Median Sale Price: | Average Sale Price: | Units Sold: | Newly Listed: | Days on Market: |
| $235,000 (+20.7%) | $259,481 (+17.3%) | 11 (+83%) | 14 (-40%) | 147 (-32.3%) |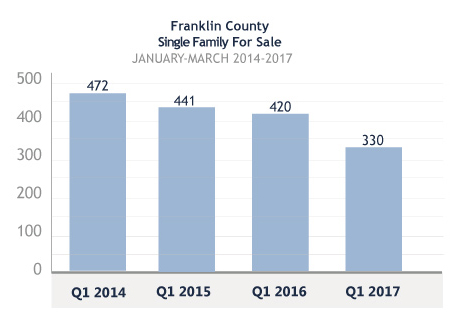 Because Franklin County has the lowest average and median sale prices in Northwest Vermont, some homebuyers have been turning to the county over the past year as they seek more value for their money. 
After a surge in home sales during the first quarter of 2016, with a 37% increase and 18% increase for the year overall, the decline in single-family home sales at the start of 2017 may be viewed as a "normalizing" of the market versus a decrease in buyer interest.
The pace of the market is reflected in the "Days on the Market until Sale" which has dropped from 164 days to 110 days for single-family homes during the first quarter of 2017. Sellers and Buyers alike need to be prepared to act when they decide to enter the real estate market.
Condo sales rose – but a change in the small number of transactions can have a large impact on the percentages.
---