| Multi-Family | | | | |
| --- | --- | --- | --- | --- |
| Median Sale Price: | Average Sale Price: | Units Sold: | Newly Listed: | Days on Market: |
| $285,000 (-18.9%) | $296,039 (-24.3%) | 27(-3.6%) | 50 | 64 (-27%) |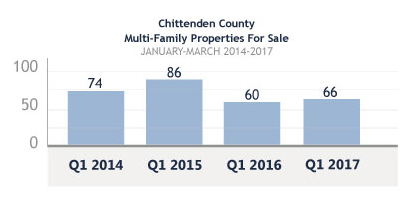 The Multi-Family market, largely driven by Chittenden County, is experiencing similar trends as the residential real estate market: steady buyer demand, tempered by lower inventory levels.

Over the past year, the historically low vacancy rate has eased a bit, however, Investors continue to show strong demand for multi-family properties given favorable trends such as a diverse professional base, consistent hiring by local institutions and businesses, and the delay of millennial buyers saddled with student loan debt to purchase their first home.
The decline in average and median sold prices is a result of a small number of properties sold in the 1st quarter of the year coupled with a high priced property sold in 2016 which has a strong effect on the data. The decline is not a result of depreciation.
Our Agents report that larger, high-priced properties are not coming to market as Investors choose to hold on to those properties.
With well positioned, multi-family units selling quickly – some buyers are considering single family homes in renter friendly neighborhoods as an investment opportunity.