Stunning 3+ bedroom home with lovely mountain views on a beautiful 14.95 acres in Charlotte. | MLS# 4639851
| Single Family | | | | |
| --- | --- | --- | --- | --- |
| Median Sale Price: | Average Sale Price: | Units Sold: | Newly Listed: | Days on Market: |
| $319,000 (+2.94%) | $354,560 (+0.1%) | 540 (-4.76) | 879 (-5.8%) | 77 (-6.1%) |
| Condo | | | | |
| --- | --- | --- | --- | --- |
| Median Sale Price: | Average Sale Price: | Units Sold: | Newly Listed: | Days on Market: |
| $232,200 (+3.11%) | $262,870 (+7.26%) | 279 (-9.71%) | 374 (-5.79%) | 97 (+27.63%) |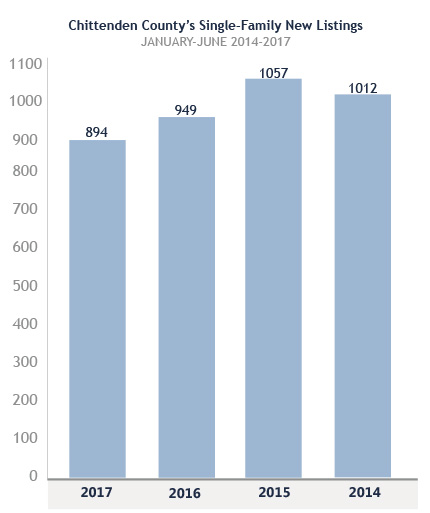 The residential property market in Chittenden County continues to see strong demand from buyers while inventory remains tight. 
The number of newly listed, single-family homes continued a 3-year decline adversely affecting the number of homes sold in the county – which declined by nearly 5% for single family and nearly 10% for condos over the same period last year. While these results reflect the County overall, there were some increased sales in specific cities and towns.
Burlington, South Burlington, and Winooski witnessed increases in single family homes sold and newly listed property. However, this is a recovery from a soft 2016 – where these cities suffered declines before the surrounding areas. South Burlington leads the county in the number of homes and condos coming on the market – a result of new construction in developments such as South Village, Rye Meadows, and some smaller projects along Dorset Street. Towns a bit further from the greater Burlington area continue to draw buyers searching for affordable options such as Milton, Underhill, Huntington, and Westford.
The majority of Multi-Family sales in Northwest Vermont are in Chittenden County which suffered a sharp decline of 11.8% in the median price of closed sales. This is a result of the 31% drop in units sold as investors opted to hold on to their properties.
Throughout this report, we reference Median price. The median price is defined as – "half the houses sold for more and half sold for less".