| Luxury Homes | | |
| --- | --- | --- |
| Median Sale Price: | Average Sale Price: | Units Sold: |
| $1,064,000 (+4.4%) | $1,169,089 (-2%) | 48 (+4%) |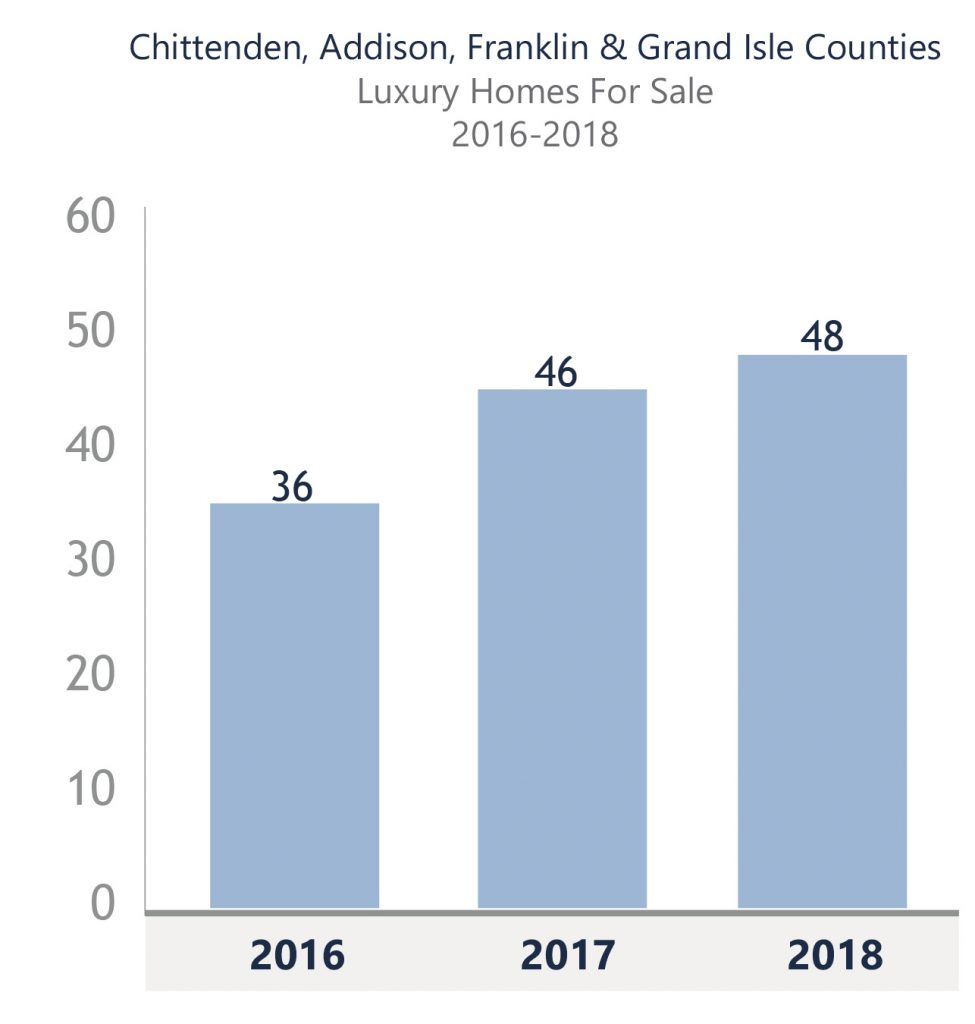 Luxury Home sales in Northwest Vermont have continued to increase over previous years. While 2 additional properties sold in 2018, there has been an overall increase of 71% in units sold since 2015. The median sale price increased by 4.4% with the average sale price declining for the second year in a row. 
Nationally, the luxury market has slowed a bit but Vermont remains one of the most affordable luxury home markets in New England – which may be bolstering sales here. Local lenders report that Jumbo loans remain remarkably competitive offering favorable options for the cash buyer.
The months supply of luxury homes for sale has declined over prior years – which is good. While supply varies seasonally, it was at a low of 10 months and an average of 13-14 months during 2018; still a buyers market. Having said that, a number of homes that sold in 2018 went under contract within a few days – demonstrating there are buyers looking for homes with updated floor plans and amenities.
In Chittenden County, where 29 luxury sales were closed, buyers purchased homes in downtown Burlington, on spacious lots with views in Shelburne, along the popular Spear Street in South Burlington as well as on the Lake Champlain shore.
Grand Isle proved a draw for luxury buyers with 10 homes closing in 2018 versus 3 in 2017. The lower tax burden in Grand Isle is a contributing factor although the easy drive to Burlington coupled with the island vacation vibe likely contribute to the overall appeal.
*For this report, the Luxury market is defined as Residential sales $850,000 and above.