The rental market in Chittenden County is evolving due to the continued construction of new units with higher-end finishes and amenities.
Rental Options are Increasing
The Allen, Brooks, and Minor June 2019 Report identified an anticipated 661 apartments to open in 2019. Assuming projects are completed on time, this year will be the second highest on record (behind 2016). The highest concentration of growth is expected to be in Burlington (217 units) and South Burlington (193 units). Together, these two communities account for 62% of the anticipated new apartment growth in 2019. Williston holds the third largest contribution at 96 anticipated units.
Low Vacancy Rates Make for a Tight Rental Market
With the completion of new construction projects, vacancy rates in Chittenden County have gradually decreased to 1.8% over the last 18 months – returning to rates seen in 2015 and 2016. With that said, the vacancy rate in Chittenden County continues to fall behind national averages near 4.8%. It is expected the rate will increase by the end of the year once the remaining anticipated 661 apartments become available to renters.
Adjustments in Current Aging Rental Options
New construction projects have provided tenants with welcomed amenities such as: central air conditioning, covered parking, secure storage, in-unit washers/dryers, fitness rooms, tennis courts, outdoor pools, and clubhouses. These newer units have led competing landlords to consider strategies for attracting and retaining tenants. Some landlords opt to invest in renovations to modernize aging properties in response to changing expectations from tenants.
Chittenden County Apartment Rental Rates
The below chart reflects rental rates in new multi-story buildings which opened in the last three years.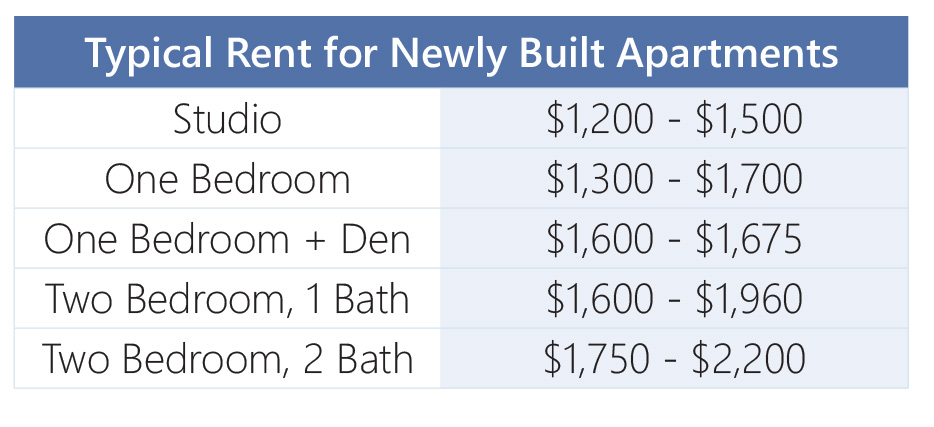 If you need help navigating the Chittenden County rental market, start the process at www.HickokandBoardman.com/vermont-rentals. Resources such as recommended websites to start your search, as well as up-to-date rental market information can all be invaluable to you during your search.