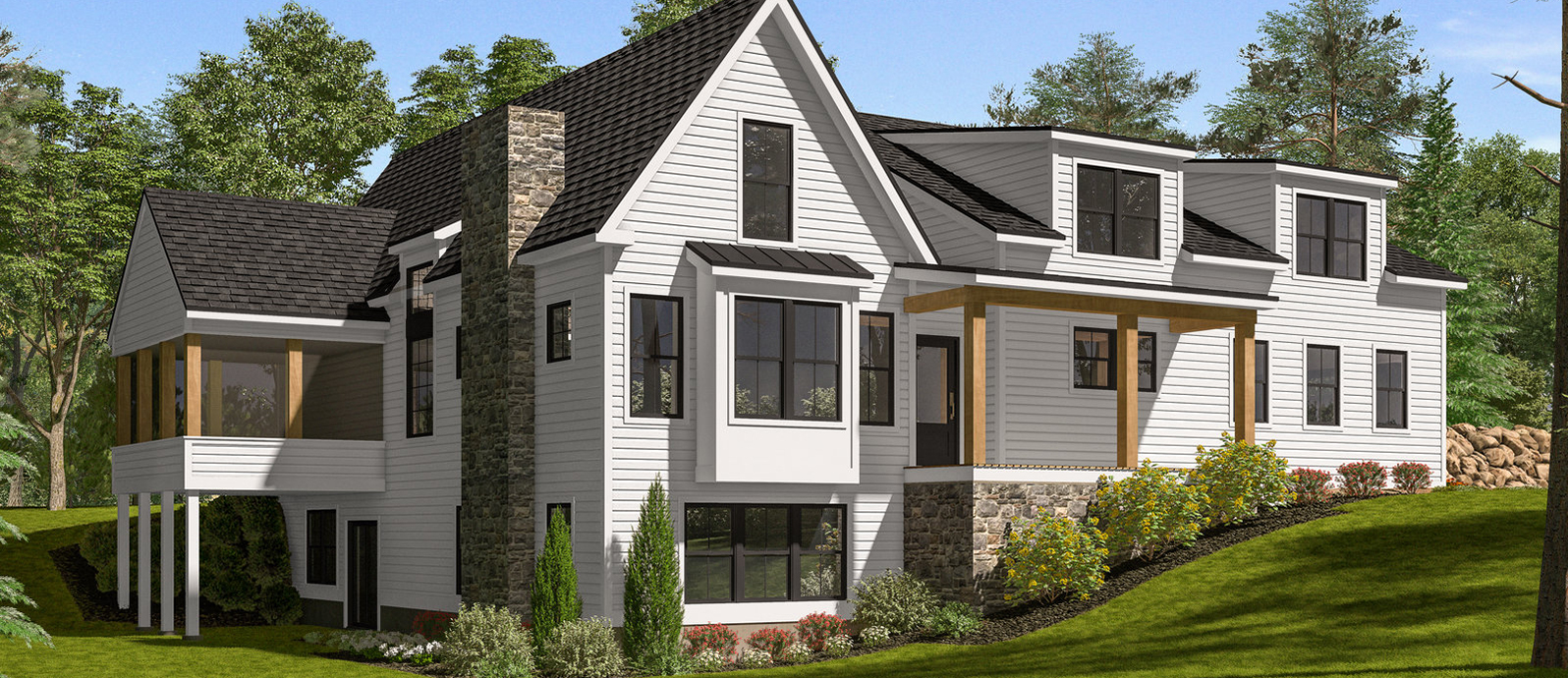 Luxury Homes January-December 2020
Median Sale Price:
Units Sold:
Newly Listed
Days on Market:
$1,141,000 +17.9%

108 +63.6%
159 +44.6%
124 +0.8%
In spite of a slow start, in part due to COVID-19, the luxury market ended the year in record fashion. While out of state travel restrictions stifled the traditional spring market, by mid year buyer demand began to rise.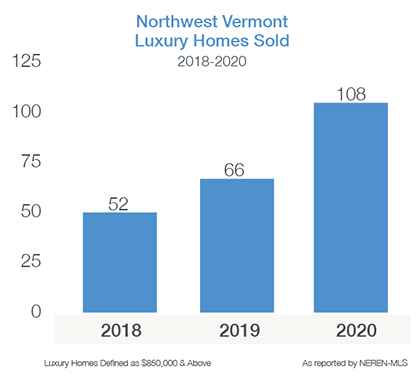 Property videos, professional photography, and options like FaceTime offered creative solutions for "COVID -19 refugees" to consider a purchase without always visiting the homes in person. The term "second primary residence" was coined as buyers and vacation homeowners moved to their Vermont properties for extended periods.
Across the state, Vermont Realtors sold over 300 homes worth over $1 million or more, nearly three time the prior year. Northwest Vermont recorded 108 sales at prices over $850,000, a 40%+ increase. The luxury market, unlike mid price ranges had available inventory that, in some cases, had sat on the market for some time.
The stunning rebound in sales during the second half of 2020 is largely driven by out of state, cash buyers or Vermonters who desire high-end amenities, views, and location while living & working remotely. In the COVID-19 era, "want and need" have become more significant variables affecting the decision-making process to buy in the luxury market.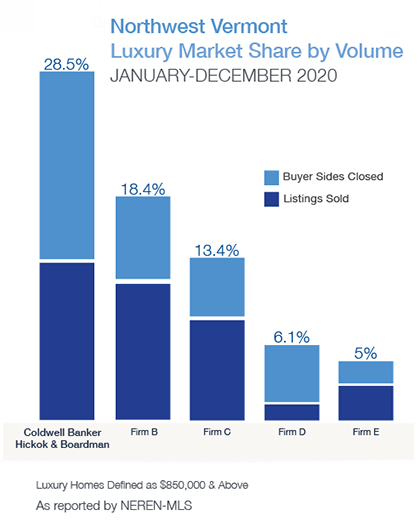 | Address | Town | County | Sale Price | Date Sold |
| --- | --- | --- | --- | --- |
| 3735 Harbor Road | Shelburne | Chittenden | $4,950,000 | 1/17/2020 |
| 209 Hills Point Road | Charlotte | Chittenden | $1,165,000 | 1/20/2020 |
| 587 Ridgefield Road | Shelburne | Chittenden | $875,000 | 1/21/2020 |
| 269 Thorpe Cove Road | Charlotte | Chittenden | $1,550,000 | 1/31/2020 |
| 193 Poor Farm Road | Colchester | Chittenden | $885,000 | 2/28/2020 |
| 1816 Morgan Horse Farm Road | Weybridge | Addison | $1,070,000 | 3/2/2020 |
| 208 Meadowood Drive | South Burlington | Chittenden | $887,500 | 3/27/2020 |
| 347 Popple Dungeon Road | Charlotte | Chittenden | $1,239,000 | 4/1/2020 |
| 837 Bay Road | Shelburne | Chittenden | $1,150,000 | 6/8/2020 |
| 119 Holmes Road | South Burlington | Chittenden | $1,020,000 | 6/9/2020 |
| 2687 Greenbush Road | Charlotte | Chittenden | $890,000 | 6/15/2020 |
| 2751 Thompson\'s Point Road | Charlotte | Chittenden | $885,000 | 6/16/2020 |
| 164 Pheasant Hill Ridge Road | Shelburne | Chittenden | $2,135,000 | 6/26/2020 |
| 6659 Spear Street | Charlotte | Chittenden | $880,000 | 6/29/2020 |
| 233 Thorpe Cove Road | Charlotte | Chittenden | $1,630,000 | 6/29/2020 |
| 163 Old Stage Lane | Shelburne | Chittenden | $850,000 | 7/2/2020 |
| 51 Van Sicklen Road | South Burlington | Chittenden | $1,200,000 | 7/2/2020 |
| 50 Windridge Road | South Hero | Grand Isle | $1,250,000 | 7/7/2020 |
| 64 Waterview Road | Colchester | Chittenden | $1,350,000 | 7/8/2020 |
| 2854 Harbor Road | Shelburne | Chittenden | $1,425,000 | 7/9/2020 |
| 51 Bixby Hill Road | Essex | Chittenden | $925,000 | 7/15/2020 |
| 475 Golf Course Road | South Burlington | Chittenden | $1,370,000 | 7/27/2020 |
| 301 Wolfe Road | Addison | Addison | $1,310,000 | 7/27/2020 |
| 3408 Harbor Road | Shelburne | Chittenden | $1,145,000 | 7/29/2020 |
| 8 Whately Road | South Burlington | Chittenden | $860,000 | 7/31/2020 |
| 38 Contentment Lane | South Hero | Grand Isle | $1,000,000 | 7/31/2020 |
| 266 South Union Street | Burlington | Chittenden | $1,149,000 | 8/5/2020 |
| 177 Maeck Farm Road | Shelburne | Chittenden | $882,500 | 8/6/2020 |
| 719 Converse Bay Road | Charlotte | Chittenden | $1,200,000 | 8/10/2020 |
| 33 Colodny Way | South Hero | Grand Isle | $2,050,000 | 8/12/2020 |
| 296 South Cove Road | Burlington | Chittenden | $925,000 | 8/13/2020 |
| 386 South Forty Road | Shelburne | Chittenden | $1,650,000 | 8/17/2020 |
| 263 Quarry Road | Shelburne | Chittenden | $1,050,000 | 8/18/2020 |
| 162 Autumn Hill Lane | Shelburne | Chittenden | $950,000 | 8/19/2020 |
| 222 McNeil Cove Road | Charlotte | Chittenden | $1,265,000 | 8/19/2020 |
| 104 Pine Haven Shores Lane | Shelburne | Chittenden | $1,295,000 | 8/21/2020 |
| 615 Thayer Beach Road | Colchester | Chittenden | $1,005,000 | 8/24/2020 |
| 219 Appletree Point Road | Burlington | Chittenden | $1,200,000 | 8/25/2020 |
| 324 Wings Point | Charlotte | Chittenden | $1,950,000 | 8/31/2020 |
| 7133 Spear Street | Charlotte | Chittenden | $1,531,884 | 8/31/2020 |
| 99 Central Avenue | South Burlington | Chittenden | $1,450,000 | 8/31/2020 |
| 293 Ordway Shore Road | Shelburne | Chittenden | $1,150,000 | 9/1/2020 |
| 3323 Highbridge Road | Georgia | Franklin | $875,000 | 9/2/2020 |
| 341 West Shore Road | South Hero | Grand Isle | $2,150,000 | 9/3/2020 |
| 211 Mills Road | Georgia | Franklin | $1,025,000 | 9/4/2020 |
| 1275 Spear Street | South Burlington | Chittenden | $965,000 | 9/10/2020 |
| 14 Turtle Bay Lane | South Hero | Grand Isle | $1,250,000 | 9/14/2020 |
| 2296 Greenbush Road | Charlotte | Chittenden | $918,500 | 9/15/2020 |
| 1301 Cider Mill Road | Cornwall | Addison | $995,000 | 9/16/2020 |
| 330 Cold Spring Road | Milton | Chittenden | $959,900 | 9/17/2020 |
| 465 Autumn Hill Lane | Shelburne | Chittenden | $1,200,000 | 9/21/2020 |
| 116 Sunset Cliff | Burlington | Chittenden | $1,950,000 | 9/25/2020 |
| 121 West Shore Road | Grand Isle | Grand Isle | $1,460,000 | 9/25/2020 |
| 27 Lakeview Terrace | Burlington | Chittenden | $1,375,000 | 9/30/2020 |
| 6110 Mt. Philo Road | Charlotte | Chittenden | $1,995,000 | 10/1/2020 |
| 24 Point Farm West Road | Grand Isle | Grand Isle | $1,600,000 | 10/1/2020 |
| 52 Sunset Cliff | Burlington | Chittenden | $1,225,000 | 10/1/2020 |
| 191 South Winooski Avenue | Burlington | Chittenden | $860,000 | 10/2/2020 |
| 2409 Munger Street | New Haven | Addison | $1,600,000 | 10/2/2020 |
| 178 Popple Dungeon Road | Charlotte | Chittenden | $1,100,000 | 10/5/2020 |
| 15 Eastman Way | Burlington | Chittenden | $1,700,000 | 10/7/2020 |
| 51 Pinnacle Drive | South Burlington | Chittenden | $1,137,000 | 10/8/2020 |
| 52 Waterview Road | Colchester | Chittenden | $931,975 | 10/15/2020 |
| 665 Prindle Road | Charlotte | Chittenden | $910,000 | 10/15/2020 |
| 97 Chapin Road | Essex | Chittenden | $1,175,000 | 10/16/2020 |
| 141 Baker Place | North Hero | Grand Isle | $899,000 | 10/20/2020 |
| 5261 Lake Road | Charlotte | Chittenden | $1,251,000 | 10/22/2020 |
| 6529 Spear Street | Shelburne | Chittenden | $990,000 | 10/23/2020 |
| 275 Charles Road | Williston | Chittenden | $850,000 | 10/23/2020 |
| 8 Stanhope Road | South Burlington | Chittenden | $854,000 | 10/28/2020 |
| 390 Indian Trail | Leicester | Addison | $1,050,000 | 10/28/2020 |
| 273 West Shore Road | South Hero | Grand Isle | $995,000 | 11/2/2020 |
| 455 Singing Hills Road | Cornwall | Addison | $1,175,000 | 11/2/2020 |
| 1 Crescent Beach Drive | Burlington | Chittenden | $1,475,000 | 11/3/2020 |
| 1099 Marble Island Road | Colchester | Chittenden | $1,637,500 | 11/4/2020 |
| 15 Partridge Road | South Hero | Grand Isle | $2,450,000 | 11/6/2020 |
| 310 South Street | South Hero | Grand Isle | $1,275,000 | 11/6/2020 |
| 21 Point Farm West | Grand Isle | Grand Isle | $1,099,000 | 11/6/2020 |
| 1317 Spear Street | South Burlington | Chittenden | $1,325,000 | 11/12/2020 |
| 25 Eastman Way | Burlington | Chittenden | $2,993,000 | 11/16/2020 |
| 346 South Street | South Hero | Grand Isle | $1,145,000 | 11/17/2020 |
| 83 Wind Ridge Drive | Shelburne | Chittenden | $1,375,875 | 11/20/2020 |
| 246 Crescent Road | Burlington | Chittenden | $937,500 | 11/30/2020 |
| 147 West Shore Road | Grand Isle | Grand Isle | $1,495,000 | 12/1/2020 |
| 74 Overlake Park | Burlington | Chittenden | $1,295,000 | 12/1/2020 |
| 200 Lake Street | Burlington | Chittenden | $950,000 | 12/7/2020 |
| 446 Terrace Drive | Williston | Chittenden | $879,000 | 12/8/2020 |
| 222 Lost Cove Road | Colchester | Chittenden | $1,025,000 | 12/9/2020 |
| 424 Burgey Farm Road | Addison | Addison | $955,000 | 12/11/2020 |
| 82 Sunset Cliff Road | Burlington | Chittenden | $940,000 | 12/11/2020 |
| 385 Mile Point Road | Ferrisburgh | Addison | $862,500 | 12/14/2020 |
| 10 Ladd Point | Grand Isle | Grand Isle | $1,185,000 | 12/15/2020 |
| 263 Frogs End Drive | Shelburne | Chittenden | $1,150,000 | 12/15/2020 |
| 186 South Willard Street | Burlington | Chittenden | $975,000 | 12/16/2020 |
| 225 Weed Road | Hinesburg | Chittenden | $935,000 | 12/17/2020 |
| 1156 Middle Road | Colchester | Chittenden | $1,148,500 | 12/18/2020 |
| 418 James Farm Road | Charlotte | Chittenden | $1,169,000 | 12/22/2020 |
| 1816 Morgan Horse Farm Road | Weybridge | Addison | $1,100,000 | 12/29/2020 |
| 60 Featherbed Lane | South Hero | Grand Isle | $1,200,000 | 12/30/2020 |