Multi-Family January-December 2022
Median Sale Price:
Average Sale Price:
Units Sold:
Days on Market:
$490,000 4.0%
183 -25.0%
204 -32.9%
54 -8.5%
The multi-family market continues to provide purchasers with solid and predictable investment opportunities. In northwest Vermont, the median sale price rose 14% and in Chittenden County – where 75% of the multi-family sales occur – prices increased by 9.4%. Once again, these increases are driven in large part by strong demand from local and regional investors, lack of inventory, and the increases in rents for the 2022-2023 cycle. Rents had been stable the previous 2 years as landlords held off on increases during the pandemic.
The Chittenden County rental vacancy rate remains below 1%, and despite several new developments coming to the market, locally we still suffer from a lack of available rental properties. Well-located and well-maintained properties, as usual, continue to draw the most interest and are selling quickly and, in many cases, at or above list price.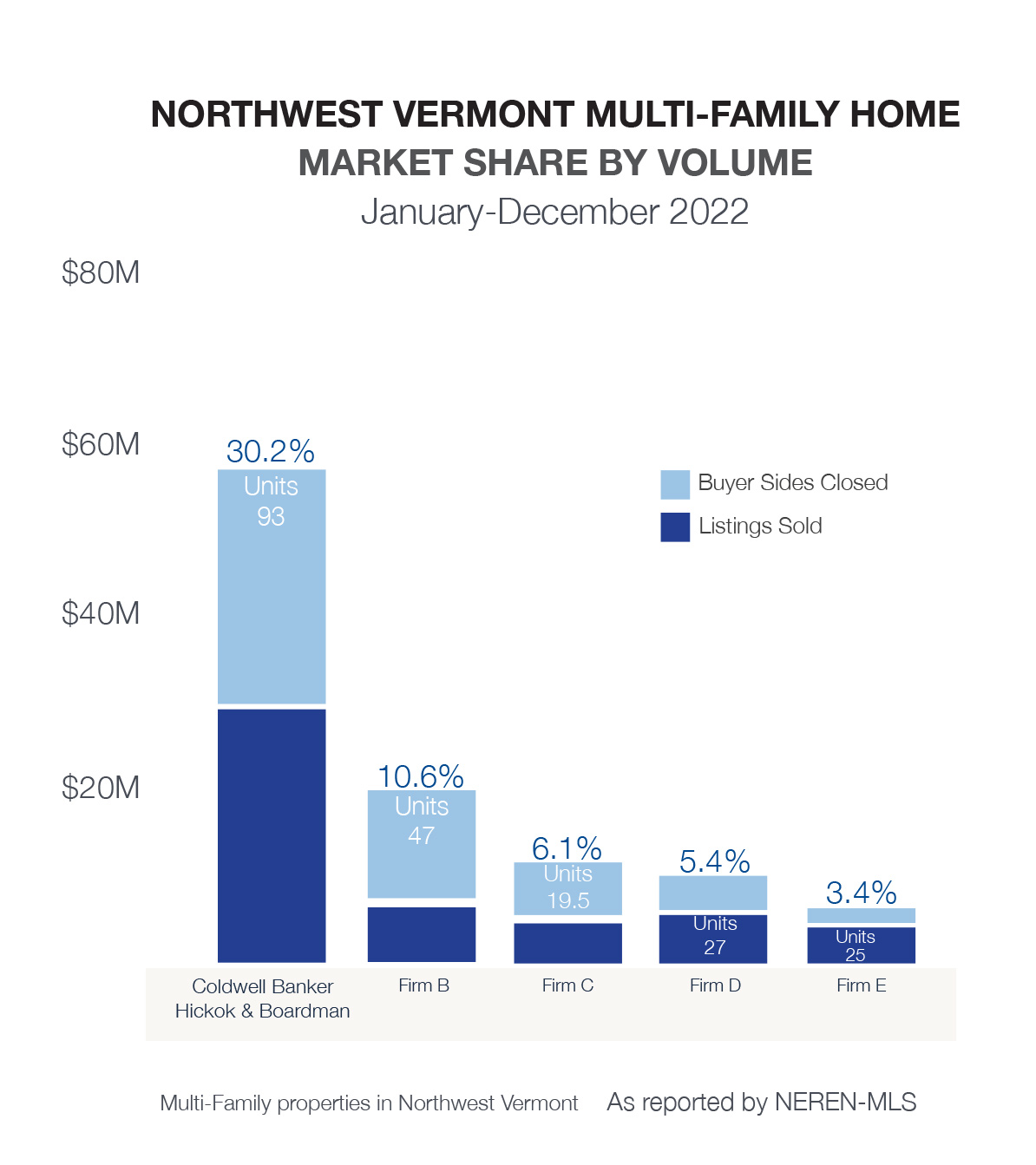 | | MEDIAN SALE PRICE | VS 2021 | UNITS SOLD | VS 2021 | NEWLY LISTED | VS 2021 | DAYS ON MARKET |
| --- | --- | --- | --- | --- | --- | --- | --- |
| Chittenden County | $525,000 | 9.40% | 136 | -22.70% | 155 | -29.90% | 39 |
| Addison County | $312,500 | -15.00% | 16 | -20.00% | 20 | -20.00% | 109 |
| Franklin County | $258,000 | 11.60% | 28 | -33.30% | 26 | -51.90% | 103 |
| Grand Isle County | $385,000 | 300.00% | 3 | -50.00% | $3 | -25.00% | 12 |