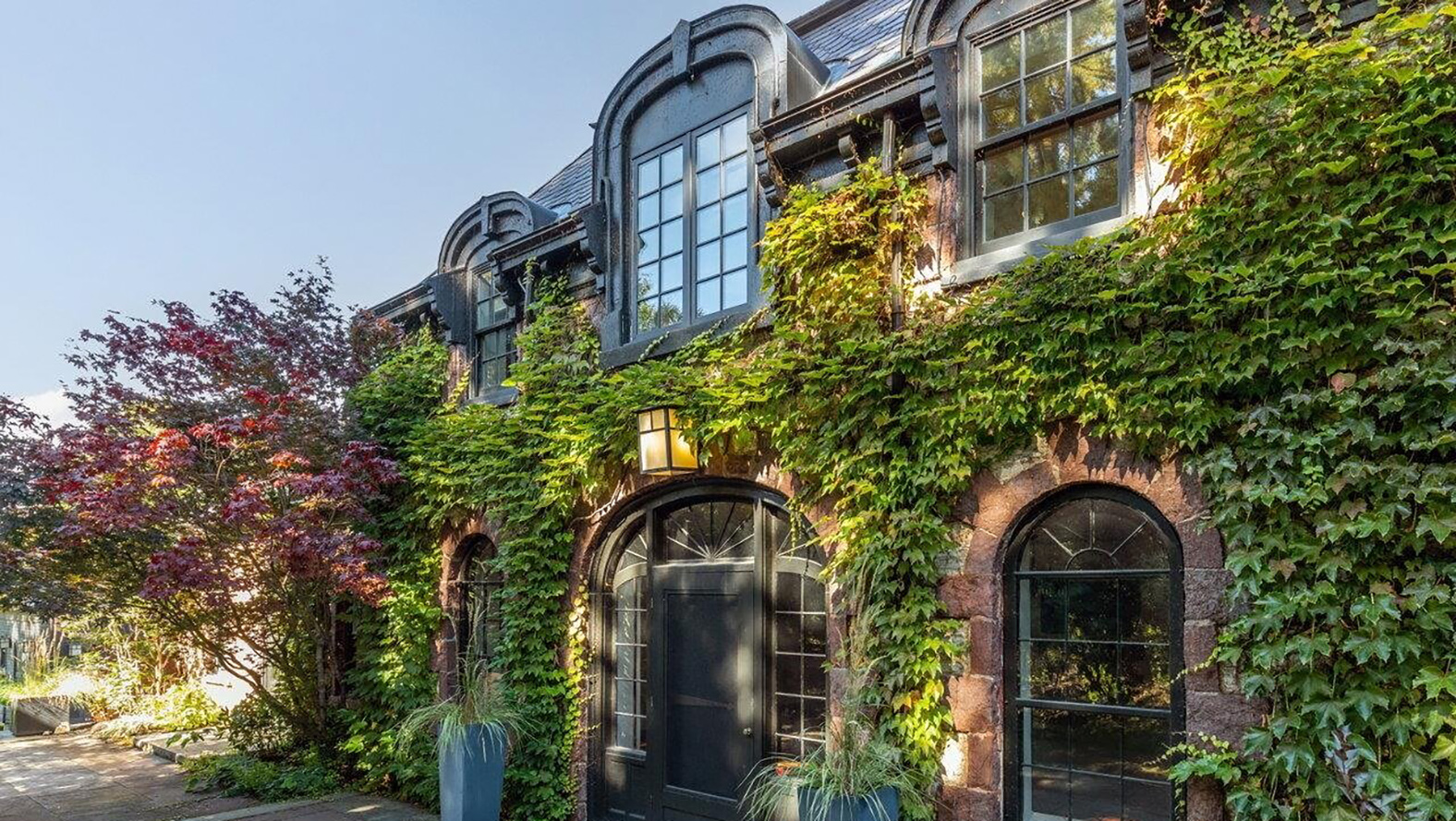 Northwest Vermont Luxury January-December 2022
Median Sale Price:
Average Sale Price:
Units Sold:
Newly Listed:
Days on Market:
$1,300,000 +5.5%


$1,680,585 +5.7%

93 +25.7%

74 -3.9%

39 -31.0%

Chittenden County Luxury January-June 2022
Median Sale Price:
Average Sale Price:
Units Sold:
Newly Listed:
Days on Market:
$1,305,000 +4.0%

$1,696,587 +2.6%

69 +17.5%

53 -13.1%

40 -26.3%

High demand for luxury homes across the state and locally in northwest Vermont continued in 2022. The luxury market continues to reach historic levels as consumers with means chose to add another home to their portfolios – or acted upon their dream of living in rural areas or locations aligned with their values. Buyers from within Vermont sought views, flexible spaces, and high-end amenities.
The number of newly listed properties did not satisfy consumer demand with only 74 properties coming to market and 93 units sold. There was a nearly 26% increase in luxury homes sold last year versus 2021. At mid-year 2022, we thought that buyer demand, fewer available homes, and changes from the Federal Reserve may cool the luxury market. That was not the case as the luxury buyer is less affected by rising mortgage interest rates like the rest of the market. Buyers watched for the perfect home to hit the market, commonly alerted by their Agent, and snapped up the property often amidst multiple offers. The average days on the market dropped from 59 days in 2021 to only 39 days in 2022.
We have provided the 2022 luxury sales by county for northwest Vermont highlighting some of the top towns as well. Globally, Luxury Property Specialists aligned with Coldwell Banker are among the best, exceeding expectations for their discerning clients every day. In 2022, Coldwell Banker affiliated agents closed $267 million in Luxury sales daily with an average sale price of $1.9million.
Locally, our Agents closed 1 in 4 luxury transactions in northwest Vermont – far more than any other company in the area. Our skilled Agents and our 360-degree marketing approach combine to share the beauty of luxury homes with an affluent audience nationally and internationally.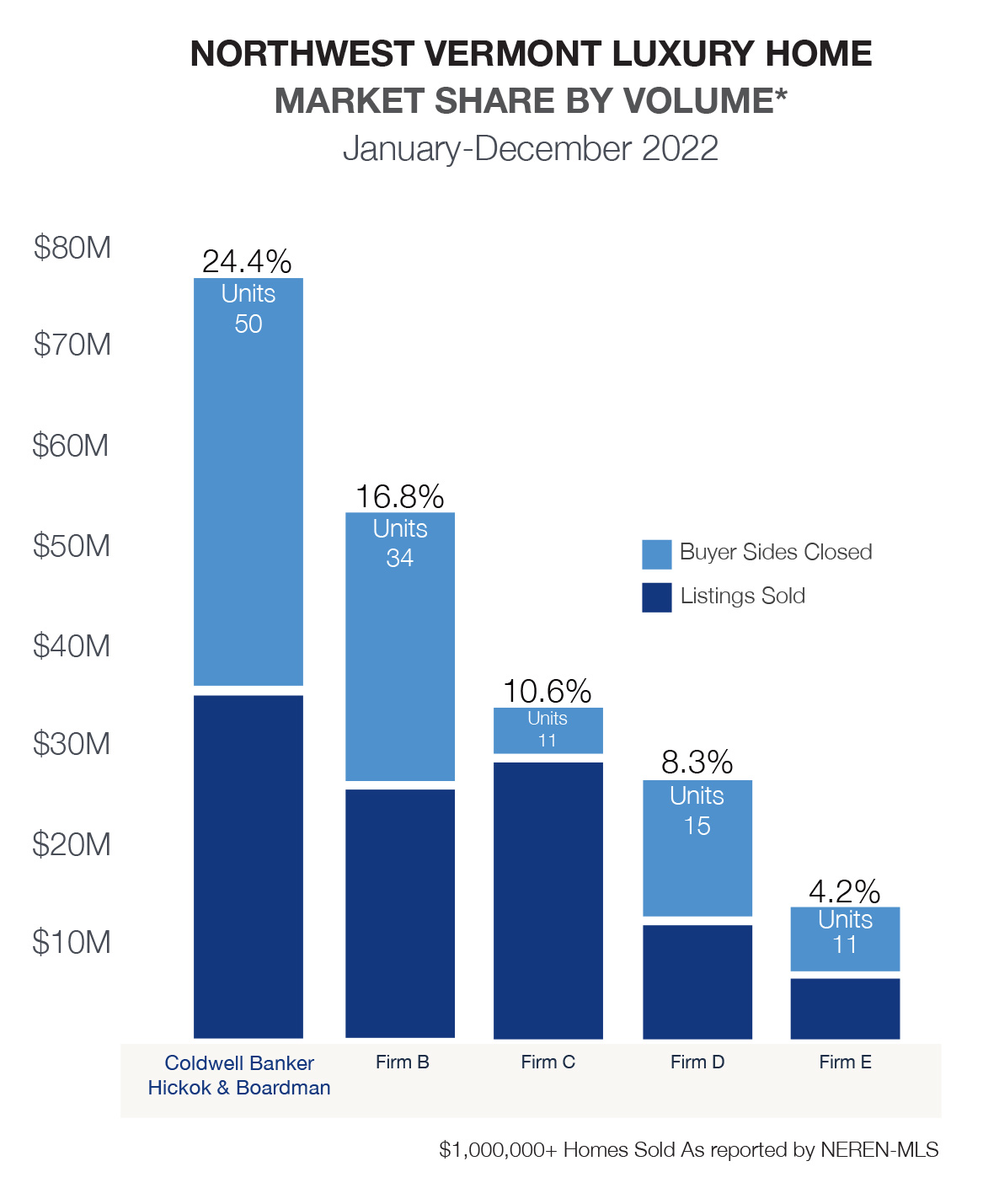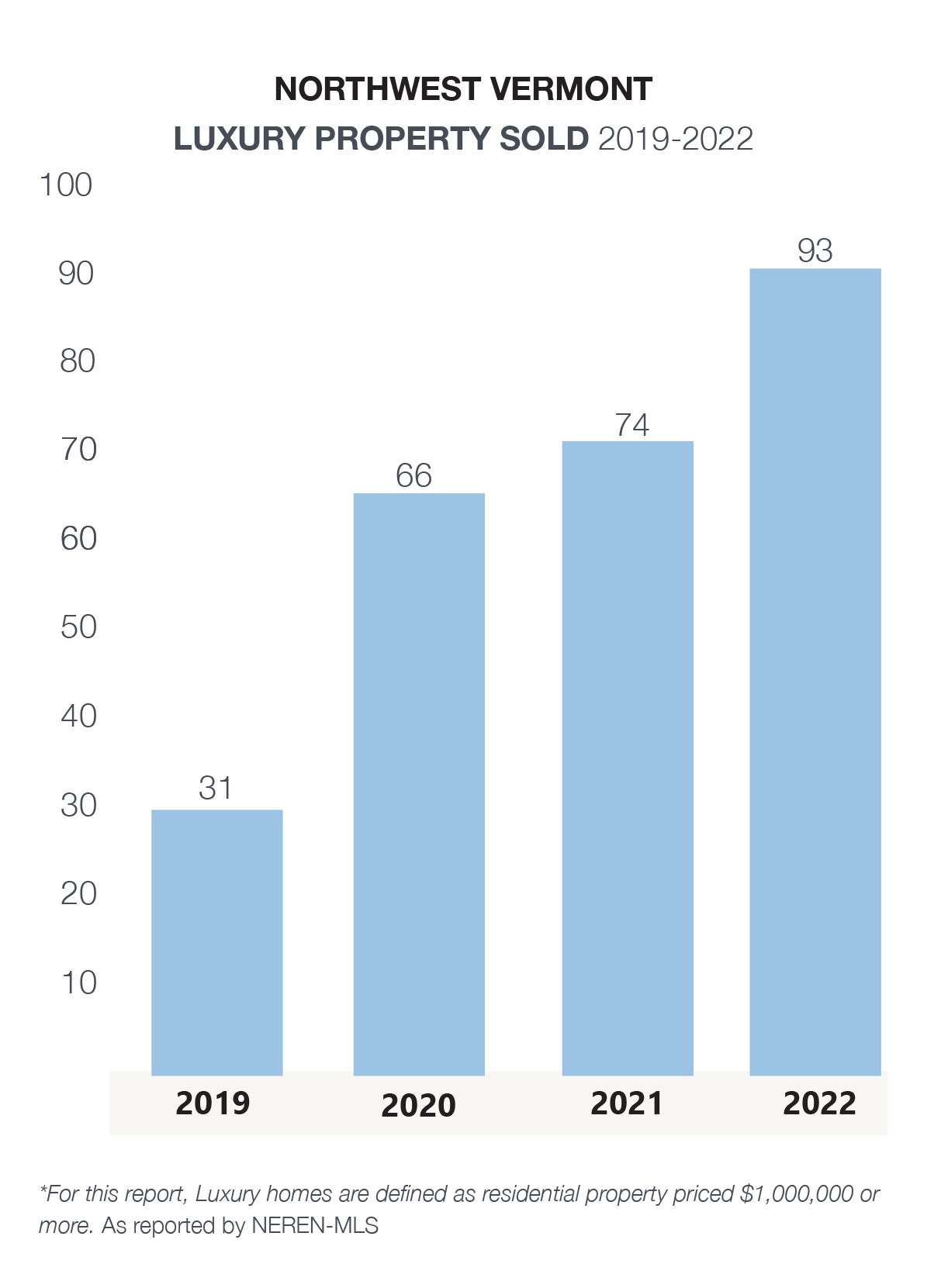 | County | Top towns | Units Closed | Median Sale Price | Average Sale Price | Low | High |
| --- | --- | --- | --- | --- | --- | --- |
| Addison | | 15 | $1,290,000 | $1,544,333 | $1,000,000 | $2,800,000 |
| | | | | | | |
| Chittenden | | 69 | $1,305,000 | $1,696,587 | $1,000,000 | $10,250,000 |
| | Burlington | 16 | $1,315,000 | $1,439,312 | $1,024,000 | $2,500,000 |
| | Charlotte | 9 | $1,501,000 | $2,073,407 | $1,300,000 | $6,063,000 |
| | Essex | 4 | $1,202,500 | $1,201,250 | $1,000,000 | $1,400,000 |
| | Hinesburg | 5 | $1,150,000 | $1,163,000 | $1,000,000 | $1,360,000 |
| | Jericho | 2 | $1,107,500 | $1,107,500 | $1,065,000 | $1,150,000 |
| | Shelburne | 19 | $1,308,500 | $2,276,500 | $1,025,000 | $10,250,000 |
| | Williston | 4 | $1,239,500 | $1,233,500 | $1,080,000 | $1,375,000 |
| | | | | | | |
| Franklin | | 2 | $1,200,000 | $1,200,000 | $1,150,000 | $1,250,000 |
| Grand Isle | | 7 | $1,650,000 | $1,952,129 | $1,100,000 | $3,500,000 |