After a strong fourth quarter, the first quarter of 2015 was hit by headwinds, thanks to abnormally cold winter weather that delayed some homebuyers from looking and some would-be sellers from listing their properties. With spring arriving, our agents are seeing pent-up demand from buyers, as well as a surge in new listings from sellers. Despite the tough winter weather, sales of residential properties rose in every county except for Grand Isle. Across the four counties tracked in this report, the median sales price slipped 1.8%.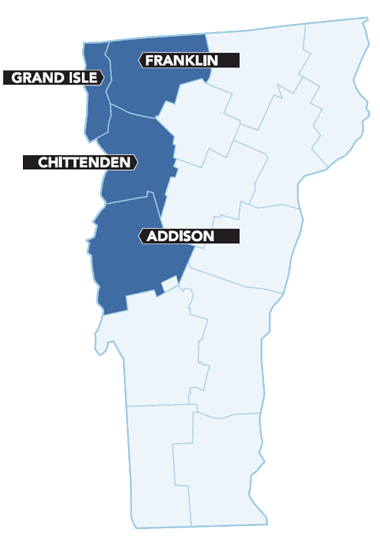 Chittenden County
Coming on the heels of a strong fourth quarter, homebuyers continued to snap up properties during the first three months of 2015. The number of residential property sales rose 12.1%. Pricing gains were muted, with a gain of only 0.8%, as affordable housing continues to be a challenge, especially in Burlington, pushing homebuyers to lower-priced inventory.
Franklin County
The year started off strongly for Franklin County, with sales volume rising 11.1%. Because property sells at lower price points than in neighboring Chittenden County, some first-time buyers are opting to search for homes in Franklin County. It's also become more economical for commuters to consider property in the county, given the trend toward lower gas prices. Median pricing slipped 3% to $179,500.
Grand Isle County
Sales volume in Grand Isle was little changed, with 16 sales during the first three months compared with 17 a year earlier. Still, median sales pricing slumped 41.2% during the first quarter, as buyers searched for lower-priced homes. It's important to note that as Grand Isle is Northwest Vermont's least active county for real estate transactions, a small number of sales can have a relatively large impact on pricing trends.
Addison County
Addison County witnessed a strong first quarter, following a boost in sales at the end of 2014. That lifted property transactions by 36.6% during the first three months of 2015. Our agents noticed pent-up demand for properties in good conditions and locations, which helped boost the median sales price by 18.1%.