MARKET INSIGHTS
Median Sale Price:
$254,595
Units Sold:
305 (+12.1%)
Newly Listed:
573 (+3.1%)
Days on Market
113
After ending 2014 on a strong note, Chittenden County's residential sales market continued to see increased buyer demand in the first three months of 2015. Sales of residential properties rose 12.1% during the first quarter, buoyed by demand in Burlington and Essex.
Even though buyers closed on more homes than the first quarter of 2014, our agents report that some potential homebuyers and home-sellers delayed looking or listing their properties this winter, given the below-normal temperatures that put a damper on home sales across New England. The National Association of Realtors found that sales of existing homes declined 6.5% in the Northeast, largely because the month's freezing temperatures kept would-be buyers inside.
The tough winter weather appears to have only delayed buyers' interest, as well as the desire for homeowners to list their properties. With the state finally experiencing warmer weather, our agents are reporting a surge in property listings, as well as renewed interest from buyers.
Professionals are relocating to Chittenden County for job opportunities with employers such as Dealer. com and the University of Vermont Medical Center, while younger workers and renters are increasingly considering purchasing their own homes, helping to lift demand for residential property. With a wide range of property types and towns in the county, there are a myriad of options and price points, from Burlington based condominiums, new build in South Burlington to luxury property along Lake Champlain.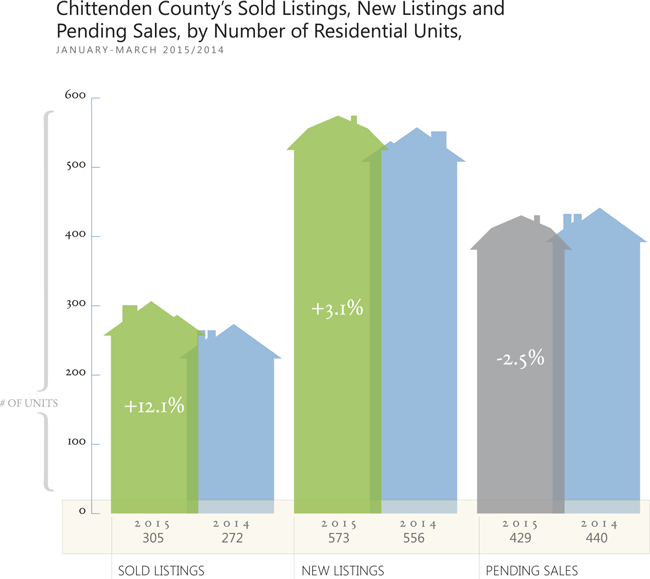 While prices rose, the number of transactions slipped, with residential sales declining 4.3%. Our Realtors are finding that homes in the $250,000 to $350,000 price range remain in demand, but inventory in that segment is often tight. At the same time, there is a lot of available inventory above $500,000, allowing buyers in that segment to be more selective.
The economic outlook for Vermont this year remains positive, with economists at the Vermont Economic Outlook Conference predicting the state's unemployment rate could decline to 3.5% by year-end, with corporations adding 1,500 private-sector jobs. Some towns are already experiencing a lift thanks to local employers, such as Essex, where the overhang about the future of IBM's chip plant in Essex Junction resolved last year when new owner GlobalFoundries vowed to keep jobs intact.
Despite the jump in transactions, median pricing across the county rose slightly, by 0.8%. Chittenden County ranked as the most expensive residential market among the four counties tracked by the Coldwell Banker Hickok & Boardman Realty Northwest Vermont Market Report.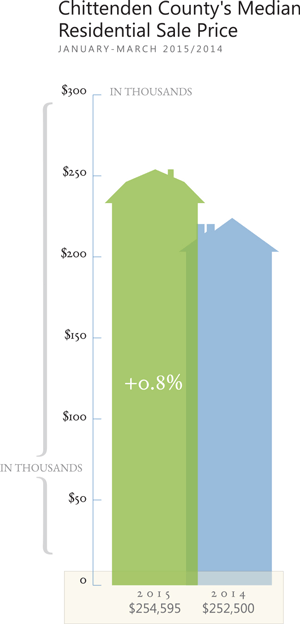 Inventory has been tight in the $250,000 to $350,000 price range, which is the sweet spot for first-time homebuyers. Even though employers are adding jobs and the unemployment rate remains low, Vermont's per-capita personal income has been relatively stagnant compared with New England as a whole, which raises affordable issues for some homebuyers. Property taxes have continued to rise, adding to concern about the cost of housing in Vermont.
Several towns saw an increase in buyer demand in the first quarter. Aside from Essex and Burlington, Colchester and Winooski also recorded significant jumps in sales, at 51.7% and 25%, respectively. The 23.3% increase in median sale price in South Burlington may be attributed to the success of South Village. Even though Burlington remains a desirable location, its more expensive housing stock is prompting some buyers to search for homes in less expensive municipalities, such as Winooski. The median sale price in Burlington slipped 13% in the first quarter as buyers may have been searching for lowerpriced housing.
Inventory continues to be tight in Burlington, although our agents are seeing more homes come on the market, which may help meet buyer demand. New listings in the city rose 20.8% in the quarter, signaling that more owners have confidence to move forward with their plans. Healthy discussions surrounding affordablity challenges in Burlington are taking place with the proposed Housing Action Plan and the recent announcement of the redevelopment of the Burlington Town Center. Initial proposals include retail, office, and housing.
The multi-family market recorded 20 sales in the first quarter, or 16.7% below the year-earlier quarter. A lack of inventory continues to be an issue for investors, who are attracted by Chittenden County's low vacancy rates and relatively high rents. Our agents are finding that wellpriced duplexes and three- and four-apartment buildings in good locations are fielding multiple offers. Still, tight inventory will continue to be an issue for this segment, given that new listings slipped 6.7% in the first quarter.
Because of the wide range of pricing and demand characteristics across Chittenden County, it's important that homebuyers and sellers consult a knowledgeable Realtor. Across the county, Coldwell Banker Hickok & Boardman Realty is involved in more than one-fifth of all real estate transactions by unit sales, more than any other competing agency.