| County Averages | | | |
| --- | --- | --- | --- |
| Median Sale Price: | Units Sold: | Newly Listed: | Days on Market: |
| $265,500 | 889 (18.1%) | 1,547 (2.9%) | 88 |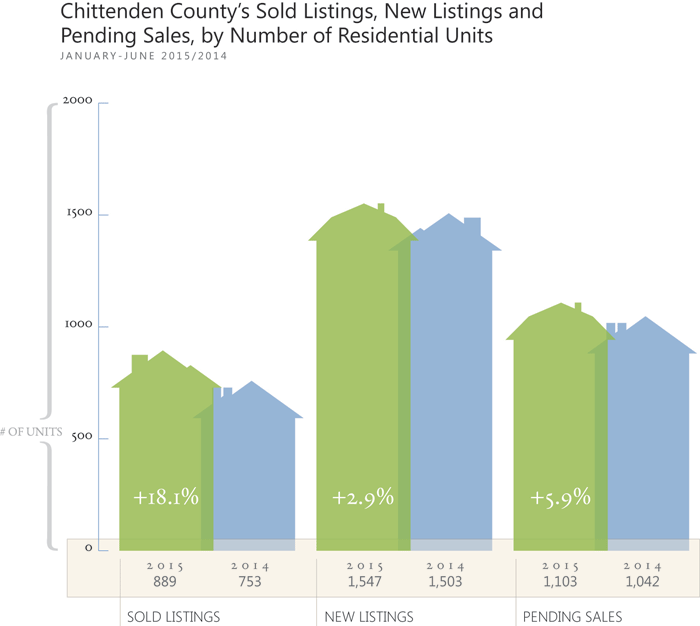 The first half of 2015 has brought buyers back in force to Chittenden County, returning the market to the type of activity that was typical before the recession in 2008.
The real estate market gained momentum as spring and summer arrived. Our Agents reported that this winter's below-normal temperatures might have delayed some real estate activity. Warmer weather brought both buyers and sellers back into the market.
A number of factors helped lift the county's real estate transactions and median pricing.
---
Employers Are Hiring
Local businesses such as the NRG Systems and The University of Vermont Medical Center are hiring. That's bringing new professionals into the home-buying market. GlobalFoundries completed its purchase of IBM's chip business, including its Essex plant, and vowed to keep jobs intact.
The Economic Outlook Is Strong
Economists at the Vermont Economic Outlook Conference earlier this year predicted the state's unemployment rate could decline to 3.5% by year-end, with corporations adding 1,500 private-sector jobs.
Tight Inventory
Properties in the $250,000 to $350,00 are in strong demand, which is driving up pricing as homebuyers compete in the marketplace.
Burlington Remains Desirable
Unit sales surged by 31%. Still, median pricing slipped 4.5% during the first half of 2015, which indicates that buyers are seeking lower-priced housing. Affordability remains an issue in the Queen City.
Affordable Towns Close to Burlington Also Witnessed Strong Trends
Towns that offer quick access to Burlington but lower price points also recorded higher sales, including Winooski, Essex, and Colchester.
MARKET INSIGHTS
Median pricing rose 6.2% during the first six months of 2015.
Housing in Burlington remains in demand, with residential properties selling in an average of only 88 days on the market.
More affordable towns close to Burlington also saw an uptick in sales.