| County Averages | | | |
| --- | --- | --- | --- |
| Median Sale Price: | Units Sold: | Newly Listed: | Days on Market: |
| $210,000 | 47 (6.8%) | 181 (-7.7%) | 209 |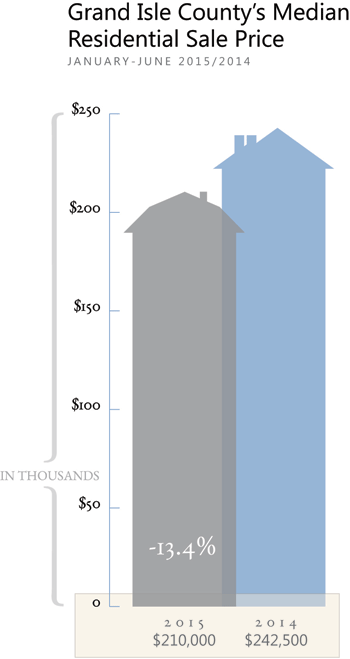 After a slow winter, home buying activity in Grand Isle recovered as spring arrived, helping lift the number of sales by 6.8% for the first six months of 2015. That came after a dip in sales during the first quarter of 2015.
Professionals and retirees seeking single-family homes are drawn to the county for its pristine waterfront properties and quiet lifestyle. Its proximity to Chittenden County and Burlington attracts professionals, while a range of property types and prices attracts a wide variety of buyers. This year's trends have been influenced by a number of factors.
---
Mid-Priced Housing
The median sale price dipped by 13.4%, representing a preference for mid-priced housing. While Grand Isle is well known for its luxury waterfront properties, the high end of Northwest Vermont's housing market has been slower to recover than lower-priced segments.
Only One Luxury Sale
During the first six months of the year, the county recorded one luxury sale, a $1.35 million Adirondack-style home on Lake Champlain.
A Small Market
Because Grand Isle is the smallest real estate market by volume in Northwest Vermont, a shift in only a few transactions can have a large impact in overall sales and pricing trends.
---
Three land sales were recorded in the first six months, compared with eight sales in the year-earlier period. The median sale price slipped 61% to $60,000.