| County Averages | | | |
| --- | --- | --- | --- |
| Median Sale Price: | Units Sold: | Newly Listed: | Days on Market: |
| $214,001 | 133 (10.8%) | 396 (3.4%) | 166 |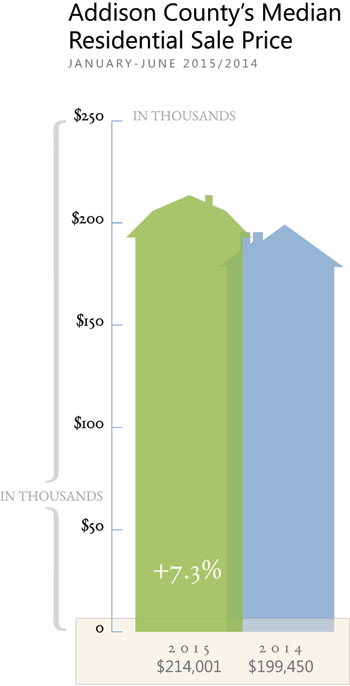 Property sales in Addison County are benefiting from an improving economy and lower commuting costs.
The residential market in Addison County has been gaining momentum since late last year, when our Realtors noted that properties in good conditions and locations were going under deposit quickly. A number of trends are helping the county's real estate market.
---
Lower Commuting Costs
Given that Addison County has a lower median sales price than neighboring Chittenden County, the area becomes even more attractive to professionals when gas prices are lower, as they have been this year.
A Diverse Employer Base
Employers including Middlebury College and UTC Aerospace, a supplier of aerospace and defense products, are drawing new buyers into the market.
Luxury Sales
The county's waterfront and country estates appeal to high-end buyers. Four of this year's $800,000-plus sales were recorded in the county, with three in Cornwall and the fourth in Hancock.
Higher Sales and Pricing
All of those trends helped boost the number of transactions by 10.8%, while the median sales price rose 7.3%.
---
Middlebury remains the county's most active town for home sales. While the number of transactions there dipped  3.4% in the first six months, the median sales price rose 3 percent.
Because some towns have a small number of overall transactions, one or two high-end sales can cause a significant jump in median pricing, as in Cornwall and Hancock.
Land sales were little changed during the first half of the year, while the median sales price slipped 4.7% to $81,000. Some retirees and homebuyers have been seeking land purchases in the county in order to custom-build homes.
MARKET INSIGHTS
Median pricing rose 7.3% in the first half of the year.
Lower gas prices and a diverse employer base are boosting interest from buyers.
Middlebury remains the most active town for property sales.