| County Averages | | | |
| --- | --- | --- | --- |
| Median Sale Price: | Units Sold: | Newly Listed: | Days on Market: |
| $194,000 (+4.3%) | 387 (+2.7%) | 877 (-2%) | 120 |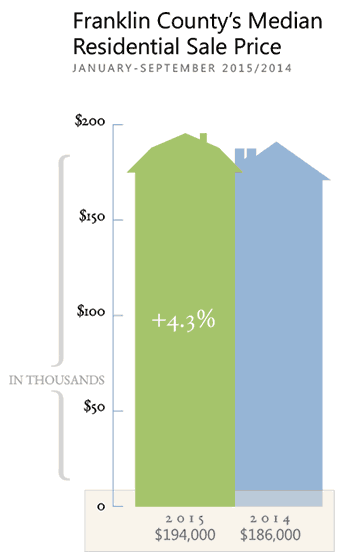 Residential sales picked up in Franklin County during the fi rst nine
months of 2015, boosted by a stronger economy and buyers looking
in the county for more affordable housing than in neighboring
Chittenden County.
Still, not every town in the county is equally benefitting from the boost in demand.
---
Proximity to I-89
Those towns in the western section of the county – which are closer to 1-89 — are seeing higher median pricing and stronger demand. Fairfax, which borders 1-89, recorded both higher median pricing and sales volume, for instance. Many towns to the east, which are farther from the interstate, saw a dip in median pricing.
Commuters To Chittenden County
Given the difficulty in finding single-family homes in the sub-$250,000 range in Chittenden County, more buyers are looking at properties in Franklin County. The continuation of low gas prices has helped to make the county more affordable for commuters in the past year.
A Diverse Business Base
The revitalization of St. Albans, as well as hiring by local employers such as pharmaceutical company Mylan and logistics company A.N. Deringer, are supporting demand for housing.
---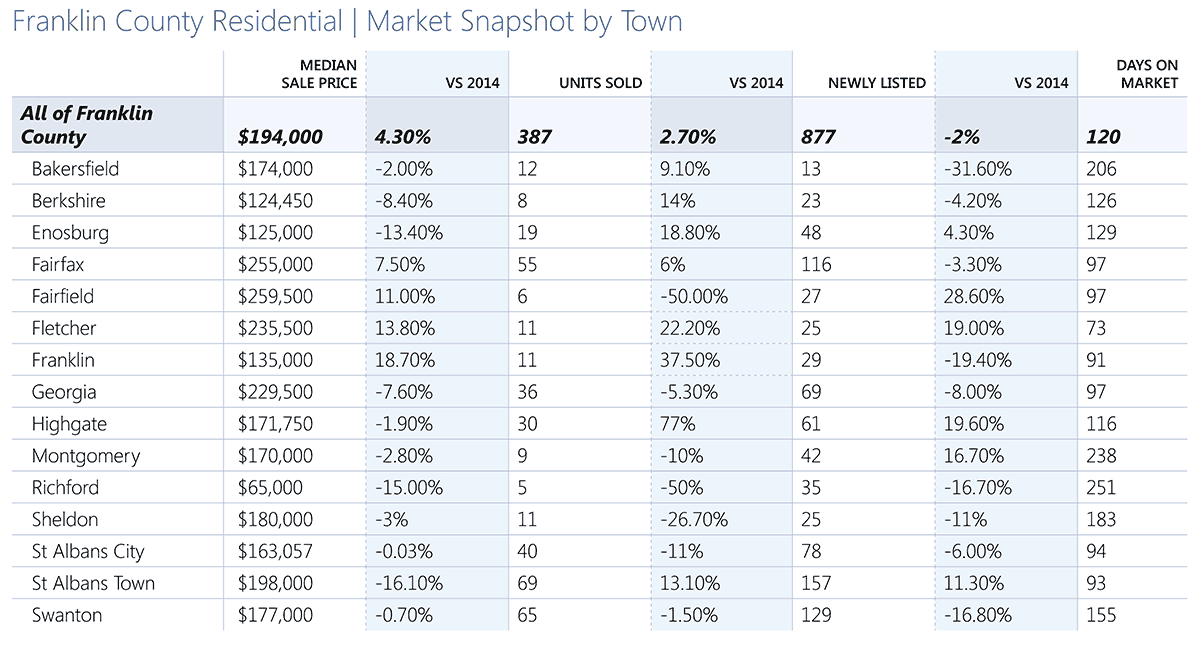 Land sales fell 21.4% to 22 transactions during the first nine months of the year. Land sales were slow during the winter months, when sub-normal temperatures kept buyers sidelined, but they've picked up during the summer and fall. The median sale price for land parcels rose 23% to $69,500.
The multi-family market dropped slightly, with 17 sales during the first nine months of 2015 compared to 20 in the same period last year. With high prices and competitive bidding for multi-family properties in Chittenden County, some investors are looking to Franklin County. The median sale price rose 31% to $221,100.