| Multi-Family Averages | | | |
| --- | --- | --- | --- |
| Median Sale Price: | Units Sold: | Newly Listed: | Days on Market: |
| $288,250 (-3.6%) | 92 (+8.2%) | 202 (-0.5%) | 90 |
The market for Duplexes and three- and four-bedroom unit properties has grown this year, with sales rising 8.2 percent in the first 9 months of 2015. However, our agents have noted that inventory is often an issue, especially when it comes to properties that are both in good condition and in prime locations.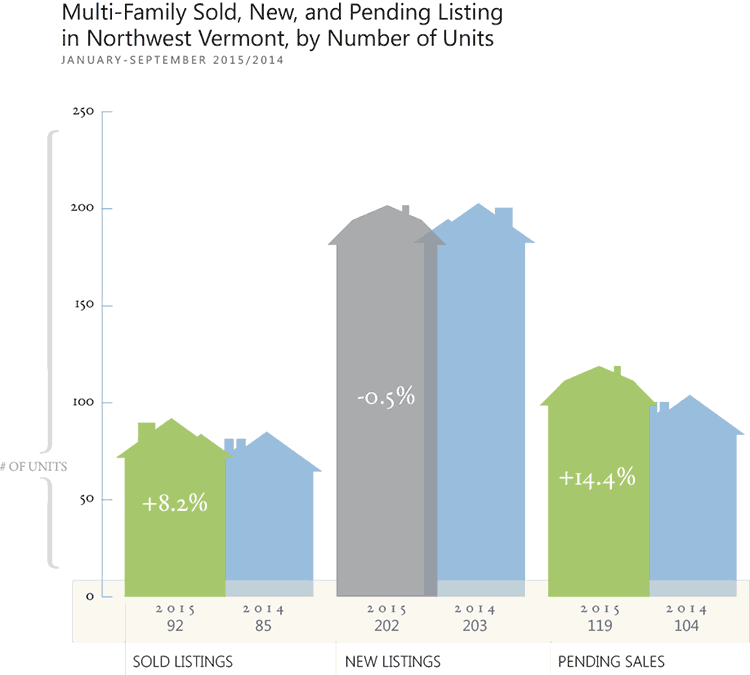 With mortgage rates remaining low, some renters are considering purchasing a home rather than continuing to rent. We are seeing that refl ected in a higher percentage of fi rst-time purchasers in the market. This trend could push vacancy rates higher in the long term, according to Allen & Brooks.
At the same time, local businesses such as Gardener's Supply and Turtle Fur are hiring, bringing new professionals to the region. Given that many of those professionals initially would rather rent than buy, that's keeping the rental market strong.
---
Inventory Remains Tight
With fewer multi-family properties entering the market in Burlington, investors are turning to neighboring towns such as Winooski, where properties have a lower price point and there may be more inventory. That has pushed the median sale price to a slightly lower level than a year earlier.
Chittenden County's Attractive Vacancy Rate
There has been some easing in the region's tight vacancy rate, although it remains below the national rate. The vacancy rate in Chittenden County now stands at 2.8%, above the long-term trend of about 1.4%, according to real estate consulting fi rm Allen & Brooks. The national vacancy rate is about 4.2%, by comparison.
Rents Remain High
Because monthly rents have steadily increased in Chittenden County, that's proved attractive to investors. Across all apartment sizes, rents rose 2.3% last year, for instance. Still, the region's high rents are of increasing concern among policy makers and renters.
---