| Multi-Family Averages | | | |
| --- | --- | --- | --- |
| Median Sale Price: | Units Sold: | Newly Listed: | Days on Market: |
| $288,250 (-2.8%) | 120 (-3.2%) | 243 (0.8%) | 88 |
Northwestern Vermont's multi-family market remains competitive, given tight inventory levels and continuing interest from Vermont-based and out-of-state investors.
While in four counties combined, the median sale price slipped 2.8% and transaction volume declined 3.2%, Chittenden County had a 6.5% increase in the number of multi-family properties sold. While the number of sales and the median sales price were slightly lower in 2015, that was largely due to a tough comparison with 2014, when two large multi-family portfolios went on the market and several very expensive properties were sold.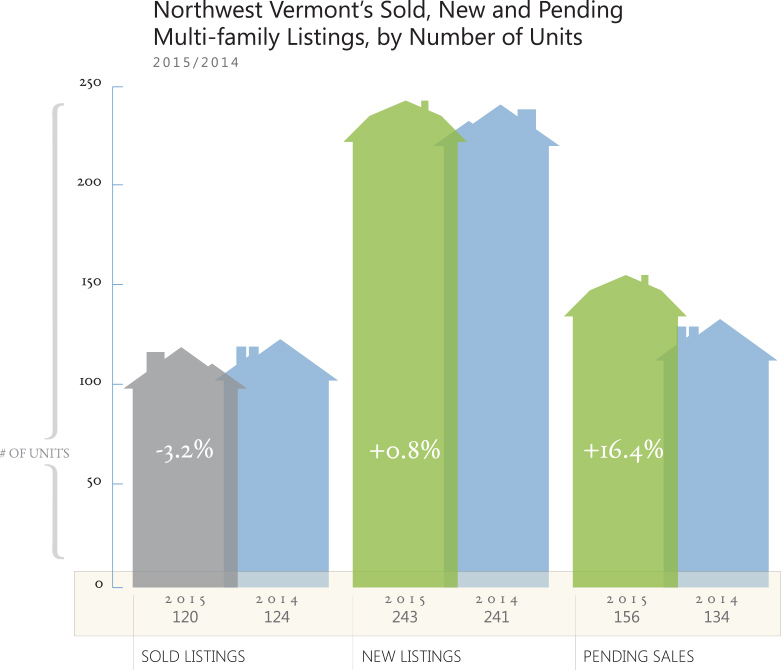 A continuing issue for the multi-family market is a lack of available inventory, especially in Burlington, the most active market for investment properties. Our Realtors note that properties that are in good condition and in prime locations continue to sell quickly.
About 3,500 new apartments are either pending or have been built recently in Chittenden County, which may bring the vacancy rate higher and continue to stabilize rents, according to Allen & Brooks.
There will likely be continued growth in the renter market, however. Median household incomes in the Burlington area are about 7 percent below their 2008 peak, and many younger professionals are dealing with high amounts of student debt. That may crimp their ability to purchase homes and lead to more demand for rental housing, Allen & Brooks notes.
---
A Higher Vacancy Rate
The rental market's vacancy rate has seen some easing in recent months due to new apartment building construction. It now stands at about 3 percent in Chittenden County, or almost double the rate from a year earlier. Our Realtors have noted that while investors are keeping an eye on the trend, it hasn't impacted pricing for multi-family properties. .
Demand for Winooski properties
Investors are increasingly searching for multi-family properties in this town thanks to demand from professionals who are drawn to its revived downtown area and lower costs than neighboring Burlington. Multi-family sales in Winooski rose 28% last year.
Rents Remain High
With vacancy rates still relatively tight, rents continue to rise across Chittenden County. Across all apartment sizes, rents rose 2.9% in 2015, according to real-estate consulting firm Allen & Brooks. Still, given that recently constructed apartment buildings are offering more choice to the region's renters, our agents have seen some recent stabilization in rents.