| County Averages | | | |
| --- | --- | --- | --- |
| Median Sale Price: | Units Sold: | Newly Listed: | Days on Market: |
| $188,500 (+1.9%) | 517 (+6.4%) | 1034 (-3%) | 122 |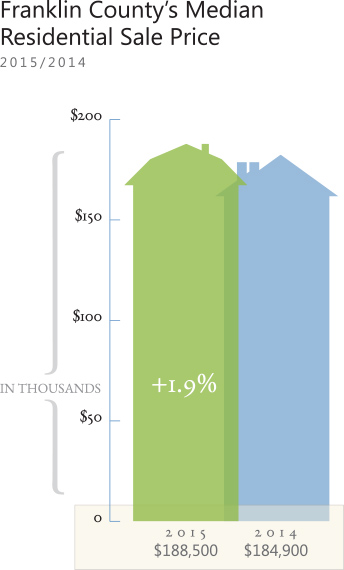 Franklin County's real estate market benefited from an uptick in demand, fueled by homebuyers seeking homes in the sub-$200,000 price range. Lower prices at the gas pump have helped make the county a more affordable option for professionals who commute into Chittenden County or other locations.
Nevertheless, our Realtors have noted that the property market is a "tale of two counties." Towns in the western section of the county are generally seeing stronger demand, thanks to their proximity to the interstate. Pricing and demand has tended to be weaker for towns located in the more remote eastern part of the county.
Quick Commutes
As noted above, towns closer to I-89 have witnessed stronger pricing trends and demand, such as Fairfax, where the median sale price rose 7.5% in 2015. Some towns to the east, which are farther from the interstate, saw a dip in median pricing.
Regional Affordability
Franklin County's median sale price is the lowest in Northwest Vermont, which makes it an affordable option for professionals seeking single-family homes in the sub-$250,000 range. Properties also often offer more land and space than in neighboring Chittenden County, which appeals to some buyers.
Employers Are Hiring
Businesses such as pharmaceutical company Mylan and logistics company A.N. Deringer are hiring, bringing new professionals into Franklin County.
---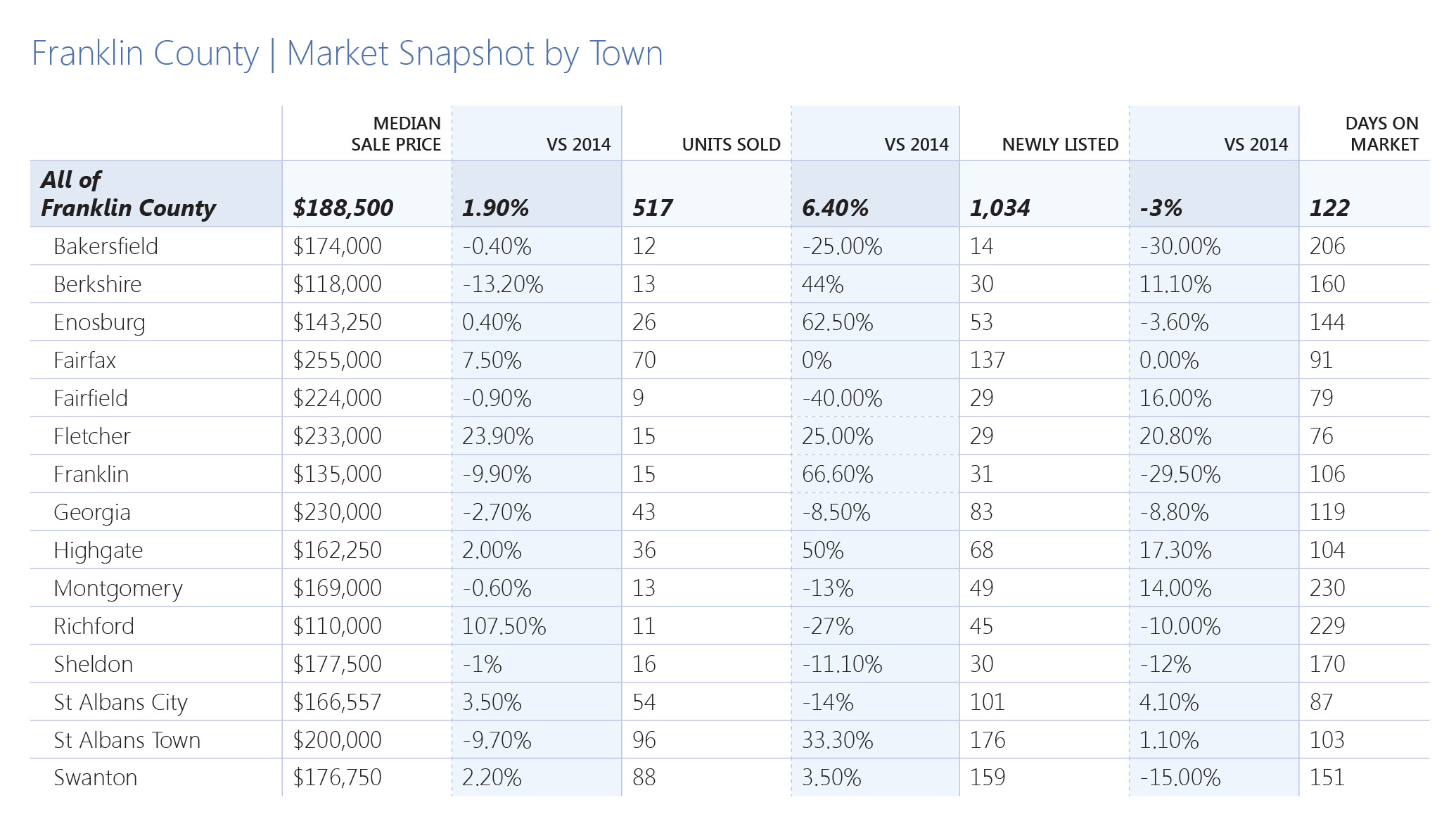 Thirty-one land sales were recorded last year, slightly less than 2014's 34 land transactions. While demand was slow during the start of the year, when abnormally cold temperatures kept buyers out of the market, land sales picked up in the summer and fall. The median sale price for land parcels rose 36% to $70,000.
The multi-family market dropped slightly, with 18 sales last year, compared with 25 a year earlier. Still, the median sale price jumped 33%, reaching $214,300.