| County Averages | | | |
| --- | --- | --- | --- |
| Median Sale Price: | Units Sold: | Newly Listed: | Days on Market: |
| $189,000 (+5.6%) | 125 (+37.4%) | 220 (+11%) | 110 |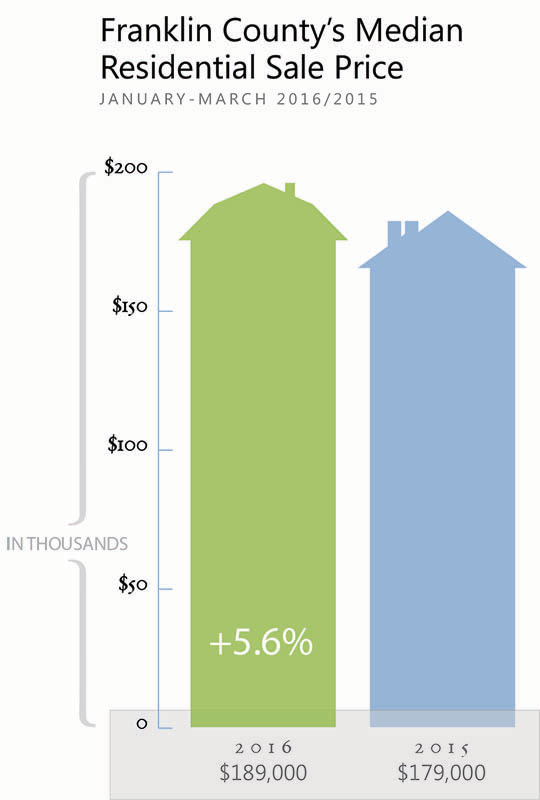 Franklin County is benefiting from a revitalized downtown and demand for buyers seeing homes in the sub-$200,000 price range, which has made the county more affordable for professionals who commute to Chittenden County or other locations.
Still, demand and pricing differs considerably between the eastern and western sides of the county. Our Realtors have found that towns in the western section tend to draw more buyers and interest, thanks to their proximity to I-89. Towns in the eastern half of the county tend to see lower demand and median prices.
Affordability is a Big Draw
Because Franklin County's median sale price is the lowest in Northwest Vermont, it tends to draw buyers who are looking to buy more with their money. Finding homes in the sub-$250,000 range can sometimes be challenging in nearby Chittenden County.
Lower Gas Prices
As noted above, towns closer to 1-89 have witnessed stronger pricing trends and demand, such as Georgia, where the median sale price rose 18.9% in the first quarter.  Gas prices slipped below $2 a gallon in the first quarter, which helps entice some buyers to look for property in the county.
Employers Are Hiring
Institutions such as Northwestern Medical Center and companies such as shipping firm A.N. Deringer are hiring, bringing more professionals to the county.
---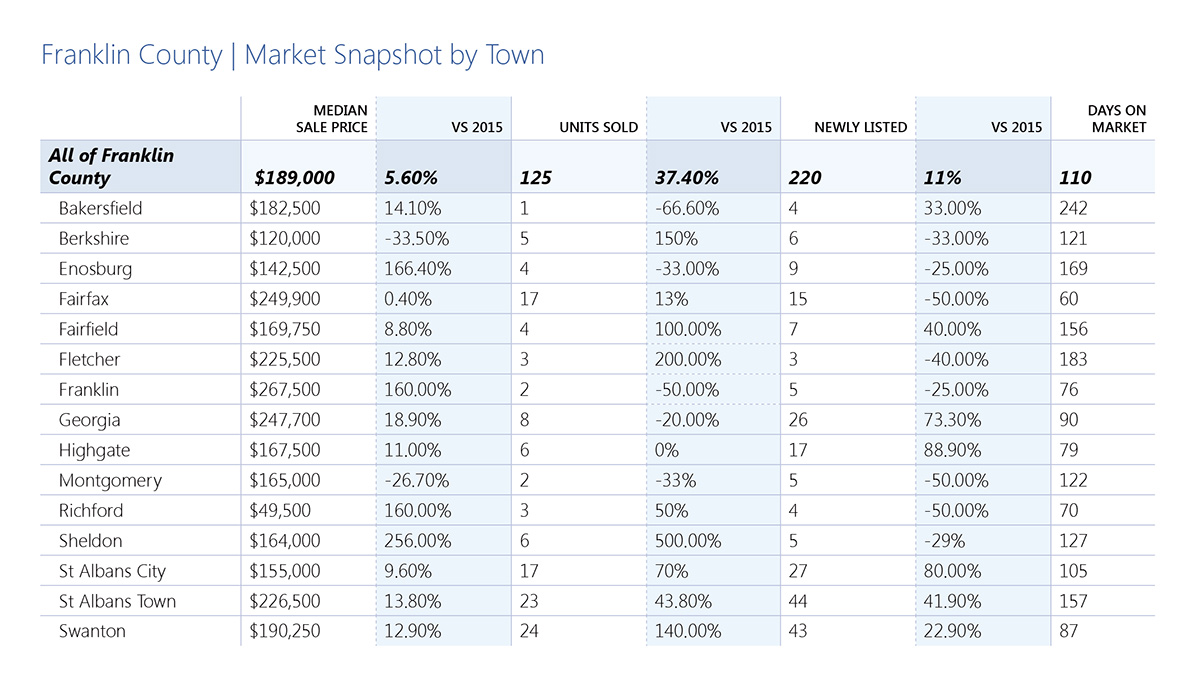 Land sales more than tripled during the first three months of 2016, jumping to 13 transactions from 3 a year ago. The median sale price gained more than 10 percent to $73,000. Some professionals and retirees are buying land in the county to custom-build their own homes.
The multi-family market was unchanged with six sales in the first quarter. Investors sought lower-priced properties, bringing the median sale price down 41 percent to $181,500.