| County Averages | | | |
| --- | --- | --- | --- |
| Median Sale Price: | Units Sold: | Newly Listed: | Days on Market: |
| $250,000 (-1.9%) | 315 (+2.3%) | 561 (-2.6%) | 88 |
While Chittenden County is the most active real estate market in Northwest Vermont, the first quarter represents the slowest season for residential sales. Coming off of a strong 2015, the first three months of 2016 saw some mixed trends, with demand continuing to rise but with buyers looking for slightly lower-priced housing.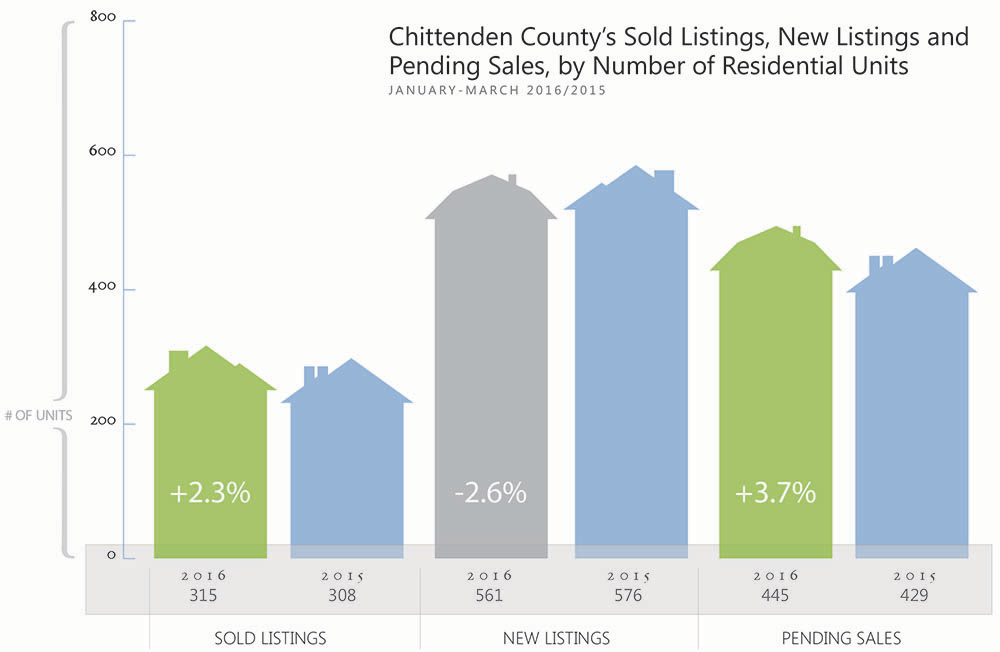 Above-average temperatures last fall and this winter helped bring buyers out to viewings and to extend their home searches. Our Realtors are noting that the sweet spot for buyers is the $250,000 to $350,000 price range, although inventory in that segment remains tight.
Burlington and South Burlington were the most active towns during the first quarter, with 50 and 52 transactions, respectively, or almost one-third of the county's sales. Still, the number of sales and median pricing slipped slightly in Burlington, which could be due to affordability issues as well as deferred maintenance, which provides buyers with more bargaining power.
A number of factors helped lift the county's real estate transactions and median pricing.
The Mid-Priced Sweet Spot
Thanks to the reemergence of first-time homebuyers, the sweet spot is housing between $250,000 to $350,000, since monthly mortgage payments can be significantly lower than rent for comparable housing. Still, inventory in this segment can be tight, leading to competition for desirable properties.
Buyers are Returning to the Over $500,000 Segment
With a growing professional class in Chittenden County and continuing low mortgage rates, buyers are once again returning to the over-$500,000 segment. Still, sales can take longer to close in this price range, given that there's more inventory available.
Beyond Burlington
While Burlington remains a popular location, buyers are also setting their sights further abroad. Towns such as Williston, Essex, and Shelburne recorded strong demand in the first quarter.
A Vibrant Economy
Tech start-ups such as the online reading-assessment service Reading Plus and medical technology equipment maker BioTek – both located in Winooski — are among those firms creating a vibrant and healthy local economy.
---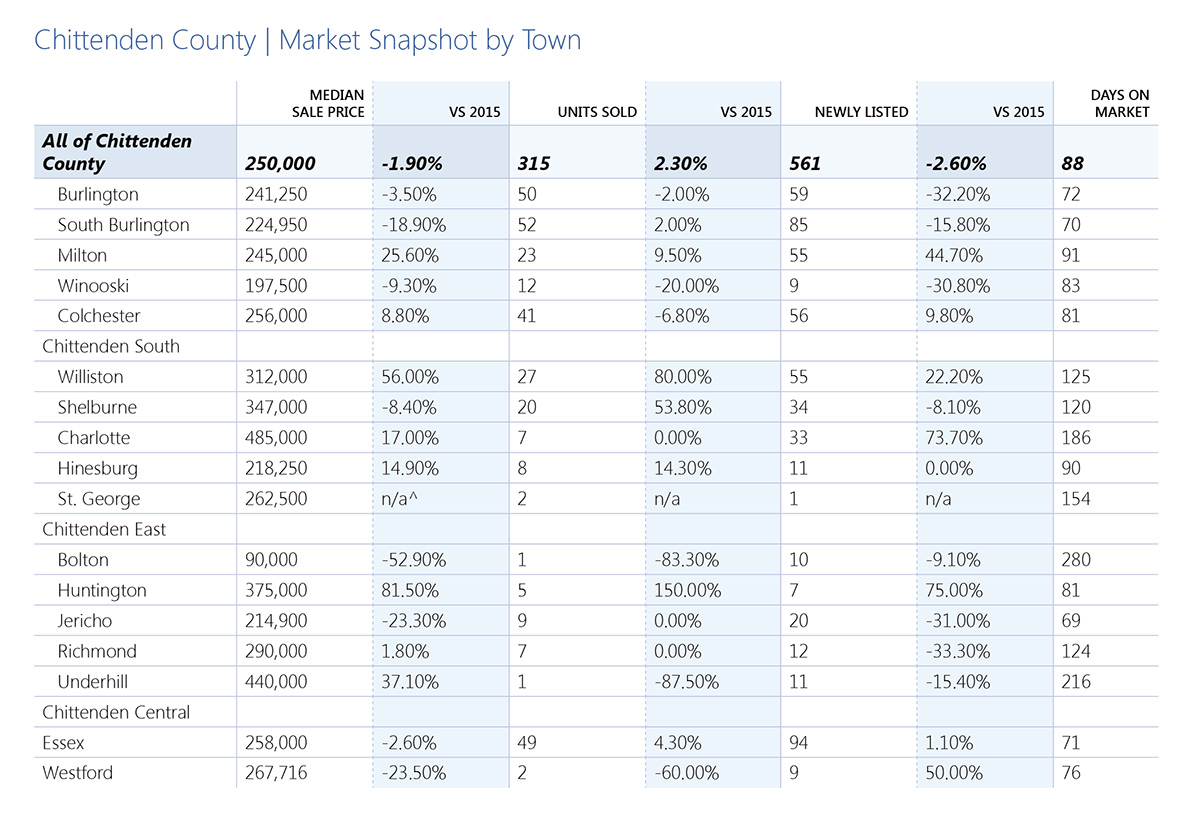 The multi-family market recorded 21 sales in the first quarter, an increase of 61.5% compared with a year earlier. For a longer discussion of trends in this market, please see our multi-family section in the Mid-Year Market Report.
Seven land parcels were sold in Chittenden County during the first three months of 2016, compared with 11 transactions a year earlier. The median sale price jumped 92% to $250,000. As in other counties, professionals and retirees are seeking land where they can custom-build new homes.