| County Averages | | | |
| --- | --- | --- | --- |
| Median Sale Price: | Units Sold: | Newly Listed: | Days on Market: |
| $278,000 (+4.7%) | 883 (-0.08%) | 1,418 (-9.3%) | 78 |
After a strong 2015, Chittenden County is experiencing another healthy year, although with some headwinds thanks to tight inventory levels. With fewer homeowners listing their properties for sale, buyers are increasingly bidding up properties, especially in the "sweet spot" of homes priced between $250,000 to $400,000.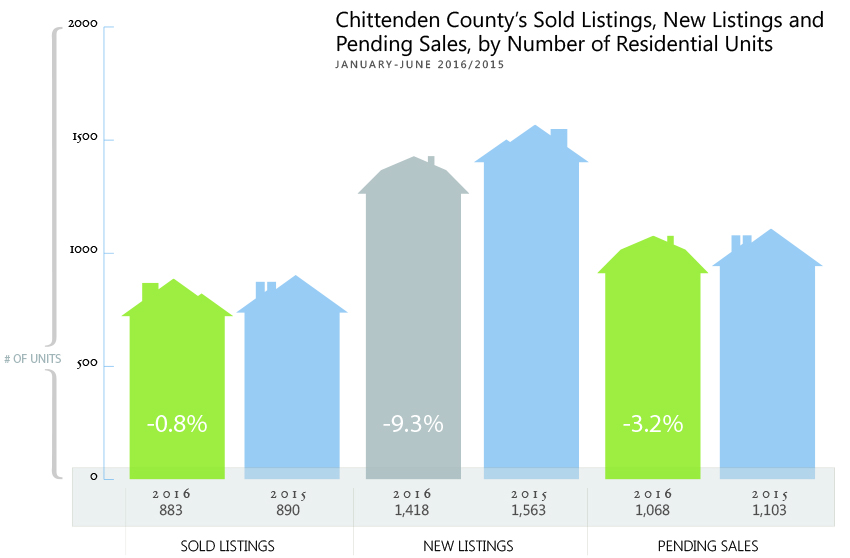 Inventory between $250,000 and $400,00 is particularly tight, however, prompting some buyers to search deeper into the available inventory for homes that may need some work. In some cases, buyers are opting to expand their searches into neighboring counties with more affordable housing stock. Buyers are enjoying one bright point, however: the cost of borrowing is extremely low, thanks to continued downward pressure on mortgage rates.
Essex and South Burlington were the most active towns during the first half of the year, with 166 and 141 transactions, respectively. Burlington, the third-most active town with 125 sales, has suffered from extremely tight inventory levels. New listings in Burlington have dropped by about one-third during the first six months of the year, pushing some buyers to search a wider geographic area. The median sale price in Burlington gained 3.5% during the first six months of 2016. Because of high demand for Burlington properties, some homeowners are opting to sell their properties through private transactions.
First-time Homebuyers
Young professionals are increasingly interested in making their first home purchase, thanks to low mortgage rates that can make monthly payments lower than renting a comparable home. The most in-demand properties are in the sweet spot of $250,000 to $400,000, although inventory remains extremely tight in that range.
More Flexibility in the Over-$500,000 Market
While buyers are also interested in homes with a slightly higher price point, there is more availability with inventory priced above $500,000. Towns such as Shelburne and Charlotte, where the median sales price is almost $500,000, are witnessing strong demand so far this year.
Looking Further Afield
Given tight inventory in Burlington, some buyers are pushing their searches into towns including Williston and Richmond, which also saw an uptick in demand this year.
A Growing Economy
Large employers such as University of Vermont and tech companies such as MyWebGrocer are hiring, helping bring new homebuyers into the market.
---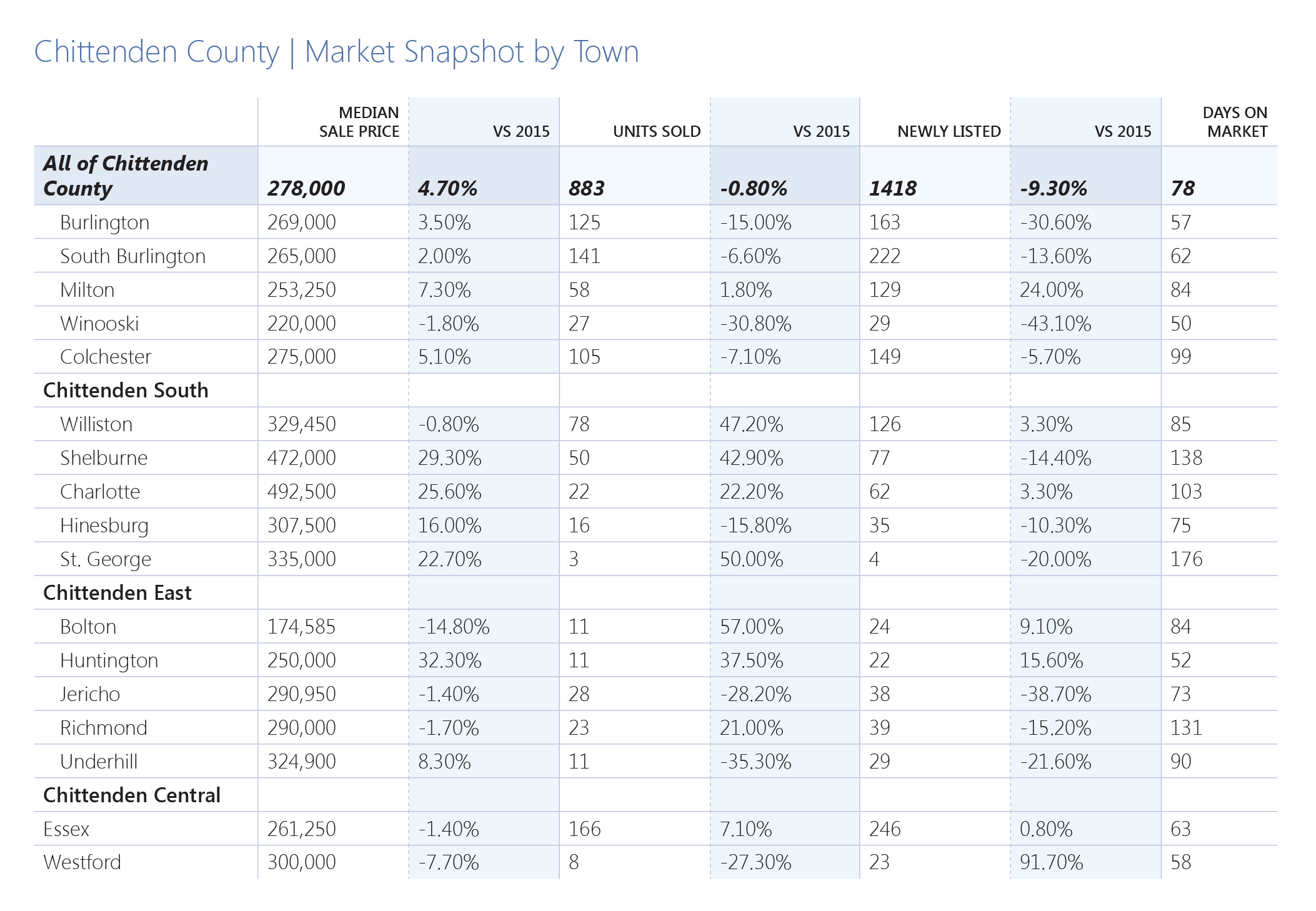 The multi-family market recorded 51 sales in the first half of 2016, an increase of 27.5% compared with a year earlier. For a longer discussion of trends in this market, please see our multi-family section in the Mid-Year Market Report.
Demand rose for land sales, with 26 sales in the first half of the year, an increase of 30%. The median sale price slipped 2.5% to $148,750, which may reflect buyers seeking slightly lower-priced property. As in other counties, professionals and retirees are seeking land where they can custom-build new homes.