| Multi-Family Averages | | | |
| --- | --- | --- | --- |
| Median Sale Price: | Units Sold: | Newly Listed: | Days on Market: |
| $360,000 (+16.1%) | 63 (21.1%) | 113 (-9.6%) | 79 |
The multi-family property market in Northwest Vermont continued to show robust trends in the first half of 2016, thanks to the region's low vacancy rate and growing professional population. The multi-family market is continuing to draw out-of-state, international, and local investors because of these trends, according to our Agents. 
Across the four counties, 63 multi-family properties changed hands during the first six months of the year, an increase of 21.1%. The median sales price rose 16.1% percent to $360,000. As with the residential market, tight inventory remains an issue for the market, with demand exceeding supply. Because of these dynamics, well-priced, well-located properties are selling quickly.
Inventory remains especially tight in Burlington and Winooski, with the latter experiencing a surge in interest from renters because of its revitalized downtown area, which has brought new restaurants and shops to the former mill town.
With demand from buyers remaining far ahead of supply, our Agents note that owners of multi-family properties may want to consider listing to take advantage of the market dynamics.
The following are details about trends impacting the multi-family market: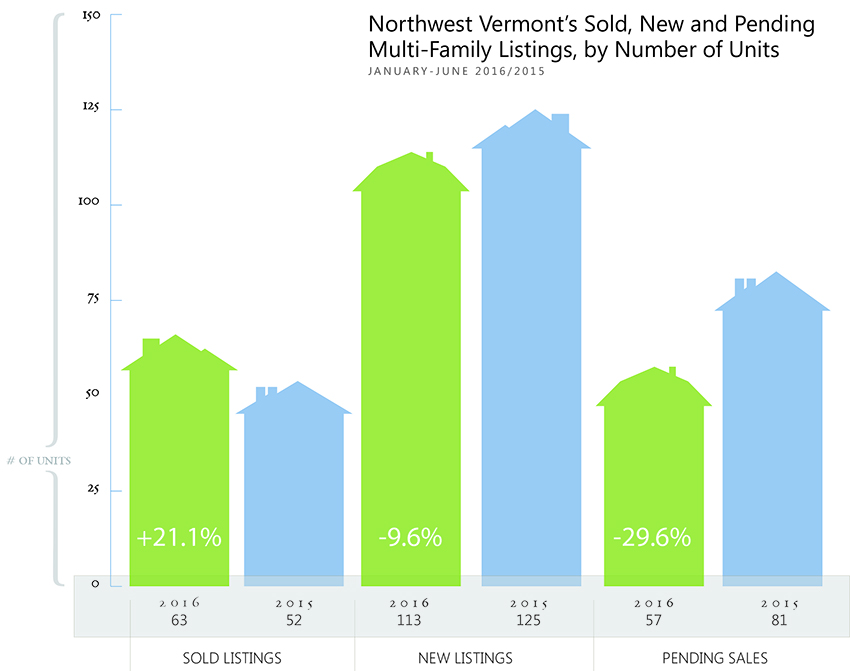 ---
Tight Inventory in Winooski and Burlington
A lack of inventory continues to be an issue in both Winooski and Burlington. The number of newly listed properties slipped 36% in Winooski and more than 10% in Burlington.
A Slightly Higher Vacancy Rate
The rental market's vacancy rate stood at 2.1% in Chittenden County in June, according to real estate consultancy Allen & Brooks. That's significantly higher than the rates seen in 2010-2014, when it averaged about 1.4%. While rents are stabilizing as a result, that hasn't impacted demand or pricing for multi-family properties as the region's vacancy rates are substantially lower than the roughly 4.5% national rate.
New Apartment Construction
Builders are responding to demand, with more than 600 new apartment units slated to be built this year, according to Allen & Brooks. Although newly constructed units tend to have higher rents than properties in existing properties, the added inventory may stabilize rents across the region.
Demand for rental housing is likely to remain strong, partly because median household incomes still haven't caught up with their 2008 peak. At the same time, single-family homes have appreciated in value, making them more expensive for first-time homebuyers. Younger buyers with student loans may end up in the rental market for more years than older generations because of their loan repayments. Allen & Brooks is also forecasting increasing demand from seniors for rental housing, as many decide to scale down and sell their single-family homes.
.