| County Averages | | | |
| --- | --- | --- | --- |
| Average Sale Price: | Units Sold: | Newly Listed: | Days on Market: |
| $206,483 (+7.6%) | 610 (+18%) | 933 (-10%) | 114 (-5%) |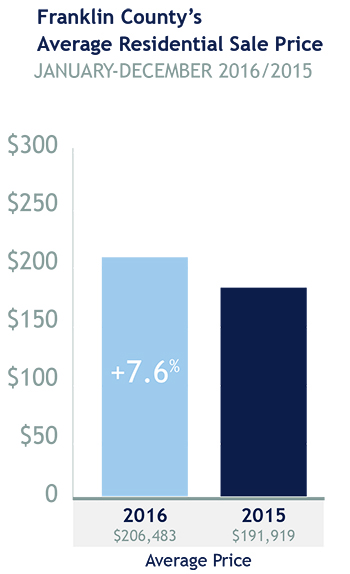 First-time homebuyers and professionals who are seeking more for their money are turning to Franklin County as an alternative to pricier Chittenden County. 
With an average sale price of $206,483, Franklin County is the most affordable county among the four in Northwest Vermont. Nevertheless, pricing and demand varies considerably from town to town. Our Agents note that towns on the eastern side of the county – which are more remote and farther from I-89 – typically are in lower demand than those closer to the Interstate.
Homes sold for an average of 97.3% of their listing price, illustrating the growing demand for properties in the county. Our Realtors note, homes that are in good condition and well-priced are selling extremely quickly.
Tighter inventory, higher prices
Inventory in Franklin County grew tighter in 2016, pushing prices higher. Buyers seeking properties in the sub-$220,000 range have been the most challenged, especially when seeking homes in good condition.
The I-89 corridor
Buyers are seeking properties in towns along the I-89 corridor, since it provides a quick commute into Burlington and Chittenden County. Sales in Georgia, for instance, surged more than 56% last year.
St. Albans is getting a second look
St. Alban's City is drawing praise and new buyers after a $3 million renovation to its Main Street. Sales in the city jumped by one-third last year. St. Albans Town is also benefitting, with sales increasing 20%.  Expansions and renovations to the North Western Medical Center also improve the quality of care offered to area residents.
Surge in land sales
Franklin County also saw a surge in land buyers, with the number of sold parcels jumping almost 52 percent last year. The average sale price rose more than 31 percent to $113,361.
---