| County Averages | | | |
| --- | --- | --- | --- |
| Average Sale Price: | Units Sold: | Newly Listed: | Days on Market: |
| $314,464 (+4%) | 1,974 (0%) | 2,468(-9.3%) | 74 (-6%) |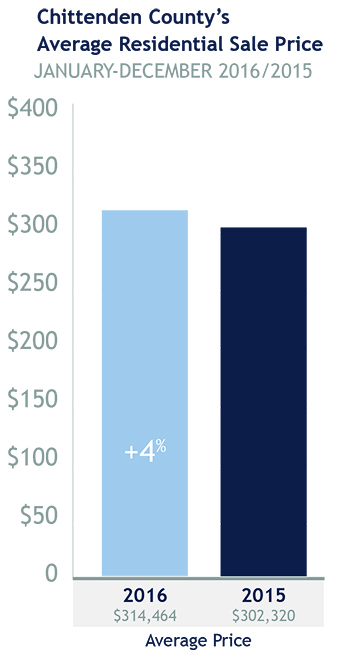 The residential property market in Chittenden County continues to see strong demand from home buyers, including first-time home purchasers and luxury  buyers on the hunt for lakefront or mountain-view estates.
Mixed trends impacted Chittenden County's residential market in 2017. While demand for properties is rising, fewer homeowners are listing their properties, leading to tighter inventory levels and challenges for those seeking affordable and mid price point properties. This provided an opportunity for sellers to market their homes with limited competition, often resulting in higher prices and faster closings allowing them to consider move-up options.
First-time buyers may feel the greatest impact from tight inventory levels, since our Realtors report that the sub-$350,000 range represents the fewest choices. Buyers who are looking for homes priced above $600,000 have more flexibility and options, given that these homes typically take longer to market and attract a smaller group of buyers.
The county's supply of available inventory now stands at three months, compared with almost 10 months in January 2015.
Because of these trends, mid-priced homes in good condition and in desirable neighborhoods may receive multiple offers and sell quickly. These market conditions are pushing some buyers to search for property outside of Chittenden County, or to consider homes that require some updating.
Burlington
The number of listings declined by 23% last year, creating challenges for buyers in this sought-after town. Our data shows that homebuyers search for properties in the primary zip code of 05401 more than any other zip code in the region. Sales slipped by 17%, reflecting the lower inventory available to house-hunters – not a decrease in demand. An increased number of buyers are searching for the properties in the more affordably priced New North End and Old North End neighborhoods.
South Burlington
South Burlington's diverse housing stock – ranging from luxury homes to entry-level condominiums — appeals to a wide range of buyers. The town's proximity to Burlington also holds appeal.  Pricing in South Burlington rose 2.3% last year, although sales volume slipped slightly, reflecting tighter inventory levels. Our Agents are reporting strong demand for newly built properties in South Village, a community planned around walking trails and a farm.
Winooski
Winooski is also witnessing sharply lower inventory levels, with the number of new listings plunging by 37.5%. Winooski's revitalization, bringing new restaurants, condominium developments, and stores, is attracting professionals to this former mill town.
Lower inventory and increased demand is driving prices higher. The average sale price rose 8.25% to $232,096.
Shelburne, Charlotte
Sale volume in Shelburne and Charlotte jumped 37.5% and 34%, respectively, last year. With more buyers coming into these towns, properties that had lingered on the market went under contract.
Some sellers were able to take advantage of market conditions and become move-up buyers, helping to boost sales in the $500,000 to $900,000 range, our Realtors note.
The higher average sale prices in these towns reflect the sales of these more expensive properties, rather than price appreciation.
Jericho
The substantial decline in closed sales reflects a correction after an unusually higher number of sales in 2015.
Multi-family Market
As with the residential market, inventory for multi-family properties has tightened in some of the more popular towns with buyers, such as Burlington and Winooski.
Within Chittenden County, the average sale price rose 15.3%, while the number of transactions rose 11.7%. For a longer discussion of trends, please see our multi-family section in this report.
Land Sales
Some professionals are opting to buy land and construct custom-built homes. Fifty-nine parcels traded hands last year, an increase of 11.3% over the prior year, with an average sale price of $169,893